Indoor garden systems have exploded in popularity as more and more people want to grow their own herbs, vegetables, and fruits in the comfort of their own homes. There is a growing number of indoor garden kits now and I'll be comparing two of the most popular brands: AeroGarden vs. Click and Grow.  
Learn more about each brand's product range and the difference between models:
Even though they might look the same on the surface, they actually function very differently in growing plants. The main difference is Click and Grow uses smart soil, while AeroGarden uses hydroponics technology and no soil at all.  
In terms of price, they're at similar price points, so it's important to look a little deeper and see what makes each special and unique.  
I'll compare the similarities and differences between the two to help you decide what features and benefits are right for you and your home.
AeroGarden vs. Click and Grow Overview
In this section, I will compare the features and benefits of both indoor garden systems so that you, the reader, can make a more informed choice to help you grow indoor plants.
Because there are various models in each of their respective lineups as well, I'll use popular models from each brand for direct comparison of specific feature details: AeroGarden Bounty Elite 9 and Click and Grow Smart Garden 9 Pro.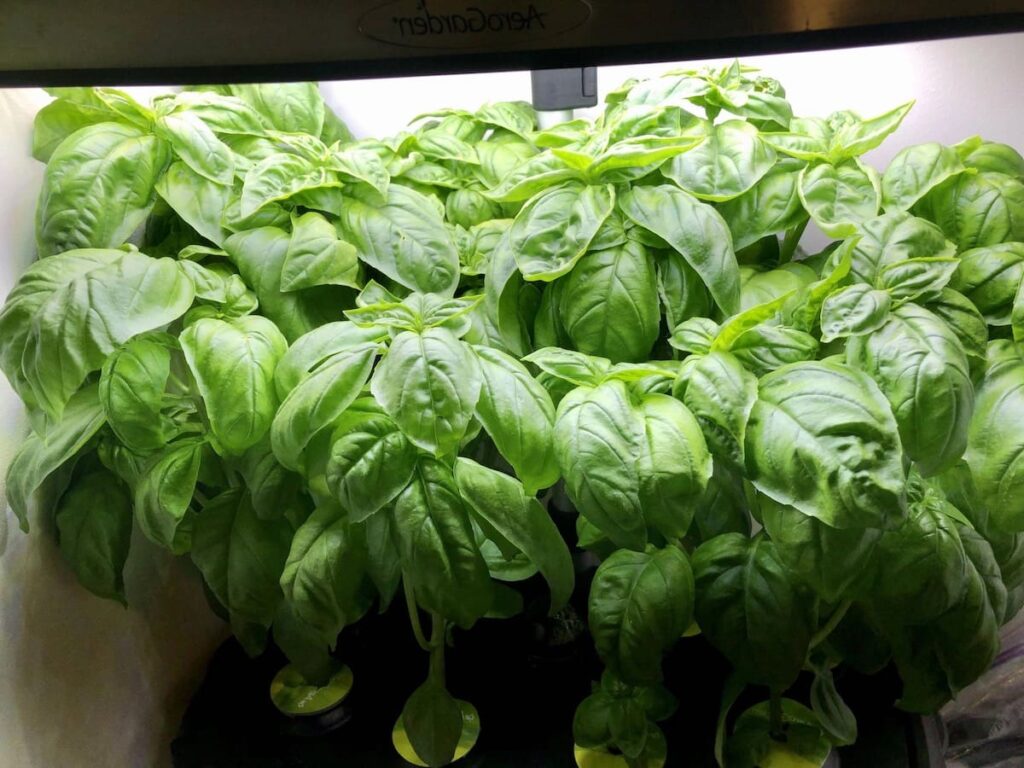 Smart Soil vs Hydroponics Indoor Gardening Systems
Before getting into comparing AeroGarden and Click & Grow, I need to explain the two different gardening methods first: Smart Soil and Hydroponics. 
Smart Soil
Smart soil is not regular soil per se. It's actually a fluffy soil-like growing medium that is created from nanotechnology. Smart soil is patented by Click and Grow, which means it is only found with Click and Grow products. 
Smart soil produces a balance between water, nutrients and oxygen levels that helps plants grow well and healthy. The nutrient levels in Smart Soil are known to be less than the levels found in hydroponic systems.
However, the upside of Smart Soil is the fact that it doesn't require calibration every week, and there is no need to add additional fertilizers to keep your plants healthy.
Hydroponics
Hydroponics is not a new technology, as it has been used in industrial agriculture applications for a while now.
With hydroponics, plant roots are submerged in tanks filled with water and nutrient-rich solution. Hydroponics require monitoring and measuring to maintain a healthy nutrient and water balance for healthy plant growth. Using too much liquid mineral nutrients (plant food) can harm the plants.
Both methods will result in consistent and fast growth across a range of plant types, but let's dig deeper and see how they compare. 
Learn more: What are Hydroponics?
Design and Style Options
When it comes to style and design options, both the AeroGarden and Click & Grow offer a range of options that look great and are compact enough to fit on your kitchen counter.
I consider the Click and Grow to be the more visually striking one of the two, with its streamlined shape that is both attractive and functional. The AeroGarden will feel bulkier due to its integrated water tank. 
However, the AeroGarden has more choice when it comes to shapes and sizes. There are more color options such as white, sage green, red, black and stainless steel to choose from.
If you go with Click and Grow, you can choose from white, gray, and beige. It's not on all models, but for most. 
So based on the availability of more variety and color for indoor gardening, the AeroGarden would be the winner in this case. Although, it's a bit more of a personal preference when it comes to design.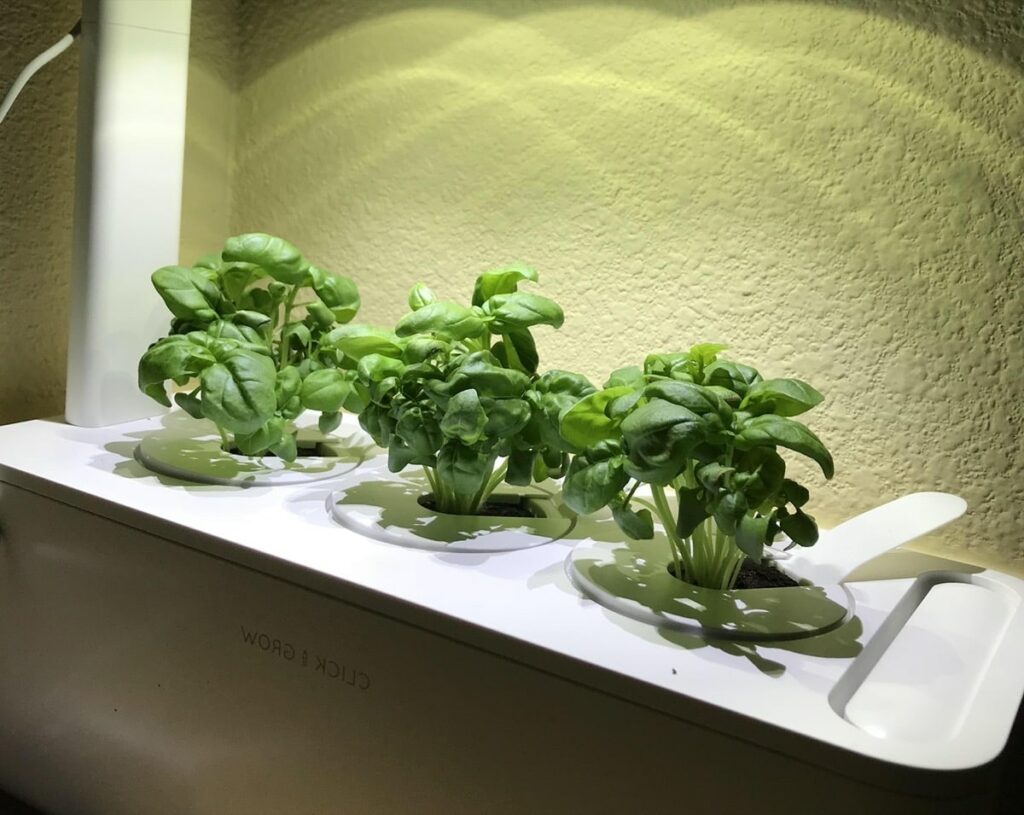 Plant Seed Pod Options and Refills
Both AeroGarden and Click and Grow have a wide variety of seed capsule/pods that can be grown in each smart garden solution offered. 
The most common use of this type of garden from each company is as an indoor herb garden kit that can grow year-round edibles for the kitchen. Plant-to-Plate has become popular in many kitchen gardens. 
Click and Grow offer 72 seed plant pod options including dwarf basil, leafy greens, and a handful of flowers. AeroGarden has over 70 seed pod kits of flavorful herbs, veggies, salad greens and flowering plants. 
When it comes to the selection of plants that you can grow, they are pretty well-matched. There's not much of a difference with the plant offering. There doesn't seem to be one with a wider range of options.
Both offer lots of options for types of plants. From gourmet herbs like Genovese basil, to a wide range of leafy greens, and aromatic flowers.
As for price, Click and Grow seed pods are a more expensive option. That's most likely due to the smart soil. The growth medium in the pods doesn't contain any pesticides, fungicides, or other harmful chemical substances. They're made of natural and renewable materials. 
Let's look at a 9-Pod planter for each garden system. For a Click and Grow Salad Greens Mix 9-pack, the regular price is $23.95. An AeroGarden Salad Greens 9-Seed Pod Kit regular price is $19.95. 
AeroGarden does offer themed herb garden kits as additional options for seeds. For example, you can choose between a Salsa Mix for mexican-inspired food, Salad Bar theme for fresh salads, and Pizza Herbs for your homemade pizza. 
You'll need to purchase replacement seed pods when both some producing harvests, but you most likely will only need to buy every 2-4 months, depending on how much you want to grow. 
Both Click and Grow and AeroGarden sell plant pods without seeds in them. That allows you to grow anything you want, almost. Obviously, because of the smaller size, even in the larger models, you won't be able to grow large crops like watermelons.
Overall, AeroGarden also has cheaper seed pod prices, making it the winner if you plan to grow a lot. As you purchase more refill seed pods, you won't need to see as much for seed kits. 
Lighting Systems
Here is a breakdown of the LED lighting systems used in the AeroGarden and the Click and Grow. 
AeroGarden: The AeroGarden Sprout, AeroGarden Harvest 360 Elite, AeroGarden Bounty Elite, and the AeroGarden Farm 24Plus come in LED light wattage of 10 watts, 20 watts, 45 watts and 60 watts, respectively.
AeroGardens also gives you the ability to raise the height of the LED lights as your plants grow higher. 
While it may seem like the grow light wattage is high, the electricity costs are rather low. According to AeroGarden, based on $0.11kw/hour), it will cost $0.75 to $7.30 for the largest AeroGarden Farm model with 24 plants.
| | | |
| --- | --- | --- |
| AeroGarden Model | Wattage Used (Average) | Cost to Run Per Month |
| AeroGarden Farm | 126 watts | $7.30 per month |
| AeroGarden Bounty | 48 watts | $2.78 per month |
| AeroGarden Harvest | 23 watts | $1.33 per month |
| AeroGarden Sprout | 13 watts | $0.75 per month |
Click and Grow: Click and Grow LED lights operate at 8 watts for the Smart Garden 3, and 13 watts of light for the Smart Garden 9 and 9 Pro. These smart garden electricity costs will be between $0.50 to $0.82 per month. 
Based on power, wattage and the customizable height feature, this makes the AeroGarden a winner. 
One note, these LED Lights are brighter than a normal home light fitting, so you may not want to put them in your bedroom if lights can affect your sleep. 
The AeroGarden indoor planters have more powerful lights, so they offer an advantage when comparing the LED lighting systems.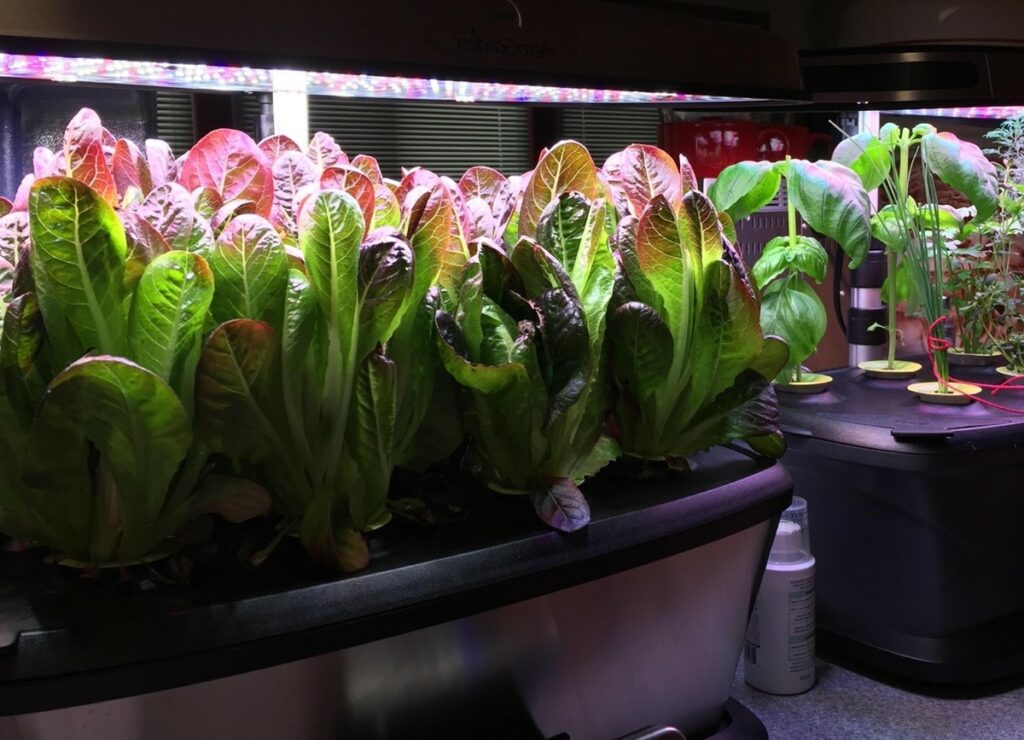 Plant Yields
Next, I'll compare the plant yields of each individual product. 
Click and Grow Plant Yields
The Click and Grow 3-Pod Indoor Smart Garden has space to grow 3 plants at one time – plenty for those who just want some herbs or microgreens to go with their daily meals.
For those who want bigger yields, the Smart Garden 9 allows you to grow nine plants simultaneously.
For those with enough vertical space in their home, the Smart Garden 27 and Wall Farm Indoor Vertical Garden accommodate 27 and 51 plants, respectively. Athough the Wall Farms might be too big for those living in small apartments. 
AeroGarden Sprout Product Video
Other users and review articles will mention the Wall Farm Mini with 34 plants, but that's been discontinued and no longer sold new. You might be able to find it used if you want it. 
Type of Plants to Grow
You can grow a wide variety of plants in the Click and Grow systems. You'll need to watch out for taller plants, because the LED lighting system can only accommodate as high as 19-23 inches of plant height.
You can grow plants like flowers, herbs, lettuce, other salad greens, chili peppers, and mini-tomato plants with the Click and Grow. 
Germination Times
Depending on what you grow, the growth rates will vary. On average, plants should start sprouting in 1-3 weeks from the seed pods. Plants like mini-tomato plants, chili peppers, and rosemary can take up to 3 weeks to sprout. 
Click and Grow also has a Germination Guarantee with their seed pods If they don't sprout. You can contact Click and Grow customer support, and they'll send you a free replacement pod, which is pretty useful. 
Growth Rate
For faster growing plants like some herbs and salad greens, you can start harvesting in as soon as 30 days. Most plants can start being harvested around 4-6 weeks. 
Some users say the growth rate with the Click and Grow systems are a little slow than the AeroGarden hydroponic system. With smart soil, the plant roots are absorbing water and nutrients from the smart soil, rather than straight from the water solution in a hydroponic setup. 
In my experience, I haven't seen a noticeable difference when it comes to how fast the plants grow. Either way, it's still faster than using regular soil in a traditional garden. 
AeroGarden Plant Yields
AeroGarden has 4 options to choose from, namely the Sprout, Harvest, Bounty and Farm families, which can accommodate 3, 6, 9, and 12 or 24 plants respectively.
Type of Plants to Grow
You can grow fresh veggies, herbs, and fruits all year long using the AeroGarden. You can grow many of the same plants as the Click and Grow garden system.
Germination Times
Seeds start germinating about 7-14 days after being planted. However, by using the recommended Miracle-Gro AeroGarden range of gardens and the Miracle-Gro plant food, the AeroGarden seeds can sprout and grow faster. 
Growth Rate
As mentioned earlier, some users say AeroGarden has a quicker germination time and can be harvested earlier thanks to the hydroponic methods used to grow them.
The nutrient rich water feeds the plants everything they need in order to grow healthy. Plants are ready for harvest approximately 4-6 weeks after they germinate. 
AeroGarden has the slight edge with homegrown plant yields, because hydroponics does have an edge.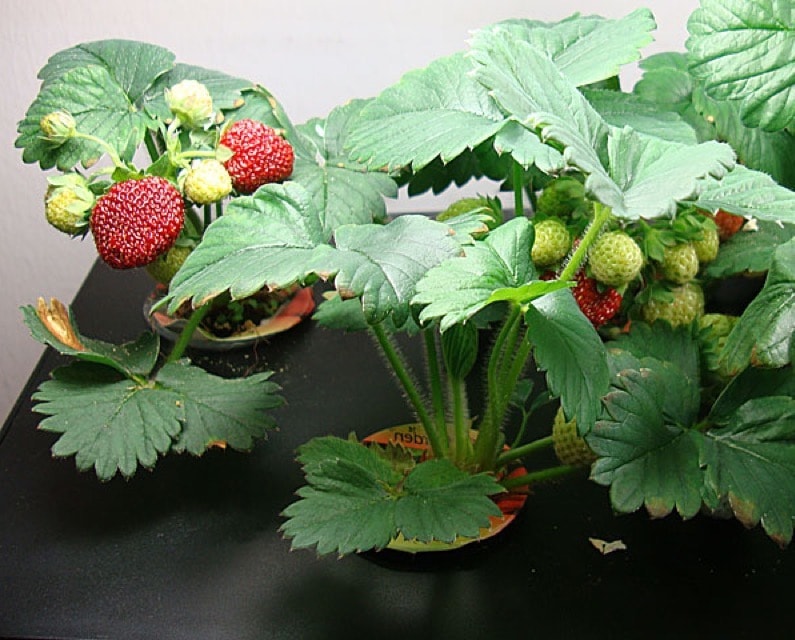 Watering System and Nutrients
Let's compare the watering system and the liquid nutrients used in growing plants. 
AeroGarden
There is a water reservoir and water pump that circulates water at the base of each AeroGarden unit, feeding the plant roots nutrients. To ensure that the water doesn't become stagnant, the pump runs automatically for 5 minutes, every 25 minutes, which means it runs twice per hour. 
There is a water indicator that turns red when there isn't a sufficient water level and it's time to refill the reservoir.
When it comes to the water and nutrient mix ratio, you'll want to follow the instructions on the liquid nutrients bottle based on the level of water added. Miscalculating one way or the other will result in stunted or no plant growth. 
Click and Grow
Click and Grow is a self-watering smart indoor garden. It uses a large water tank to automatically water the plants, and features a wicking system at the base of the smart soil to draw water up to the plants you're growing.
No pumps are used in the Click and Grow, making it quieter than the AeroGarden during operation. You'll need to add water every 3-4 weeks. 
There is no need for additional nutrients as all the nutrients that Click and Grow plants need are released in stages via the Smart Soil during the entire growing cycle. The smart soil will help keep the perfect pH level and provide the optimal configuration of water, nutrients, and oxygen.
The Click and Grow wins when it comes to watering the garden, because it's self-watering and you only really need to watch the water levels. There's no need to worry about the liquid nutrient solution and calculating the nutrient and water ratio. 
Noise Levels
Click and Grow: Because there is no pump operating in the Click and Grow, there is less noise. So for those who have noise levels as a factor in purchase, the Click and Grow would be a better option for you. 
AeroGarden: AeroGarden's water pump operates twice per hour, which can make it quite annoying for some people. 
In terms of noise, the Click and Grow wins the noise level round.
Ease of Use and Control Panels
Click and Grow
Using the Click and Grow garden's touchscreen panel and interface is easy. There's also a mobile app that's available to control the Smart Garden 9 Pro.
In terms of setup process, add the seed pods to the pod slots on the grow deck, fill up the water tank, plug it into the wall socket, and the smart gardening system takes it from there.
The red light indicator will tell you when you need to add more water, so that's most of the hard work every 3-4 weeks. 
AeroGarden
AeroGarden products, especially the AeroGarden Harvest, have a whole array of customizable controls which can be a steep learning curve for the beginner grower. The AeroGarden Sprout is the easiest when it comes to control panel settings, so you may want to start there as you develop your green thumb.
To date, only the AeroGarden Bounty and Farm XL has smart features like Amazon Alexa compatibility and Wi-Fi connectivity. 
However, in terms of simplicity and ease of use, the Click and Grow wins due to its literal plug-and-play system. 
Who is Each Indoor Garden For?
For those who want to have an easier to use indoor garden that is suited for complete beginners, the Click and Grow smart garden is the choice for you.
Some of the cons however, is that the refill pods are generally more expensive than the AeroGarden. As you gain more experience on your plant journey, you may run out of customized options if you stick to Click and Grow. 
AeroGarden plant units are better for those who want to dive deeper into the exciting new world of indoor hydroponic gardening.
There are more plant care features, such as customizable settings, variable LED light height adjustments and easy to use operations.
However, it has a loud water pump which can put off those who don't like the sound of a water pump going every half hour. 
AeroGarden Sprout Product Video
Final Thoughts AeroGarden vs. Click and Grow
Overall, the AeroGarden and the Click and Grow systems both offer a great introduction to the indoor gardening experience for beginners. Skilled outdoor gardeners who want to make the switch to indoor gardening or just to try something new can also go with either of these garden systems.
Both products get the job done and allows you to grow your own kitchen garden full of herbs, greens, or flowers all year-round and through the seasons. 
If you're a beginner, I'd recommend the Click and Grow Indoor Smart Garden 9 Pro, because of its simplistic design, low maintenance, and fun way it promotes the farm-to-table lifestyle with your family. 
Those with green thumbs may find the AeroGarden Bounty Elite more enjoyable in the long run, as there are more customizable options available on the market today. 
Learn more about other types of indoor gardening systems: