Do you have a green thumb? Do you want to grow your own produce for the entire family?
The Lettuce Grow Farmstand is a new take on home hydroponic systems. It's an all-in-one vertical and modular grow system that's great for both beginners and experienced growers.
Hydroponic gardening systems are becoming increasingly popular for both commercial and home gardeners. For those who're wondering: What is Hydroponics? 
Hydroponics is a process of indoor growing plants in nutrient-rich water and a soil-less growing medium other than soil.
Hydroponic systems come in all shapes and sizes. In this review, I take an in-depth look at the Lettuce Grow Farmstand and see whether it's worth it. 
The Farmstand is designed to provide an environmentally friendly and fun way to grow fresh produce in either an indoor or outdoor space for consistent growing year-round. 
What is Lettuce Grow and How Does It Work?
Lettuce Grow is the brainchild of actress Zooey Deschanel (500 Days of Summer, New Girl) and her ex-husband, businessman Jacob Pechenik. 
The Lettuce Grow Farmstand is simple to use and requires little maintenance, meaning it is perfect for those with little or no gardening knowledge to enjoy the benefits of fresh greens and veggies within a few weeks. 
How the Farmstand garden works is a simple 4-step process:
Choose a Farmstand from one of the 5 sizes, based on how much you want to grow. 
Choose what you want to grow from 200+ pre-potted seedling options: leafy greens, fresh veggies, herbs, and fruits. 
Fill the Farmstand with nutrient-enriched water. 
In 3-4 weeks, you can start harvesting fresh veggies for salads and more to eat. 
To give a better idea of the Farmstand efficiency, the unit will fit inside an old-school phone booth, while yielding what you'd get from a 40 square foot soil-based growing garden. The Farmstand only takes up 3 square feet of space. 
Let's get into the feature details and all the benefits that the Farmstand brings to having homegrown greens and more. 
Lettuce Grow Farmstands Features and Benefits
Farmstand Design
The Lettuce Grow Farmstand is a vertical unit with a bulbous base that acts as the water reservoir. Above the base are rows of curved grow bases, each of which has 6 holes in which to place the pre-seeded, pre-sprouted plant pods. 
These rows can be also be purchased separately as extension kits, so you're not tied to any one size when you buy initially. If you want to expand from 12 to 18 plants, it is simply a case of purchasing an extension kit row.
The whole unit will work either outdoors with sunlight or indoors with the optional glow rings. These LED indoor grow lights will provide the light to grow fresh produce and give you healther options to eat all year round indoors. 
What is the Lettuce Grow Farmstand Made Of?
Making special note of what materials the Farmstand is made of. Environmental considerations have been included right from the production process.
The units are manufactured from recycled plastic, for example, ocean-bound plastic and plastic milk jugs. The plastics created are certified as FDA food-grade and are BPA-free, so you don't have to worry about eating straight from the Farmstand if you want. 
I know people who like to harvest and eat straight away without washing, food like strawberries and edible greens. For me though, no matter if its salad greens or other plants, I still prefer to wash them before eating. 
Farmstand Size and Space Needed
The Farmstand is a vertical garden that's meant to be scalable and take up a small footprint, only 3 sq. ft. Garden size varies by height-only, depending on how many plants and plant varieties you want to grow.
The smallest size at 3' 8" high can grow 12 plants at a time, while the tallest at 6' 1" can grow 36 plants. The middle sizes can grow 18, 24, and 30 plants at the same time.  
The farmstand can fit in 3' x 3' level space, the height of the unit depends on the number of plants you intend to grow, I have listed full details of this below.
12 Plant Farmstand: 3'8″ Height x 1'10" diameter.
18 Plant Farmstand: 4'3″  x 1'10" 
24 Plant Farmstand: 4'10"  x 1'10" 
30 Plant Farmstand: 5'5″  x 1'10" 
36 Plant Farmstand: 6'1″  x 1'10" 
Regardless of the size of the system you buy, the base and water reservoir are always the same size. The reservoir can hold up to 20.5 gallons of water. 
The Farmstands are a great option for those wanting to efficiently use their available floor space to grow more veggies. 
What's in the Box?
Included in the purchase you receive:
The Farmstand unit
Necessary accessories: water pump, timer, and power cable
Enough nutrients (plant food) to feed over 130 plants
pH testing kit, pH down solution, stirring stick, and scoop. 
Automatic Watering
The water and the nutrient pump delivers the solution to the plants every 15 to 30 minutes. The hydroponic watering schedule is controlled by a timer, and you can set this for whichever times you prefer within this range. 
Once the plants are in place and the reservoir topped up with the water and nutrient mix, you will only need to top up the nutrients weekly. It's also recommended that you check the water at least once a week for the pH level and adjust as required to keep the water and plants healthy.
A water pump at the bottom of the unit pumps the nutrient-rich water to a diffuser at the top of the Farmstand. From here, the water and nutrient solution is sprayed down onto the plant roots. It can sound like an indoor water fountain, it's not loud and can be soothing.
Here's an animated gif from Lettuce Grow's site to show you how the watering works: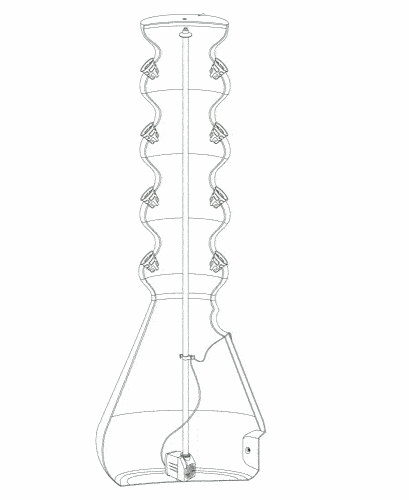 The system is so efficient that from seedling to harvest can take as little as three weeks, depending on the type of plant and the season.
This efficiency also extends to water usage, because so much of the water is constantly recycled. The plants only using as much as they need and any unused water is still within the unit to be used when the time comes.
It essentially has its own vigilant water management system that leads to using 95% less water than traditional gardening methods. 
Maintenance Required (It's Not Much)
The Lettuce Grow Farmstand has been designed from the outset to reduce the amount of maintenance and care required to produce healthy plants and fantastic yields of fresh produce. 
Maintenance and care requirements are generally around 5-minutes per week. There are only a few things you need to do: add nutrients and water, adjust the pH levels of the water, harvest any plants that're ready, and occasionally add new seedlings. Lettuce Grow has a great growing guide that'll help with many questions.
When you compare this against traditional gardening methods, this offers a huge benefit, especially for people who would've thought they didn't have the time to grow fresh foods themselves.
Reliability and Experience Needed
Lettuce Grow systems are set up from the outset so that anyone can grow fresh produce regardless of their experience.
When the plants arrive as seedlings, place them in a slot in the Farmstand, set the timer, and the growing begins. It really couldn't be simpler. 
Because the plants that are provided come as pre-sprouted seedlings, the growing success rate is exceptionally high, regardless of your green thumb. 
If customers are unsatisfied with their Lettuce Grow Farmstand for any reason, Lettuce Grow offers a 90-day return policy. That's very generous of them and that shows they care about customer service and want to provide healthier options for people.
With some plants growing in as fast as 3 weeks, they're giving 12 weeks to people for testing lettuce and other plant grows.
Lettuce Grow App
To help ensure healthy and bountiful crops, Lettuce Grow has an accompanying app that can be downloaded for iOS and Android smart devices. This app features:
Growing Tips – Tips and advice on how to optimize your grow.
Reminders – Notifications on when to harvest and reorder more seedlings.
Plant Identification – Simply use the phone's camera to scan your seedling or plant to identify them.
Recipes – Browse recipes that incorporate certain plants, vegetables, herbs, and more.
Order refills – Receive customized suggestions and order new seedlings directly from the app.
Lettuce Grow Seedlings and Pre-Sprouted Plants
For indoor grows, most of the seedlings can be grown all year round. There are 200+ plus varieties of seedlings to choose from.
If you love to grow a variety of lettuces and other plants, the Farmstand is great because you can grow almost any plants together in one unit. There's no need to separate Farmstands by type of vegetable, herb, etc. 
The biggest advantage with the seedlings is the difficulty of germinating seeds has already occurred in Lettuce Grow greenhouses. They come pre-sprouted as they've done most of the hard work for you. The only other thing that is required is to fill the water reservoir and add the nutrients. 
The seedlings are around 3 – 4 weeks old and selected to ensure they are in perfect health when they arrive. In many instances, this means you can begin to harvest your plants as soon as three weeks after receiving them. 
Vegetables
Lunchbox Peppers
Zucchini
Mini Cucumber
Tomatoes
Green Beans
Dragon Tongue Beans
Herbs
Cilantro
Mint
Italian Parsley
Chives
Dill
Sage
Varieties of Greens
Romaine Lettuce
Kale
Spinach
Bok Choy and other Asian Greens
Green Cabbage
Red Leaf Lettuce
Flowers
Viola Mix
Marigold
Snapdragon
Calendula
Even though there is a large selection, you still might not find those healthy greens that you're looking for. Don't worry, you can also grow your own seedlings and seeds in these systems. 
The plants you're growing are all pesticide free too. The vegetables, herbs, and fruits grown will be cleaner and healthier than anything you'll find sitting in your supermarket. You'll know what Farm Fresh means with your Farmstand.
Harvesting times depend on the season and plant type. For instance, most lettuce varieties can be harvested within three weeks of planting and if not too vigorously harvested, can provide fresh produce for several weeks. 
Meet the Lettuce Grow Farmstand
Where to Place the Lettuce Grow Farmstand
The Farmstand is suitable for indoor and outdoor usage. For outdoor use, the best placement is in an area where there is plenty of sunlight. The Farmstand also needs power for the water pump, so it does need to be within range of a power outlet. 
It's also best to place them in an area where it's unlikely to be hit by wind or frost. Weather like that would negatively affect plant growth.
For indoor use, you will need to purchase an additional glow ring or other grow light system to get the plants the needed light. Power is also a consideration here, for indoor grows you will require power for the lights and the pumps. 
Because of the brightness of the lights and the noise of the pump (not that it's super noisy), bedrooms aren't going to make ideal growing environments, but apart from that its small footprint means it will fit in most small spaces. 
Another consideration for growing indoors is the requirement of a drip tray or drip mat. Although these are designed such that water overspill is negligible, occasionally the plant root systems can cause this to occur. 
Final Thoughts on Lettuce Grow
I like the Lettuce Grow Farmstand as it allows everyone to grow fresh, nutritious food regardless of the space they have available. The vertical design and scalability of the Farmstand mean that these systems can produce high-yield crops of fresh produce on an ongoing basis.
Overall, this is an innovative and environmentally friendly product that consistently provides harvest that is far greater than that achievable through traditional methods. 
The variety of crops you can grow is extensive, which means there will be any number of plants available to suit all tastes. Growing family-size quantities of plants is easy, but the Farmstand can also be a fun family activity. 
Gardening with kids doesn't require a large garden bed at all. You can grow all kinds of plants in one farmstand. That allows kids to see how different plants grow, while also getting to eat healthier food all year. 
I also love what they're doing with their Lettuce Give program with Whole Kids Foundation and various nonprofits, schools, and communities. For every 10 Farmstands they sell, they'll donate 1 Farmstand to communities that need access to fresh and healthy food. 
If you are looking for the perfect, minimal fuss, indoor or outdoor grow system, then Lettuce Grow's Farmstand may just be the hydroponic garden kit for you. 
Other review articles you might be interested in:
FAQs – Frequently Asked Questions
1. Can Lettuce Grow Be Used Indoors?
Yes, the Lettuce Grow can be used indoors. However, this normally requires artificial lights. Lettuce Grow has their own range of Glow Rings that can be used for the purpose. 
2. Is the Lettuce Grow Farmstand Worth it?
The Lettuce Grow Farmstand is worth it for several reasons, it's a sustainable method of growing fresh and nutritious fruits, herbs, and vegetables. It's also a more cost-effective way of gardening to produce these plants. Lastly, it's also a fun way of growing, harvesting, and enjoying the fruits of your very minimal labor.
3. Does the Lettuce Grow Use Much Electricity?
The Lettuce Grow does not use much electricity. The pump it uses is minimal, and even indoors with a lighting system, the Glow Rings use energy-efficient LED lights. 
4. How Long Does it Take for the Plants to Grow?
It does not take long for the plants to grow because the seedlings are pre-sprouted. The seedlings are already 3 to 4 weeks old when they arrive, so you have a head start when you plant them. There's less risk of the seeds not growing, because they've already germinated under Lettuce Grow's watch. Some plants can be ready for harvest in as little as 3 weeks.