The weather's nice outside and you want to enjoy the great weather. But you don't want to spend the day mowing that large lawn of yours. That's where these best robot lawn mowers come in to let you enjoy life and have fun, while it takes care of the grass in your entire yard.
Before getting into each of the full review and list of lawn mowers, if you're in a hurry, here are the top 3 best bobot lawn mowers.
Best Overall – Husqvarna Automower 430X and 430XH
Best Value – Gardena 4069 R80Li
Best Budget-Friendly – Husqvarna Automower 310
After going through the list of the best robotic lawn mowers, if you still need some information, I'll also present a how to choose a robot lawn mower buyer's guide.
The buyer's guide will go through all the important features and criteria to find the best one for your lawn.
1. Best Overall – Husqvarna 430X / 430XH
The Husqvarna Automower 430X and 430XH Robotic Lawn Mower are two of the best robotic lawn mowers on the market at the moment. It simply mows the opposition out of the yard.
I'm lumping them together because they're the same robot lawn mower with the only difference between the X and XH being the cutting height. The 430X is for grass that's 0.8-2.4 inches tall and the 430XH is for 2.0-3.6″ grass.
The 430X/430XH charges in a short 50-60 minutes, giving it 145 minutes of battery life to make it one of the most efficient Automowers out there. And when it senses it's running low on battery power, it'll automatically return to its docking station to recharge.
This is an ideal robotic mower for those of you with lawns that have more extreme slopes as this robot mower can handle gradients of up to 24° degrees.
Prefer mowing at night?  The 430X and 430XH come with powerful LED Headlights, so feel free to set the custom mowing schedule to whenever you want.
Despite the powerful motor, this is one of the quieter mowers out there, leaving you to enjoy a good night's sleep if you set it to mow in the late hours. 
The design and software are optimized to ensure it can deal with the tight spaces and obstacles in complex yards.
The unit itself has a large color display and a companion mobile app to configure the mower's settings and options. If you prefer, the 430XH can also be controlled with voice commands using either Amazon Alexa or Google Assistant.
This high end mower also features a built-in theft-protection alarm that goes off when it's picked up off the ground. There's also a GPS tracking system that tracks its whereabouts. 
This Robotic Mower uses its GPS to build a map of your yard, including where your perimeter wire runs and boundary wire sensors are. It then looks at the mowing progress and which parts of your lawn it has covered already, and adjusts its mowing patterns accordingly. 
Backed by its Scandinavian heritage, it's no surprise to hear that this model is capable of cutting your lawn's wet grass in the rain. 
Amazon Alexa and Google Home Compatible – Yes to both
Mobile App – Yes
GPS Tracking – Yes
Yard Size –  0.8 acres (3,500 sq meters)
Max Incline – 24° (45%)
Cut Height –  430X is 0.8-2.4 inches;  430XH is 2.0-3.6″
Battery Charge Time – 50-60 minutes
Mow Time on Single Charge – 145 minutes
Husqvarna Automower 430X 3 Month Review
Also check out the Husqvarna Automower 450X and 450XH Review article to see another popular Automower.
2. Best Value – Gardena 4069 R80Li
While not as fully featured as the Husqvarna 430XH, the Gardena 4069 R80Li does come in at around half the price, which makes it,  in my mind, the best value autonomous lawn mower currently available. 
Of course, this shouldn't come as a surprise. The Gardena brand is one of the top lawn mower manufacturers when it comes to automated lawn mower options. 
It can deal with garden sizes of up to 800 Square meters and can run for an impressive 60 minutes of mowing time on a 50 minute charge.  It can also cope with steeper slopes of up to 25%, with a cutting height of between 0.7″ to 2″.
It also has built-in security features. It will set off an alarm if lifted and locks itself until a PIN code is entered.
The Gardena has an impressive cutting width of 6.7″ (17 cm) and if it doesn't cut your grass in one go, it simply returns to its docking station on its own, recharges and off it goes again. It is designed to cut little and often , with the small size of the clippings acting as a natural fertilizer to promote new growth. 
Amazon Alexa and Google Home Compatible – No
Mobile App – No
GPS Tracking – No
Yard Size – 0.75 acres (3000 sq. meters)
Max Incline – 25% (14° degrees)
Cut Height –  0.7″ – 2″ 
Battery Charge Time –  50 minutes
Mow Time on Single Charge –  60 Minutes
3. Best Budget-Friendly – Husqvarna 310
Perfect for those smaller yards, the Husqvarna 310 is my choice for the best entry level model. Robot lawn mower prices can often go into the thousands, so it's great to see one that doesn't go that high.
The 310 can still deal with slopes of 22° and deal with gardens of up to 1000sq/m (1/4 acre). It can cut grass heights from 0.8 to 2.4 inches, pretty impressive amongst budget electric models. 
It is a user friendly model, the app is intuitive and the whole system is easy to set up following instructions, even for those with no prior experience of robot mowers. 
The perimeter wires are easy to lay and once done you simply place the mower in its charging base and you're pretty much good to go. "The Husqvarna only has built-in bluetooth for wireless connectivity, which is slightly disappointing, but it is one of the more basic robot mowers. However, if you purchase the "Husqvarna Automower Connect," then this increases the overall functionality of the system. With this addition you can control the mower through Alexa or Google Assistant, see where it's mowed on a map and get remote access to your mowing schedule. 
All-in-all this is a fantastic model for its price range.
Amazon Alexa and Google Home Compatible – No to both
Mobile App –  Husqvarna Connect@Home (Bluetooth works up to 100 ft)
GPS Tracking – No
Yard Size –  0.25 Acres
Max Incline – 22 Degree Slopes (40%)
Cut Height –  0.8-2.4 inches
Battery Charge Time – 60 min. 
Mow Time on Single Charge – 70 min. 
4. Worx WR150 / WR153 Landroid L 20V Mower
A great option for those with medium to large yards, the Worx Landroid L can manage up to a half-acre yard. This model comes a close second in the best value automower category.
For the money you get useful features like GPS tracking and Wi-Fi connectivity. To help keep it in Wi-Fi range, a Wi-Fi extender kit comes with the package.
It also comes with a "Digital Fence" which can be used in place of perimeter wires to set no-go zones for the automower. The GPS feature also has a "Tracking" anti-theft system. 
Amazon Alexa and Google Home Compatible – No
Mobile App –  Yes
GPS Tracking – Yes
Yard Size –  0.5 Acre
Max Incline – 20 Degree Slope
Cut Height –  1.6″ – 3.9″
Battery Charge Time – 60 min. 
Mow Time on Single Charge – 60 min. 
The WORX Landroid | MyLandroid.com
5. Robomow RS630
The Robomow RS630 is a top mower and can manage large and complex yards. The Robomow has been around for a few years now and with constant updates and improvements, it's one of the most reliable on the market.
The RS630 has an integrated rain sensor for its weather-sensing feature that tells it to return to the charging station in bad weather. It's suitable for large yards of up to 3/4 acres in size and with slopes of up to 20°.
One drawback is it's one of the louder models available, but still not that noisy. Charging the mower takes a while, usually about 90 – 110 minutes, but this is compensated by a cutting session time of 80 to 100 minutes.
The cutting height is between 0.8 to 3.5 inches, and it can deal with some pretty rough terrain. 
The Robomow uses bluetooth connectivity and is compatible with Amazon's Alexa, so you can get it going using voice control. Imagine enjoying Sunday Morning breakfast in bed and telling it to mow the lawn. 
Amazon Alexa and Google Home Compatible – Yes
Mobile App –  Robomow 2
GPS Tracking – No
Yard Size –  0.75 Acres
Max Incline – 20°
Cut Height –  1.25″ – 3.5″
Battery Charge Time – 90 – 100 minutes
Mow Time on Single Charge – 80 – 100 Minutes
6. Mower MowRo Robot Lawn Mower RM24
The MowRo RM24 is a great choice for those with small to medium size lawns. It's easy to set up and it can be cutting your grass within a few minutes. Simply lay the boundaries, program the yard size into the machine, and you're good to mow towards greener lawns. 
One drawback is the RM24 is slightly noisier than some of the other models, coming in at 65 decibels of noise (db) against the average of 60db. But this difference is barely noticeable. It's equivalent to a loud conversation or laughter, so it won't disturb the neighbors.
When the rain sensor senses rain, the mower automatically returns to its base station and charges until the weather is clear. 
Amazon Alexa and Google Home Compatible – No
Mobile App –  No
GPS Tracking – No
Yard Size –  0.25 Acres
Max Incline – 30°
Cut Height – 1.0″ – 2.5″
7. Husqvarna Automower 315X
The Automower 315X is Husqvarna's mid range offering, and while it isn't as fully featured as its bigger brother, it is still a great choice for small to medium sized lawns.
Easy to set up and with remote control through the mobile app, it's easy to set your schedule from anywhere. 
It has GPS tracking and anti-theft systems that utilize this function, it also has Bluetooth connectivity for the mobile app and also for integration into smart home systems like Alexa and Google Home.
The only thing lacking is a rain sensor, which means it will continue to mow in the rain. Not a problem as the device is waterproof, but it does mean you will need to ensure the automer is cleaned afterwards. 
Amazon Alexa and Google Home Compatible – Yes
Mobile App –  Yes
GPS Tracking – Yes
Yard Size –  0.4 Acres
Max Incline – 22°
Cut Height –  0.9″ – 3.0″
Battery Charge Time – 60
Mow Time on Single Charge – 70
How to Choose a Robot Lawn Mower Buyer's Guide
Now that you've seen some of the best robotic lawn mowers on the market, let's look at some of the factors you should look at to help you choose the right one for you. 
Lawn Size and Cutting Deck
The size of your lawn and the cutting deck of your mower are two of the first factors you should consider.
Ideally, you want the robot mower to be able to cut your entire lawn in one mow, but this depends on factors like battery power and the size of the cutting deck. The deck is the area under the mower where the blades spin. 
Each mower will have listed specifications stating what its performance criteria are. But as a general rule here are what different mower sizes can do:
Small, light-duty mowers – Up to a 0.25 acres (10,890 square feet)
Mid-range mowers – Up to 0.5 acres (21,780 sq ft)
Larger models – Up to 1.0 acre (43,560)
If you have a decent-size yard, the mid-range mowers are probably the one that makes the most sense. Remember that mowers can go back to its dock and recharge. The recharge does add to the cutting time, but you're not doing anything anyways, so I let the mower just go at it.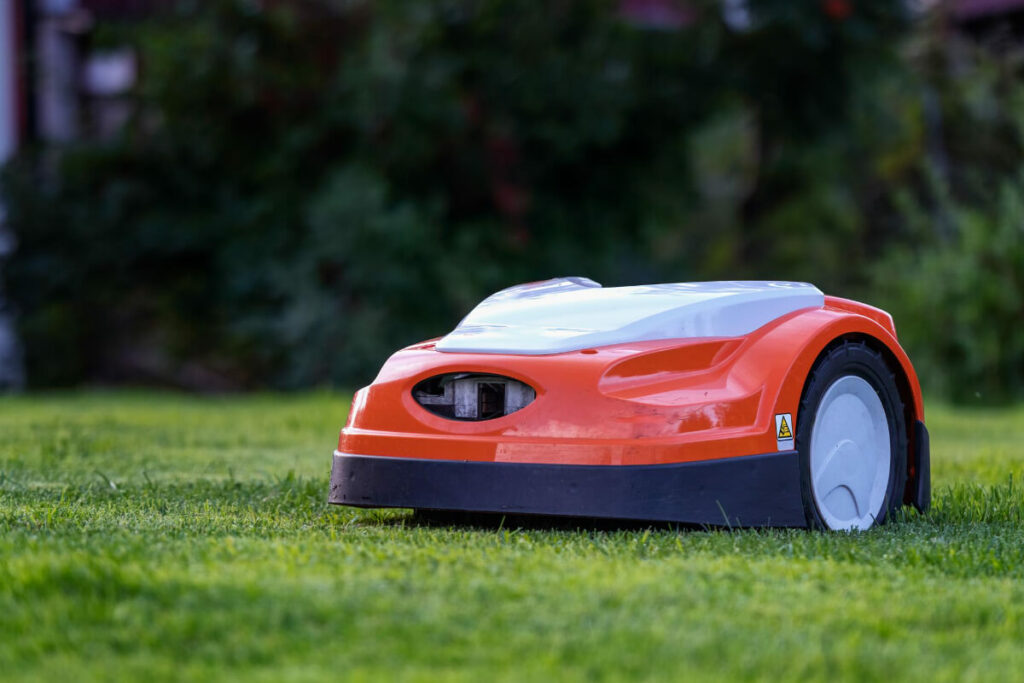 Handling Different Types of Lawns – Flat, Slopes, Ditches
Some smart mowers are smarter than others. Keep that in mind because not all yards are created the same.
All robot mowers can manage flat yards with no obstacles. The better mowers stand out when the cutting paths aren't as clean with ditches, trees, garden beds, tool sheds, garden hoses, boulders, and other objects.
You will also need to consider the maximum slope of your garden as many light-duty or small robot lawn mowers can't manage anything more than a 22-24° incline. 
GPS assisted navigation, on-board collision avoidance systems, the ability to deal with narrow gaps, and steep slopes should all be considered when making your purchase.
Setup and Installation
Most mowers are fairly simple to set up, although the process can be time consuming.
You'll need perimeter and boundary wires to establish the boundaries of its cutting area and around obstacles. Some also require a guide wire to be laid down, so it can return to the charging station. 
People often ask for professional installation, because it can be overwhelming the first time. Do double-check to see if installation is free when you purchase your automower. It'll be a pain if the yard measurement was miscalculated and extra perimeter wire is needed. They'll have a spool of wire with them. 
Some mowers also have a mobile app that can be used to program the mower. Others use a keypad and onboard screen to program the mower. 
Design and Build Quality
This is common sense really, but the more you pay, the better these factors are. Luckily at the moment there are no real bad models out there.
It's an expensive project to design, build and market one of these. Most of the manufacturers who make them are companies with a long history of quality. I'd stick to brands who've been making lawn mowers for many years first.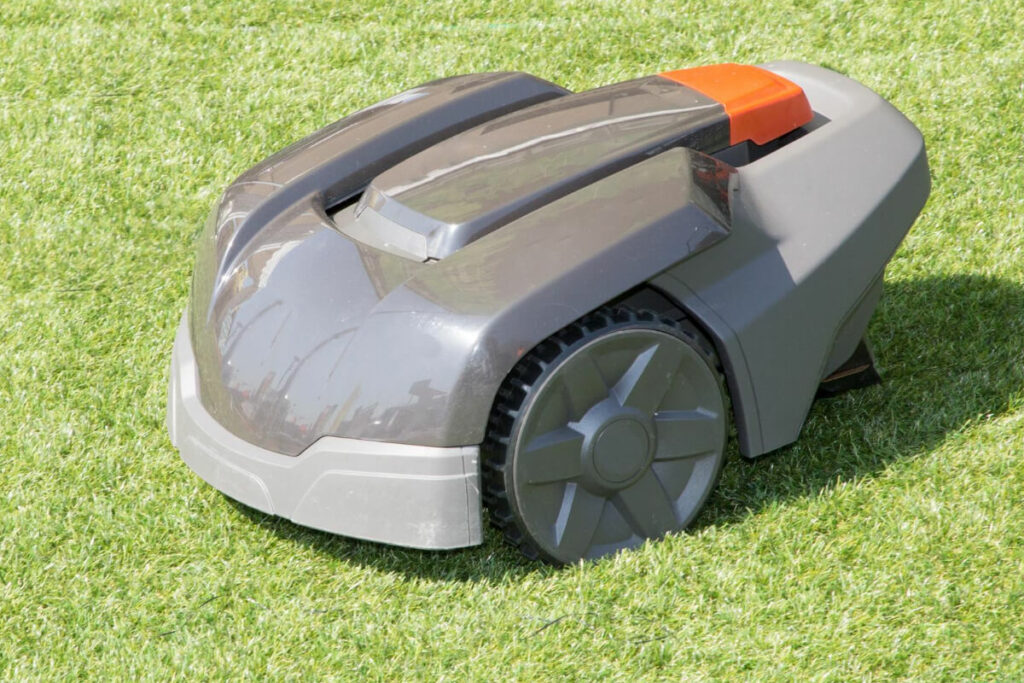 Battery Life and Power Source
The life of your battery isn't such a big factor if you have a small to medium lawn, but for larger gardens this is one factor that you should consider.
Even though mowers will return to its charging station whenever the battery is low, you'll want to get the docking bay as far out as you can. Find a way to get a power source out further into your yard. That will help prevent the battery from dying on its way back to the charging bay. 
Mower Controls and Programming
Depending on the model you choose, you may be able to program cutting schedules on your smartphone with a mobile app. You can also program your mower the old-fashioned way by using buttons on the mower itself.
Smart Technology
The use of smart technologies can really help the mower simplify your life and get your weekends back. Some offer compatibility with voice assistants, many have built-in GPS and can provide maps of where they have mowed and their real-time location. 
With the Internet of Things (IOT), you can control your mower from anywhere, check its current status, and reprogram schedules all from your smart device. 
Some mowers will even send you a gentle reminder that the cutting blades need to be changed. 
Safety and Security
Safety features are a big consideration, as an autonomous device that cuts grass with spinning blades could be a recipe for disaster if there's an issue with its operation. All the manufacturers have taken this into consideration and built safety into their mowers.
Any of the robotic mowers above will stop its blades from spinning once they're lifted off the grounds. Many have collision avoidance sensors that detect pets and children. Also they aren't the fastest of devices (by design) so you are unlikely to be surprised by one's speed.
The blades are also well-recessed to cut down the chances of cutting any hands and feet that come too close.
For security, most come with the PIN code requirement to unlock the device to start cutting grass. More advanced models come with built-in audible alarms, GPS tracking and some are configured to work with the supplied charging station only.
Noise Levels
While not silent, they are far from being noisy, on average the mowers produce about 60 decibels, which isn't much louder than most background music or a human conversation. For comparison, a gasoline-powered push mower will produce around 95 decibels.
Weather Protection
Most are fairly robust and designed to remain outdoors, certainly during the mowing season (including the charging station).
Some are even able to cut in the rain. Although, for a good-looking lawn it's not a good idea to cut in wet weather. Some mowers come with rain sensors integrated and will return the charging station when it detects rain. 
The more feature packed ones will access local weather conditions via weather apps and adjust their schedule accordingly. 
For me, I still like to only mow when the weather is good, it'll help increase the life span of my mower. 
Maintenance and Cleaning
Like any regular manual mower, robotic mowers require cleaning and maintenance.
The blades should be replaced regularly, depending on the model and size of your lawn this could be up to twice a year. The more mowing sessions you have, the more you'll want to keep an eye on the blades. Might not be a bad idea to keep spare cutting blades in the house/garage for when you need it.
Keep the cutting deck clean too, so it'll have a clear path to cutting the grass. Periodically clean the underside and the wheels. Check the wheels and the rotor to see if lubrication is needed to keep it running in top form and avoid any trouble with wheel slippage.
Learn more about robot lawn mower troubleshooting.
Accessories
Most mowers are ready to go without the need for any accessories. However, many do not come supplied with extra perimeter wire or pegs.
Barebones models will come with limited accessories. Always check what's included before making your purchase, so you know what else you might need. 
Other Robot Lawn Mower Benefits
The obvious benefit is the amount of time you free up to do the things you really want to do in your lives.
More frequent mowings help lawns to stay healthier overall. When grass cuttings are small, they can be absorbed into the soil to nourish future growth too. 
These electric machines are vastly better for the environment when compared to gasoline mowers. In the long run, their low-power usage can save you money from buying gas.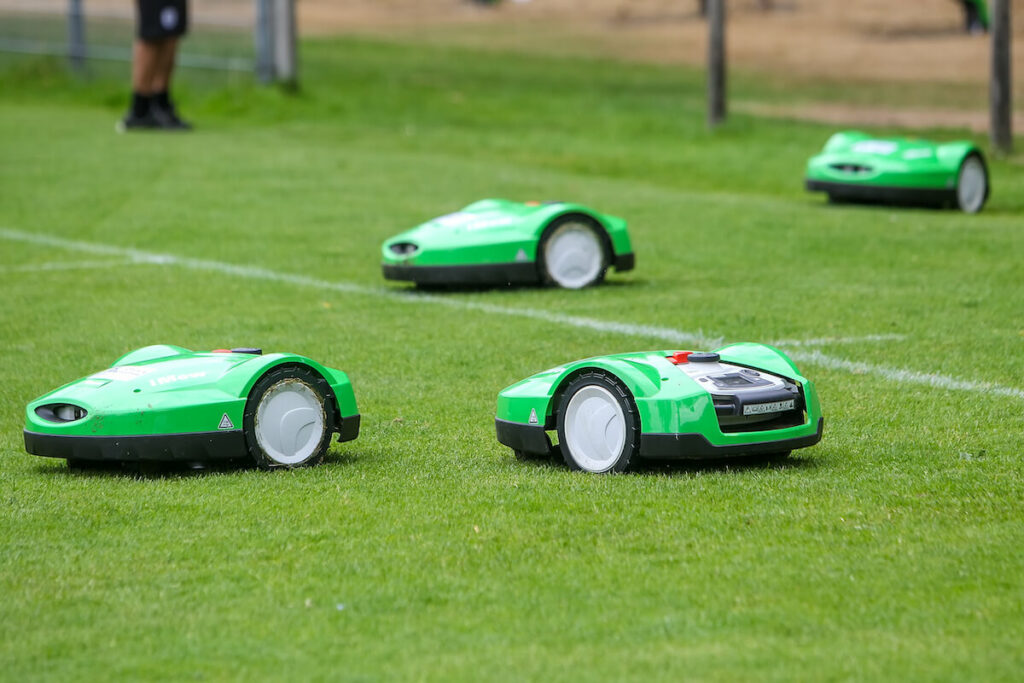 Robot Lawn Mower Cons
Robotic Lawn mowers can sometimes get stuck in holes or . But you'll be able to check on its location with the app, if there is one for the model you have. Otherwise, follow the tracks to see where it is. 
There will be times when a neighbor wants to borrow your robot mower. Unfortunately, they're restricted to cutting within the designated area by the boundary wires. That means if you were to move homes, you'll also need to set up the wires again or hire a professional for the installation.  
Price and Budget Levels 
Robotic mowers are more expensive than electric, cordless, and gas-powered mowers. A basic model will cost around $600, and this can rise to $5,000 for premium models with smart features and a greater range. 
Final Thoughts on the Best Robot Lawn Mowers
Smart Gardens and Homes are all about making life more efficient and easier for you. Robot lawn mowers go a long way in doing that. There are many good options out there for your yard.
To recap, these are the best ones:
Best Overall – Husqvarna Automower 430XH
Best Value – Gardena 4069 R80Li
Best Budget-Friendly – Husqvarna Automower 310
FAQs Frequently Asked Questions
What is the Best Robot Lawn Mower?
In my opinion the best model currently available is the Husqvarna Automower 430XH. It's a full featured mower at a reasonable cost and can handle all sorts of tricky terrain and slopes. It will also get the mowing done faster as it only needs 50-60 minutes to recharge and can cut grass for up to 145 minutes on a single charge, depending on the lawn terrain.
How Does a Robotic Lawn Mower Know Where the Edges of My Yard are?
Robotic lawn mowers where the edges of your yard are, because of the boundary wires that were buried during installation. The wires set the perimeter of your lawn and the areas that the mower will need to stay within.
How Long Do Robotic Lawn Mower Batteries Last?
On a single charge, a robotic mower can last mow for 1 to 2.5 hrs. The life of the battery before it completely dies depends on how often it's charged, but the lifespan is usually between 3 and 6 years.
How Long Do Robotic Lawn Mowers Last?
With regular maintenance and cleaning, a robot mower can last for as long as 10 years. However, the batteries will need to be replaced every 3 to 6 years depending on factors like frequency of use. 
How Often Should I Use a Robotic Lawn Mower?
Robotic lawn mowers are designed to be used frequently, because that's how they work best to maintain a perfectly well-manicured lawn. In most cases daily or every other day is best to keep grass lengths at a good height. When the robot mower cuts often, the grass clippings are small. As the small clippings fall back into the grass, it acts as mulch, which helps to promote healthy grass growth.
Can I Use a Robot Lawn Mower While it Rains?
Many robot lawn mowers can mow in the rain, but it's best to avoid mowing in the rain. Cutting wet grass can damage the robotic mower, because wet grass clippings can clump up. Wet clumps can lead to blockages with the motor, blades, and wheels. It's also not good for the continued health and growth of the lawn.
Can I Remotely Control a Robot Lawn Mower?
Depending on the robot lawn mower model, you may be able to control your mower remotely through a mobile app on your smartphone, or through an Alexa or Google Assistant compatible smart device.
What are the Best Robot Lawn Mower Brands?
There are many top brands. In no particular order, these are the best brands in my opinion: Husqvarna, Worx, Mowro, Gardena, Honda Miimo, McCulloch, Bosch, and John Deere.