Click and Grow Smart Gardens have quickly grown to be one of the top go-to indoor garden kits for many people who want to grow their own herbs, fruits, vegetables, and more at home.
In this Click and Grow Review, I'll go in-depth on my experiences with the Smart Garden 3, 9 and 9 Pro.
Let's take a look at everything that Click and Grow has to offer with their three smart gardens and many plant pods in the product range. This detailed review will help you decide on the best indoor garden kits for you. 
Here's a quick side-by-side comparison chart of their three main indoor gardens, the Smart Garden 3, the Smart Garden 9, and the Smart Garden 9 Pro. 
Smart Garden 3
Smart Garden 9

BEST VALUE
Smart Garden 9 PRO

BEST OVERALL
Number of Plant Pods
3
9
9
Max Grow Height (inches)
19″
23″
23″
Size (Width x Depth x Height inches)
12″ x 5″ x 8-19″ 
23.6″ x 7.5″ x 15.8″
23.6″ x 7.5″ x 15.8″
Power Consumption Wattage
8 W
13 W
13 W
Power Consumption per Month
3.8 kWh
6.2 kWh
6.2 kWh
Water Tank Capacity (Gallons / Liters)
0.32 gal (1.2 L)
1.06 gal (4 L)
1.06 gal (4 L)
Automatic Watering
Yes
Yes
Yes
Light Control Methods (App, Touch-Control)
Touch-Control
Touch-Control 
Touch-Control and Mobile App
Mobile App (Yes/No)
No
No
Yes
Amazon Link
Smart Garden 3
Smart Garden 9 
Smart Garden Pro 9
Click and Grow Direct
C&G Direct 3
C&G Direct 9
C&G Direct 9 Pro
Click and Grow Features and Benefits
Before we look at each of the smart gardens individually, they have a number of features and benefits in common. In this section, we'll look at how these gardens can turn your kitchen or any room for that matter into the perfect, smart garden space environment for growing lettuce, herbs, indoor plants, or even a themed herb garden.  
The combined features in all the gardens are all designed to offer one major benefit, a painless method of setting up the perfect environment for plant growth in just a few minutes!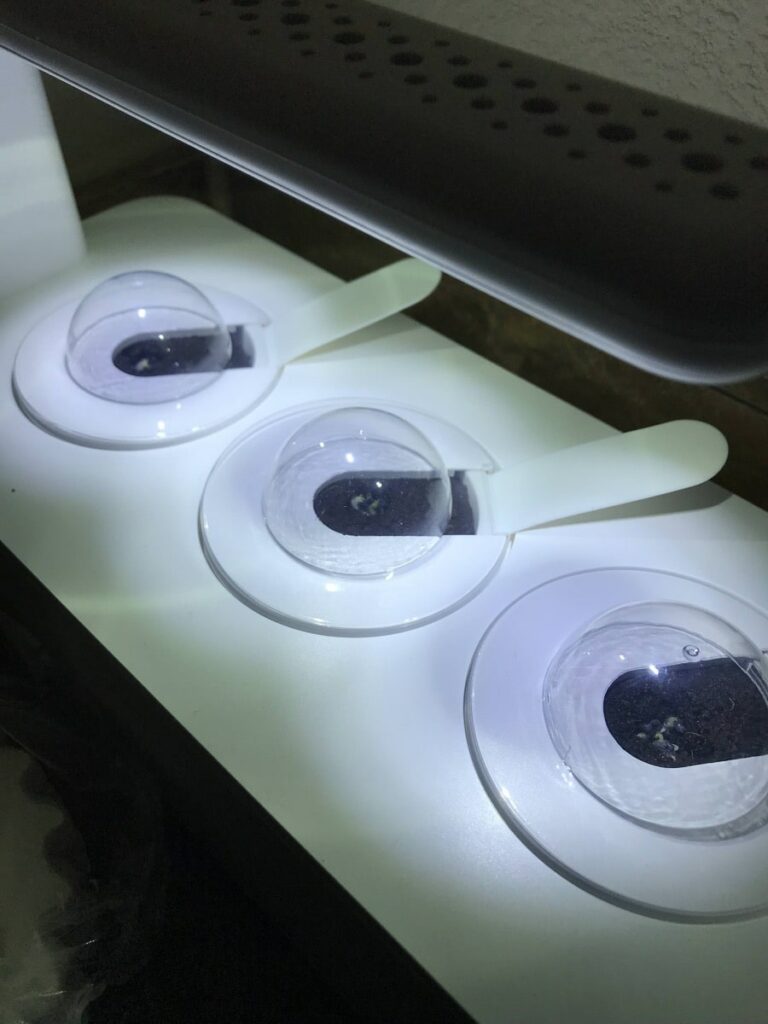 Smart Soil Technology
With these systems, there's no need to supply your own soil or other growing medium. You don't need to add fertilizer or plant food as well.
Smart soil technology provides all the essential vitamins and minerals your plants need. It also ensures plants have the best mix of water and oxygen, as well as the perfect pH-level.
The Click and Grow's NASA inspired smart soil feeds plants throughout their life by releasing just the right amount of nutrients during the entire growing cycle. It gets rid of the need to buy any additional food for your plants.
The thing I love about these garden kits are that there are no pesticides, hormones, fungicides, or other potentially harmful substances in the smart soil. 
This technology simplifies the process of having your own indoor herb garden and makes it a great choice for beginners. For another smart soil garden option, there's the Veritable Smart Indoor Garden. 
Click and Grow Plant Pods
Click and Grow have pre-seeded plant pods packed with smart soil. These are very easy to use. There's no need to make your own plant pods by buying individual seeds and soil. You can simply order the pre-made pods, which come with the correct amount of smart soil and the seeds of your choice.
Simply select which plants you want to grow from their wide variety of over 50 plant pots that include everything from mini tomatoes to basil.
I've grown all types of plants and I start seeing plant sprouts in 1-3 weeks too, so no need to wait around too long before you can start to harvest. When growing salad greens, I can usually harvest them in as soon as 30 days for certain plants like salad greens.
The plant pod system is similar to the AeroGarden products for seeds. Plant pods are also similar to the coffee pods used in coffee pod machines. The pods are popped into the device, ensure there's water, and after some time you'll have many plants. 
The main disadvantage to this type of system normally is you're tied to the pods that the company sells. But luckily, with Click and Grow, you do have flexibility. 
If you do want to grow specific plants that they don't have, you can use Experimental Plant Pods. They allow you which are plant capsules without the seeds, these allow you to grow your own choice of indoor plants. It is always best to check which types of plants are suitable before starting your growing efforts. 
I usually buy the seed pods though because it's the easiest way to just start growing. They also have all the herbs, vegetables, and fruits that we eat as a family. The time saved far outweigh the pod prices.
Self-watering Smart Garden 9 - Romaine Lettuce time lapse
Automatic Watering
The Click and Grow garden takes care of the watering for you, simply fill the refillable water tank to the suggested water levels and you're done.
These gardens are great for those of us who can be forgetful, but it's still necessary to check the water indicator from time to time. Always remember that different plant types use different amounts of water. 
A full water reservoir lasts me around three to four weeks, and there is a float indicator to let you keep an eye on the water level. You'll know when you don't have sufficient water and need to top up your tank with water.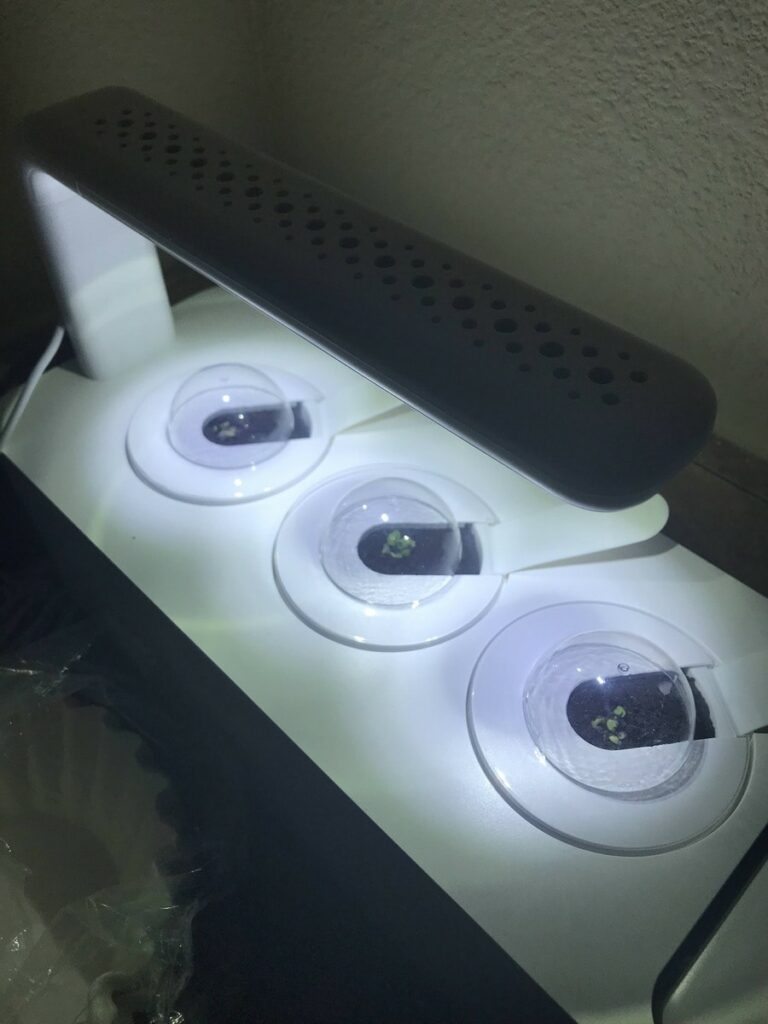 Smart Garden Lamp and Light Timer
The lights are optimized to provide a "simulated sunshine" that ensures your plants and seedlings germinate and grow quickly. Lights have a large effect on plant growth rates, so it's nice to know these are fully-adjustable light sources.
These dedicated grow lights work on a 16-hour On and 8-hour Off cycle. The adjustable lights can also be set up for optimum times to coincide with your own day/nighttime hours. 
They are which can be adjusted to coincide with your own daylight hours. They can also be paused and restarted simply by touching the top of the unit. 
Light is crucial for plants to thrive, and these natural-looking light systems are a fantastic way of giving your plants sufficient light at night and during the day. 
Click and Grow App
A mobile app comes with all the Click and Grow electronic gardens. Once the app is installed, you simply register an account, select your product and the plants you are growing.
The app helps you keep track of your plants and gardens. The app will provide you with information about germination times, grow times, and any specific environmental conditions for the plant.
The app also has lots of growing tips, fun facts, and useful information about various plants. There is lots of useful information. 
Grow All Year Round
These are indoor gardens and lights provide a continuous summer light at wavelengths to give you a kitchen garden year-round.
There are temperature constraints on certain plants, so if you live in an area with a cold climate and your heating is off periodically, you'll need to select plants that are more tolerant of temperature changes.
For instance, chili pepper and tomato plants will struggle to grow in cooler temperatures. If you want to grow food indoors, you'll need to also control the climate indoors somewhat.
I live in a temperate climate, so there's not much I need to do during the summers and winters. I can just keep the garden kit in the kitchen and let it grow.
The LED lights are also cooler than traditional lighting systems which means you don't have to worry about the heat in the summer.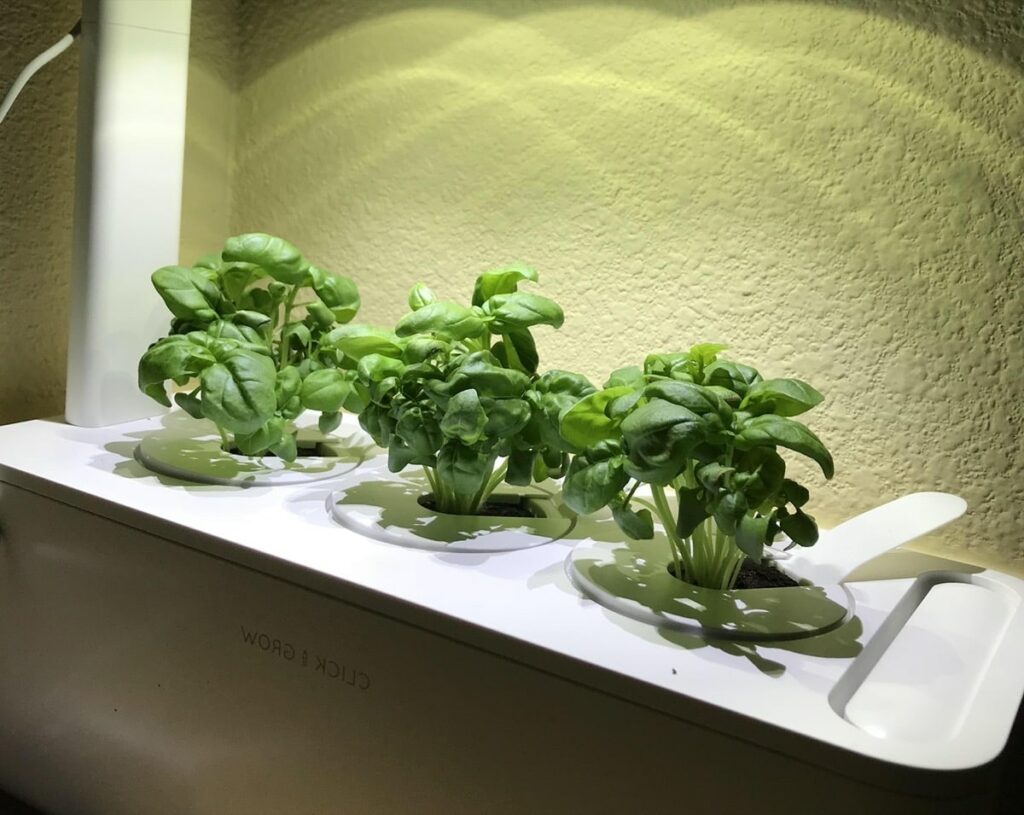 Click and Grow Smart Garden Indoor Kits 
Now that we've looked at the common features of the three garden kits, in this section we will take a look at the individual garden reviews, their features, and their differences.
Click and Grow Smart Garden 3
The Click and Grow Smart Garden 3 is the entry level model and as the model name suggests, it allows you to grow up to three plants at a time. It's capable of growing the same selection of plants as the larger 9 models.
However, the lights cannot be raised as high, so the height of your individual plants will be more restricted than the other models. There're 19 inches of plant height that the Smart Garden 3 will accommodate, while the 9 models are 23 in. 
With limited plant height available, you will require to be more selective in your choice of plant, but it is still the perfect choice for growing a smart herb garden or salad greens.
This would be an ideal choice for tighter spaces and for homes of 1-2 people. 
I initially bought the Smart Garden 3, but with our family of 4, we quickly outgrew it in a few months. After the first couple harvests, we knew that it wasn't providing enough lettuce. That's when we stepped it up to the next garden kit.
Click and Grow Smart Garden 9
The Smart Garden 9 is capable of growing up to 9 plant pods at a time. With increased height capacity, it gives you more choices when considering your plant pod selection. It also allows you to be more flexible when considering experimental plant pods.
This ability to grow your plants higher also means that selections like tomato plant pods have more room to flourish and will normally provide higher yields. 
This increased ability for plant growth makes the Smart Garden 9 a more practical choice for those with families of 3-4 people. 
This is the one most people will buy because of the 9 pod spaces. I have this one myself and we love it. But
Smart Garden 9 Pro
The Smart Garden 9 Pro, is a true Smart Garden.  It's almost identical to the Smart Garden 9, except for one factor. With the 9 Pro, there is a mobile app that allows you to control and schedule the lights remotely. 
This is a great benefit for those who like complete control and the ability to monitor the light indicator status from anywhere.
When the 9 Pro came out, I immediately got this one too for its smart features. It definitely makes it easier to manage the lighting.
Click & Grow Smart Garden 9 - How does it work? Setup video.
Final Thoughts on Click and Grow Review
These are a fantastic way of adding fresh produce to your dinner table. The extensive plant pod selection that you can pick from also means you're never short of variety.
Need fresh basil? They have basil plant pods.
Fresh salad for lunch? You can grow salad greens and fresh tomatoes all year round.  
If you're a family of 1-2 people, the Smart Garden 3 paired one of the herb garden kits is a good option. But if you want more fresh herbs, fruits, and vegetables, consider getting the Smart Garden 9 from the start. 
For a family of 3-4 people, starting with the Smart Garden 9 will be the best to give you enough herbs and salad greens for the family. 
If you want more automation and flexibility with access, the Smart Garden 9 PRO is the top-of-the-line Click and Grow Smart Garden.
For larger families or for those who want fresh daily produce, consider multiple Smart Garden 9 kits. You can have one specifically for herbs, one specifically for fruits, and one for vegetables. 
These indoor garden kits are a fantastic and fun way of growing plants indoors and putting lots of fresh flavors onto your dinner plate. Caring for the gardens is easy too, so there's no real reason to not want fresh plants at home.
FAQs Frequently Asked Questions
Click and Grow Smart Garden 3 vs 9
The main difference between the Smart Garden 3 and 9 are the number of seed pods that each can accommodate. With the Smart Garden 3, you can grow 3 plant pods at once. The Smart Garden 9 has the capacity to grow 9 plant pods at once. If you have more three or more people at home, the Smart Garden 9 is the one to buy.
How Much Electricity Does Click and Grow Use?
The Smart Garden 3 is consumes 8 Watts of power, while the Smart Garden 9 is 13 Watts. Leaving them on for a full month, the Smart Garden 3 uses 3.8 kWh (kilowatt hour) of power each month and the Smart Garden 9 uses 6.2 kWh.
The average electricity rate in the United States is 13.19 cents per kWh. The Smart Garden 3 costs $0.50 (50 cents) per month and the Smart Garden 9 costs $0.82 (82 cents). The electricity costs are minimal.
How Much Water is Needed for Click and Grow?
Fill the Click and Grow water tanks to the point where the water float indicator is always floating. When the float indicator touches the bottom of the tank, it's best to add water. The water tanks usually lasts for 2-3 weeks. It varies depending on the plants you grow and how much water they absorb.
Click and Grow Smart Garden 9 vs 9 PRO
The Click and Grow Smart Garden 9 vs 9 Pro are the same smart gardens, except for one key difference. The 9 Pro has the capability of connecting to Click and Grow's mobile app. You can control, monitor, and schedule the grow lights from the app itself. No more getting up to adjust the settings.