So you've heard about AeroGarden and you want to start indoor gardening for those fresh herbs and vegetables. But you're not sure what the best AeroGarden is for you and your home.
I get it, there are over a dozen AeroGardens now, not even counting the older models. That's where I'm here to help. I review AeroGarden's different hydroponic garden family kits and the types of plants they're best for.
I'll help you understand more about the AeroGarden lineup home of indoor hydroponics gardens in this AeroGarden comparison of top models.
I'll cover the primary differences between the models, and help you find the one that's best for you and your gardening goals at home.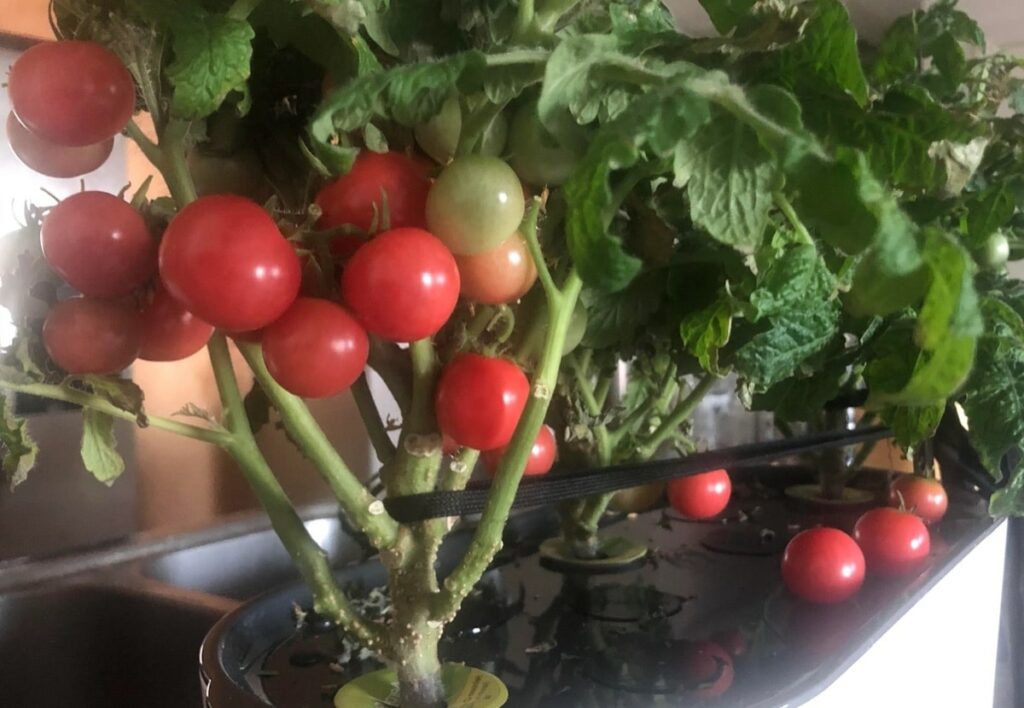 Trying to find the perfect starter herb garden kit? Do you want fresh herbs, salad greens, fruits, and vegetables growing and ready to eat all year-round? Let's get going and talk about the biggest differences between all the models.
If you're in a hurry, here's an AeroGarden comparison chart of the Best Aerogarden Models in each of the family series:
| | | | | |
| --- | --- | --- | --- | --- |
|        | AeroGarden Sprout    | AeroGarden Harvest 360 Elite      | AeroGarden Bounty Elite | AeroGarden Farm 24Plus |
| Seed Pod Capacity | 3 | 6 | 9 | 24 |
| Max Growth Height (Lamp Arm)       | 10 inches | 12 inches | 24 inches | 36 inches |
| Size(Width x Depth x Height) | 5 x 11 x 10.5-15.5 inches       | 10.75 x 7.5 x 10.5-17 inches       | 16 x 11 x 15-21 inches | 36 x 12 x 22 inches |
| LED Light Wattage       | 10 Watts | 20 Watts | 45 Watts | 60 Watts |
| Check Latest Price on Amazon | Amazon Sprout | Amazon Harvest | Amazon Bounty | Amazon Farm |
AeroGarden Model Comparison Chart
Let's start by looking at how the AeroGarden works and all the features and benefits that are common across the gardens. Then we'll take a look at each Family set and compare AeroGarden models to see which ones suit your needs the best.
What is an AeroGarden and How Does the AeroGarden Work?
AeroGarden is the 21st century method of gardening that doesn't use soil, yet produces great yields. The soilless technology used in an AeroGarden is called hydroponics.
Hydroponics uses water as its "soil," and nutrients and minerals in the water are absorbed by plants. 
In an AeroGarden system, plant seeds are in specialized seed pods and utilize LED lights acting as sunlight on plants.
The hydroponic system of growing crops and plants doesn't require you to use pesticides either, so there are no safety concerns later when eating the plants.
To get the varieties of plants that you can grow indoors with regular soil, you'd probably need to build a greenhouse. This is much cheaper than a greenhouse and it still provides great yields, even with little gardening experience. 
AeroGarden has a number of popular models out now that offer significant upgrades over their older, seven-pod models and classic models. 
If you're worried about little experience, but still want your indoor kitchen herb gardens, don't worry. They make it as easy as possible for you to grow plenty of herbs. There are gourmet herb seed pod kits with a variety of type of herbs.
If you're like me and can be forgetful at times, don't worry. With AeroGarden, it'll notify you with indicator lights and reminders when you need to add water and macro nutrients with plant solution.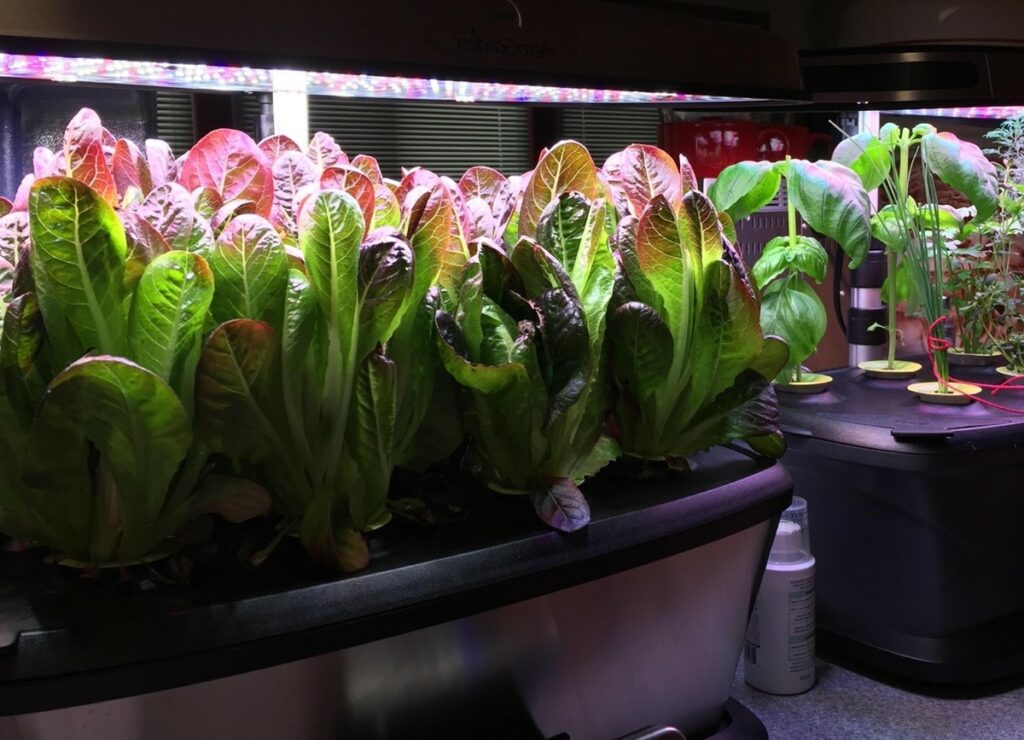 AeroGarden Features and Benefits
As there are multiple families and different models available, I will help you understand some of the common features and benefits across all the models to find the best AeroGarden for you.
Design and Size Dimensions
AeroGarden comes in multiple designs and models. Which size garden kit is right for you depends on what you want to grow and how much you want to grow at one time. Larger units like the Farm models will be able to accommodate more plant pods and taller plants. 
The AeroGarden Classic Models have size dimensions of 16 X 11 X 15 in. (Width x Depth x Height). The Harvest has a size of 11 X 8 X 15 in. The Sprout is 11 X 4.5 X 10 in. and the Farm is 12 X 36 X 45.5 in.
The smallest AeroGarden is the size of a microwave and the larger models can be the size of a double door refrigerator.
The compact design of AeroGarden comes with energy-efficient and adjustable-height LED lights. It can easily fit on the kitchen countertops and also give an aesthetically pleasing look in both home and office.
Seed Pods and Kits
Each model of AeroGarden has a maximum capacity of pod spaces. 
All models come with a herb seed kit with select herb seeds. Some herb kits include pre-seeded, non-GMO seeds and a bottle of nutrients that should last around three to six months
When the pods are placed in the grow deck, they soak water and seeds germinate. As the roots start to grow, they get support from the pods to hold onto.
Each seed pod should give harvests for three to six months, after which you'll need to get new seed pods. The company offers around 150+ varieties of seed pod kits to choose from, so there are a variety of basic herbs, culinary herbs, veggie plants, many types of lettuce, and more. 
If you there are specific plants that you want to grow that they don't offer, you can get the Grow Anything Seed Kit that will give you all you need to plant your own seeds. If you want to save some money, you can even DIY AeroGarden Pods yourself to fit in the gardens.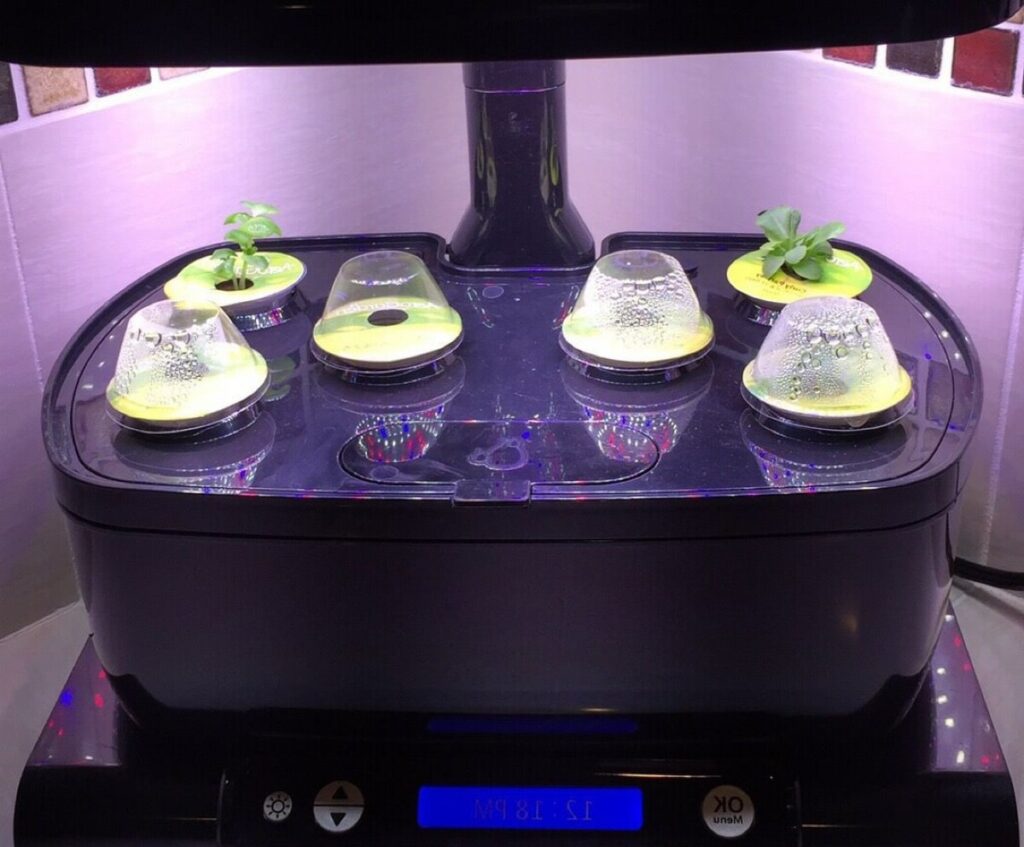 LED Grow Lights
The LED Grow Lights (Red, White, and Blue lights) are essential for photosynthesis. They are designed to effectively replace the natural sunlight that stimulates plant growth. No more concerns if it's been raining for a week straight. 
The light wattage differs across different models and ranges between 10 Watts and 60 Watts. The larger machines will have a higher watts to be able to care for the taller herbs, bushier plants, leafy vegetables, full-size vegetables, and extra-tall plants. 
One important thing to keep in mind. LED lights can potentially burn the leaves if too close. So, whenever the plants grow to the point of touching the lights, you'll need to move the adjustable lamp higher and maintain a minimum gap between the light and leaves.
Pruning and harvesting should take care of any potentially burnt leaf issues.
The grow lights can also turn on and off automatically if you set up the timer. Usually, plants need 16 hours of "sunlight" and 8 hours of "night." All you'll need to do is set up the schedule through the app or buttons if you have a non-app model. 
If you have these settings ready, the plants will grow irrespective of when you have the Led lights turned on and off.
Water Pump
As there is no soil to carry nutrients to the roots in an AeroGarden, water plays a vital role. The built-in water pump makes the water flow in the system. The continuous flow of water stops algae and other microorganisms from growing along the sides of the bowl. 
The water pumps make sure the nutrients and water are reaching the roots of the growing plants.
Since the water bowl isn't see-through, there's a "Water Low" light indicator on the AeroGarden to tell you that the water level is too low for the roots inside. You'll need to add more water at that point. 
Controls
Each AeroGarden model has a different control panel that allows for various features. For instance, the Harvest models have just 3 options – Add Plant Food, Add Water, and Lights On/Off.
With the Farm models, the control panels are slightly more complicated. It has various indicators and features like when the next date of adding plant food and water is, and raising and lowering the light intensity. You can also take a look at which stage of germination and growth the plants are in.
As you step up to higher-end models, there's more customization that can be done. That's needed if you're growing multiple types of plants in the same smart garden. Settings for herbs will be different from heirloom tomatoes.
Wi-Fi and App
Wi-Fi connectivity and Amazon Alexa compatibility are currently available on only two model families – AeroGarden Bounty and AeroGarden Farm XL.
All you have to do is to connect the AeroGarden App, Amazon Echo or Alexa device with your AeroGarden. You'll then be able to remotely control and automate watering, turning lights on and off, and all from your phone.
This again will enhance your experience of gardening without compromising on the harvest and growth of the plants.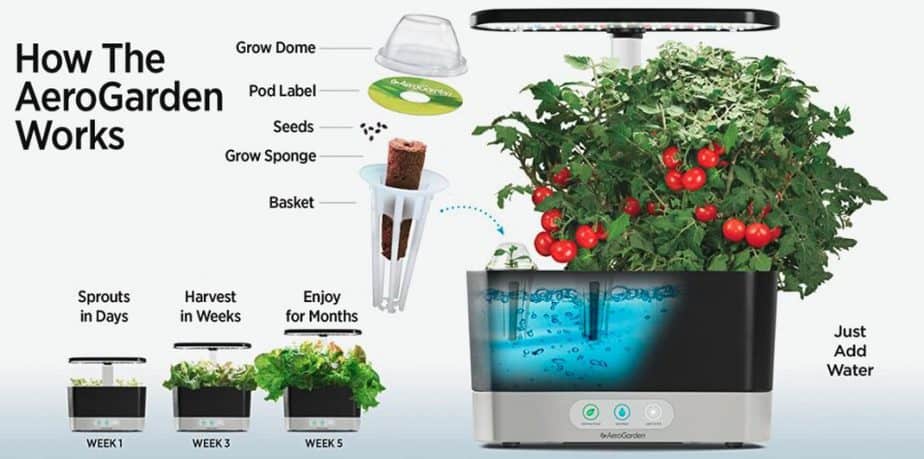 AeroGarden Setup and Installation
Setup and installation is easy and boils down to a few simple steps.
Unpack the system and place it somewhere convenient
Place the seed pods on the round slots available on the top grow deck
Add PH neutral water into the reservoir bowl
Add the nutrients into the water
Adjust the LED light to the lowest point to enable germination
Maintain a certain water level and light throughout for continual plant growth
For Harvest and Bounty models, I usually put them on kitchen counters. That makes it easier if when I'm harvesting plants and want to eat fresh. But if you have counter space issues, you can also get a simple side table.
The largest units like the Far models should be placed on floors due to its size and weight. You'll also want to check there's extra space around the gardens for air flow. 
AeroGarden Model Reviews
AeroGarden Sprout Family Reviews
The AeroGarden Sprout is the smallest model, best for homes and indoor herb growers with little space or natural light.
The smaller size also comes with a smaller price tag. It's the most affordable and also looks great on any countertop. The Sprout model has a see-through water tank for you to easily observe water levels.
Like all the other models, the AeroGarden Sprout also has an automatic on-off light control panel. The body  has a matte finish and the lights are just 10 watts. The maximum number of pods it can hold is 3 and the maximum height to which it can support plant growth is 10 in.
The AeroGarden Sprout is best for growing fresh herbs due to its compact size. It'll be difficult to grow fruits, vegetables, and other common plants in the Sprout. 
AeroGarden Harvest Family Reviews
The AeroGarden Harvest is a step up from the Sprout and has 6 seed pod openings. The maximum height of plants growing in Harvest can be up to 12 in. But, you can grow plants that will grow higher than 12 in., just make sure you are harvesting them on time.
There are a couple Harvest shapes with the Harvest 360 as oval-shaped and the others, rectangular. The features also differ slightly. 
The base Harvest model has a plastic matte finish whereas the Elite, Elite 360, and Elite Slim models have a stainless steel finish. There are a variety of color options available as well. 
The Elite and Elite 360 models have vacation mode which keeps the plants alive, while you are unavailable for long periods. Vacation mode sets the lights to be on for only 10 hours, which should help with reducing the fast growth, along with water usage. 
The LED lights in all Harvest models are 20 watts. The slim design makes it an attractive model on your kitchen countertop too. 
The Aerogarden Harvest is best for growing herbs and other small plants.
AeroGarden Bounty Family Reviews
There are four models in the Bounty family and they all have 9 pod openings. Their LED light wattages also differ: 
Bounty Basic – 30 Watts
Bounty – 40 Watts
Bounty Elite – 50 Watts
Bounty Elite Artisan – 50 Watts
The Bounty model has a high definition, color touchscreen with one-touch dimming of grow lights.
Bounty Elite is the next model in line with a few extra features than Bounty. It has an infinite dimming of grow light, along with sunrise/sunset lighting.
The Bounty Elite Artisan has a ceramic glazed water bowl in place of the steel bowl. All the other features remain the same as Bounty Elite.  
All Bounty models have vacation mode, except for Bounty Basic. The Basic Bounty model also does not have Wi-Fi and Alexa compatibility, whereas the other models have an advanced control panel. 
In all models, you can grow up to 9 plants at a time, including basil, dill, thyme, peppers, tomatoes, etc.
All the Bounty models can support the growth of plants up to 24 in., so are great for growing herbs and vegetables.
AeroGarden Farm Family Reviews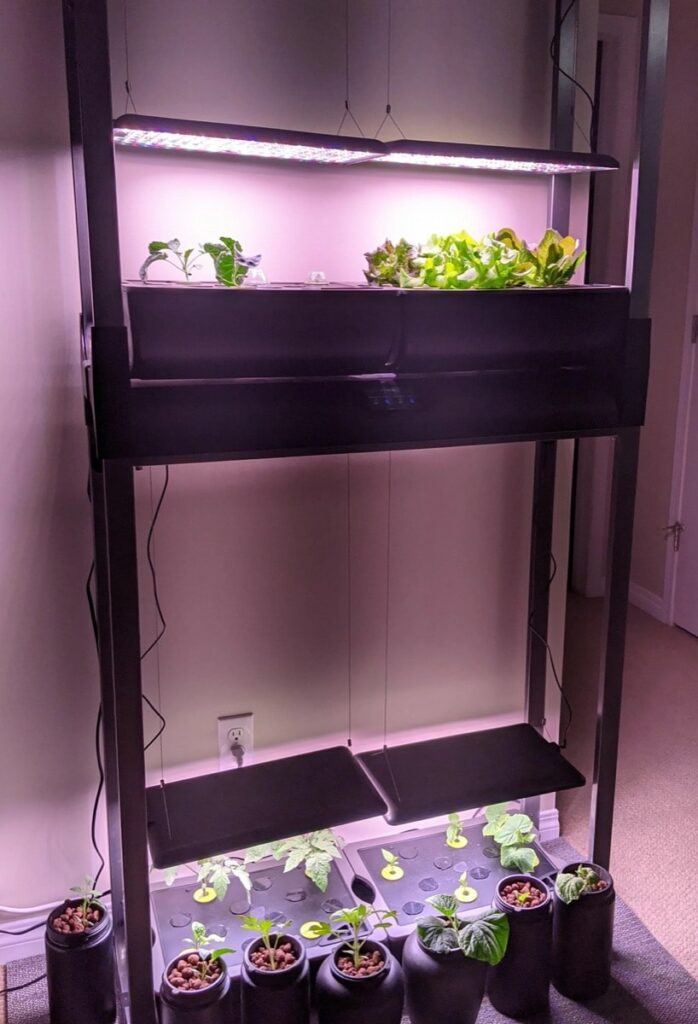 The AeroGarden Farm is basically a full-sized indoor farm. If you want to grow multiple plants at the same time, then the Farm models will get you there.
The AeroGarden Farm family has four different models in the line up, providing users with a variety of options to choose from. 
First up is the basic model, the Farm 12 XL which has the capacity to grow 12 plants up to a grow height of 24 in. The 60W LED lighting system is fully customizable and provides full spectrum lighting. This is the slimmest of the Farm models and can fit easily in almost any corner of your house.
Up next is the AeroGarden Farm 24 Basic model which has two 60 W adjustable LED light setups. Each setup can grow 12 plants, so in total it can hold up to 24 plants and the maximum growth height can be 12 in. each.
The slightly larger model is the Farm 24 Plus model, where the plants can grow up to a height of 24 in. Rest of the other features are similar to the Farm 24 Basic model.
The largest amongst all models in the AeroGarden series is Farm 24 XL. It can accommodate plant growth up to 36 in. with the other features remaining the same as the Plus and Basic models.
All the models in the AeroGarden Farm series have a self-sustaining robust system. They also come with a moveable trellis that can be adjusted with the height of the growing plants. The trellis system helps you grow larger plants like tomatoes and peppers by offering support as the plants grow.
All models have WiFi connectivity and are Alexa compatible for voice control.
The AeroGarden Farm is best for large families that wish to grow a lot of herbs, veggies, and fruits at the same time.
How to Choose an AeroGarden for You
What Do You Want to Grow?
Although most of the AeroGarden function similarly, choosing a model starts with thinking about what you want to grow.
For instance, you can only grow a few herbs in the Sprout model due to the Sprout's small size. The height  of the adjustable lamp can only go up to a certain height, so your larger plants will grow past the lights.
Similarly, if you wish to grow full-size veggies like tomato, beans, peppers, etc. you can go for the AeroGarden Farm 24Plus. Depending on your choice of products, you can pick a model.
I have an article on the Best Things to Grow in an AeroGarden.
How Much Space Do You Have at Home?
AeroGarden systems are meant to occupy little space in your house and still grow plants to full size. The AeroGarden Sprout and Harvest models are about the size of a small microwave. The AeroGarden Farm  takes up about the same space as a double-door refrigerator.
You'll also want to add enough space on all sides to allow for air flow. Plants also need air to grow, so you can't just stick the AeroGarden in a closet and expect them to grow. 
How Much Variety Do You Want?
The Bounty and Farm gardens allow you to grow a variety of herbs, fruits, vegetables, and flowers simultaneously. The Bounty models allow up to 9 plants at once, while the Farm models allow 12 or 24 plants. 
I'd suggest to get the Farm models if you want to grow a variety of plants at the same time. The Bounty models are still considered countertop models and don't allow as much flexibility for true multi-plant growth.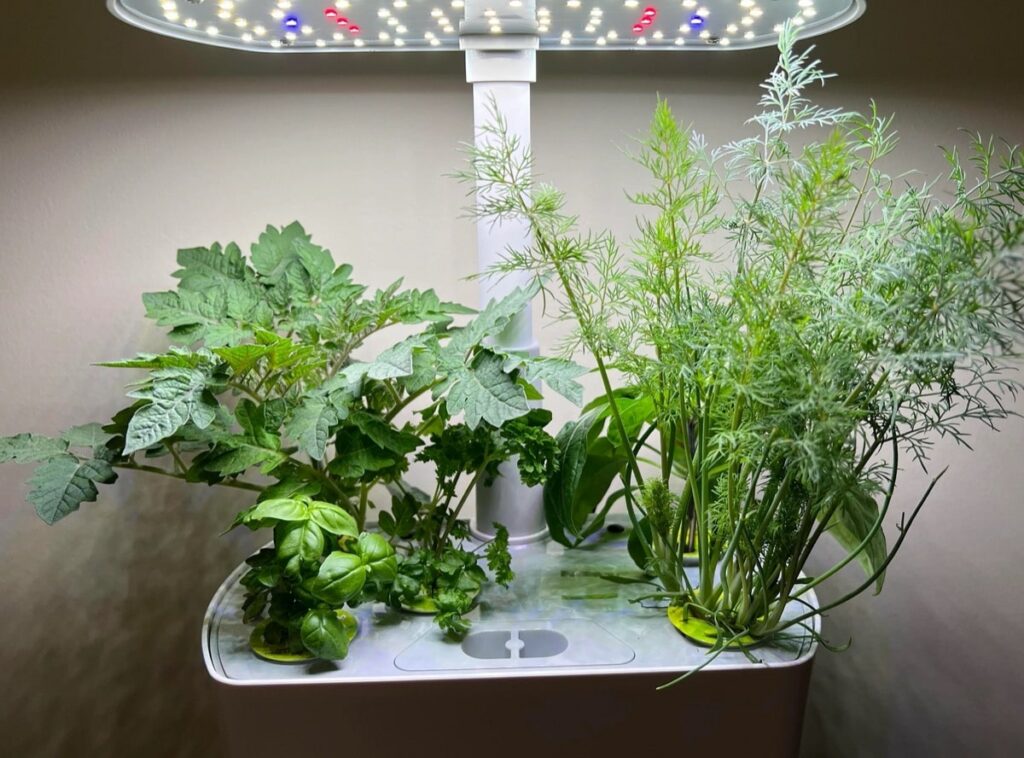 How Many People Are You Feeding?
If you're only trying to grow fresh herbs for one person, the AeroGarden Sprout is good enough. 
If there's 2 people and want more than just small herbs like salad greens, you can choose one from the Harvest family.
For 3-4 people and for more variety of plants, you'll want to go with a Bounty model. 
Families of 4 or more people should get one of the AeroGarden Farm gardens. They will allow for different herbs, vegetables, and fruits for a variety of salads and meals.
Pros and Cons
AeroGarden Pros
An AeroGarden has a number of advantages: 
It doesn't require soil, so there's less mess with dirt
No weeds and thus no need to remove weeds
Simple, clean and efficient growing of plants with seed pods
Gow between 3 and 24 different plants at the same time indoors
Plants can grow as high as 36 in.
Requires little space around the house, unlike soil-potted plants
No bugs, pests, or insects destroying the plants
A few models can be controlled by WiFi and Alexa
Best for those who eat salads and fresh fruits often
Short the time period to grow plants and start harvesting
Easy to DIY AeroGarden Pods
Overall, a great alternative to conventional soil gardening and farming
AeroGarden Cons
The cost is higher than growing plants outdoors in the yard
Plants may grow fast and you'll have more than you originally planned for (hope you have family and friends to share with)
The larger models will take up floor space and might not be great for pets if they get into the plants as they grow
Which AeroGarden is Best? Final Thoughts
AeroGarden pods and garden kits have been disrupting traditional gardening for years now. 
AeroGarden offers easy gardening for all experience levels, convenience, and efficiency, without compromising the quality of fresh herbs, fruits, and vegetables. 
If you're just starting out and want to have the flexibility between herbs, fruits, and vegetables, I'd recommend the AeroGarden Bounty Elite.
For those who have a few people at home and are looking to replace the frequent trips to the supermarket for fruits and vegetables, look at the AeroGarden Farm 24Plus with Salad Bar Seed Pod Kit.
I hope this detailed AeroGarden comparison and review will help you find the right AeroGarden for you and your family.
Learn more about the AeroGarden in these articles:
AeroGarden FAQs Frequently Asked Questions
What Can You Grow in an AeroGarden?
Is it Easy to Grow Herbs in the AeroGarden?
Yes, it is. All the AeroGarden models are able to grow herbs and the AeroGarden Harvest will be enough. Herbs are the most basic of plants that all smart gardens will grow. If you want to grow larger plants like fruits and vegetables, you'll want to get an AeroGarden Bounty or Farm. Herbs do not require a lot of maintenance, and AeroGarden is best fit to grow them.
What is the Best AeroGarden for Beginners?
If you're just starting out, the AeroGarden Harvest is the best one for beginners. The Harvest will grow both herbs and smaller vegetables. It's easy to use and doesn't require much maintenance. 
Do I Need to Have a Green Thumb for an AeroGarden?
No, you don't need a green thumb to grow fresh herbs and plants with an AeroGarden. They're made to be easy to use and allow people to enjoy fresh vegetables, fruits, and herbs all year long. 
How Long Does it Take for the Herbs to Grow?
The red, white, and blue LED grow lights stimulate photosynthesis and quicker plant growth. In an AeroGarden, seeds germinate in 7-14 days. Plants can be harvested in approximately 4-6 weeks after germination. It'll then produce harvests continuously for 6 months and longer. 
Under the AeroGarden Miracle-Gro System and the Miracle-Gro Plant Food, seeds will sprout and grow faster than under ordinary indoor growing conditions. 
Do I Still Get the Same Nutrients in AeroGarden Fruits and Vegetables?
Definitely yes. In fact, the nutritional value of AeroGarden grown fruits and vegetables are higher than most other organic produce. Multiple studies show that vitamins, minerals, and antioxidants are almost 50% higher than other traditionally grown plants.
Is the AeroGarden Worth It?
AeroGarden is easily worth the cost. The plant harvests you receive are usually twice the amount of normal harvests as they contniue to produce harvests for longer. The compact design, user-friendly controls, and less space required make it ideal for homes that lack kitchen gardens or open spaces for farming.
You'll want to compare AeroGardens to see which one suits you and your home the best.
How Much Electricity Does an AeroGarden Use?
The average monthly electricity cost of running an AeroGarden ranges between $0.75 to $7.30 per month, depending on the model you have. That assumes your electricity cost comes to around $0.11 per kilowatt of electricity.
The AeroGarden is designed to minimize its electricity consumption, using only a small amount of energy per day. Your local electricity rates, the size of the AeroGarden you choose and whether you choose on or off-peak usage will affect the actual cost of electricity.
It's worth noting that larger models like the Farm24, which require more light, will consume more electricity. However, in most cases, you can run an AeroGarden for only a few pennies a day, which is a small price to pay for the convenience of having fresh herbs and vegetables right at your fingertips!
AeroGarden Bounty vs. Harvest
The biggest differences between the AeroGarden Bounty and Harvest indoor gardens boils down to the number of seed pod openings and sizes. The Bounty kits have 9 pod openings, while the Harvest models only have 6 seed pod openings.
Does The AeroGarden Attract Bugs?
The AeroGarden, like other hydroponic systems, does not typically attract bugs because there is no soil or breeding environment for them to thrive.
However, stagnant water can be a breeding ground for mosquitoes, which is why AeroGarden incorporates a water pump to keep the water circulating and prevent the appearance of insects. In addition to promoting oxygenation, the constant water flow discourages bug infestations.
Can You Reuse AeroGarden Pods?
I don't recommend reusing AeroGarden pods after harvesting your vegetables or herbs. This is because plants often leave behind harmful viruses that can negatively impact the subsequent plants grown in the same pod.
Additionally, certain diseases can easily spread among plants that share the same bed. To mitigate this issue, crop rotation is highly effective in reducing disease. If you're looking to save money and still wish to use the AeroGarden pods, consider scooping out the growing medium and replacing it with fresh peat moss. Alternatively, you can purchase empty seed pods to use with your own seeds at a lower cost.
Is The AeroGarden Cost Effective?
The AeroGarden may seem like an expensive investment at first, but it can actually be very cost-effective in the long run. By growing your own herbs and vegetables, you can save money on grocery bills and reduce food waste by only harvesting what you need.
Plus, the AeroGarden uses energy-efficient LED lights and minimal water, which makes it a more eco-friendly option than traditional outdoor gardening. With proper care and maintenance, the AeroGarden can provide fresh produce for several months, making it a worthwhile investment for any home cook.
Can You Use Tap Water In Your AeroGarden System?
Yes, you can use tap water in your AeroGarden system. However, the quality of your tap water can affect the growth of your plants, as it may contain high levels of minerals or chemicals that can harm your plants. Using high-quality water can result in healthier and more abundant plants.
In my experience, tap water with a hardness level above about 500 PPM (parts per million of total dissolved solvents) can be tough on your plants.
According to AeroGarden, tap water with a hardness level below 12 grains is acceptable for use. To ensure optimal growth, it's recommended to use distilled water or purchase a water filter that removes harmful substances from the water. You can run the tap water through a Brita pitcher to help clean the water.