The AeroGarden Bounty models are great indoor hydroponic gardens for homes. For families of 3-4 people, the Bounty's 9 seed pod capacity is perfect.
If you're trying to figure out what the similarities and differences are between each of the AeroGarden Bounty gardens, you've come to the right place. 
I know, it can be quite confusing when you see all these extra words after Bounty, like Basic, Elite, and Elite Artisan. After this AeroGarden Bounty Review, you'll know which Bounty kit is the best AeroGarden for you. 
Whether you want fresh herbs, vegetables, fruits, or other plants, a Bounty will get you there.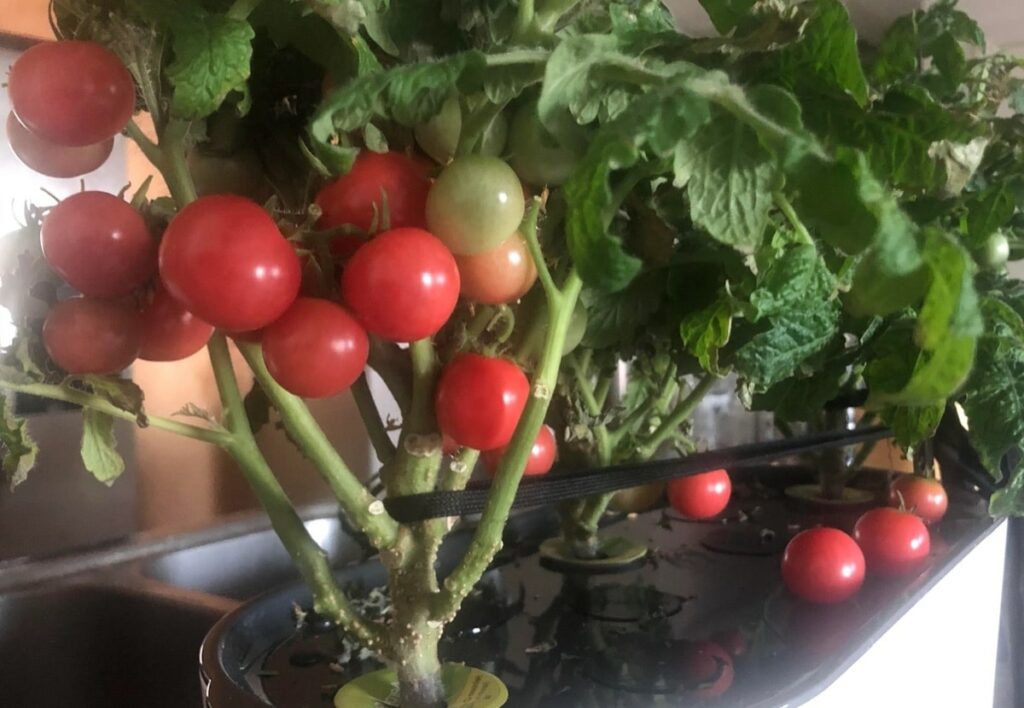 Let's first take a look at this handy comparison chart of the Aerogarden Bounty Indoor Gardens: 
| | | | | |
| --- | --- | --- | --- | --- |
| | Bounty Basic  | Bounty | Bounty Elite | Bounty Elite Artisan |
| Number of Pods | 9 | 9 | 9 | 9 |
| Max Grow Height (Lamp Arm) | 24 in | 24 in | 24 in | 24 in |
| Size(Height x Width x Depth inches) | 11.25 X 17.25 X 34 in | 11.25 X 17.25 X 34 in | 11.25 X 17.25 X 34 in | 11.25 X 17.25 X 34 in |
| LED Light Wattage | 30 Watts | 40 Watts | 50 Watts | 50 Watts |
| Touchscreen | No | Yes | Yes | Yes |
| Wi-Fi | No | Yes | Yes | Yes |
| iOS/Android App | No | No | Yes | Yes |
| Low Water Reminder | Yes | Yes | Yes | Yes |
| Nutrient Reminder | Yes | Yes | Yes | Yes |
| Automated Lights | Yes | Yes | Yes | Yes |
| Vacation Mode | Yes | Yes | Yes | Yes |
| Material Finish | Matte | Matte | Stainless Steel | Ceramic |
| Check Latest Prices on Amazon | Bounty Basic | Bounty | Bounty Elite | Bounty Elite Artisan |
Check the AeroGarden Amazon store for the latest special Bounty family deals.
What is the AeroGarden Bounty?
The AeroGarden indoor garden is a modern-day garden for homes with little space and people with little time to care for an outdoor garden. This indoor gardening system comes with all the necessary equipment that you need to grow varieties of herbs, veggies, flowers, and even fruits. 
These indoor gardens are gaining in popularity because they're a hassle-free, mess-free, and even bug-free solution to growing plants indoor. The hydroponic systems in the gardens use liquid nutrients to grow plant seeds. 
The AeroGarden company has four different Garden Families: Sprout, Bounty, Harvest, and Farm. Bounty has four optimized, smart, and functional models which give you plenty of options to control the growth of your plants. 
The Bounty gardens are one of the larger units of all the AeroGardens, so larger plants like lettuce plants aren't a problem. They allow for growing taller plants with its light arm that can extend to 24 in. high. 
The most important addition that makes Bounty stand out is the WiFi and Amazon Alexa voice controls, which are not available for the Harvest and Sprout models. 
Let's get into the details of the Bounty gardens to see why they're more than worth the price, as well as finding the best one for you. 
AeroGarden Bounty Features and Benefits
AeroGarden Easy Setup and Use
AeroGarden Bounty comes with several user-friendly, convenient options and attachments. The package includes the following:
A bowl and base which is also the water reservoir with an attached control panel
A 45 Watts LED light hood
Light post 
Trellis system
Seed-pod kits with labels and humidity caps
The instruction manual guides you through attaching and assembling the different parts.  Here are the steps that will help you get your AeroGarden Bounty up and running. 
Step 1: Fill water tank up to the "fill to here" mark, about 1 gallon (3.79 liters) of water.

Reminders for water: Use distilled or pH neutral water in the 5.5-7 pH level range. If you live in a larger city, your tap water should be within that range.

Step 2: Add the soluble plant food solution to the water reservoir according to the recommended quantity. 
Step 3: Now you can add the seed pod kits and lightly cover them with the grow domes, which help lock humidity to help seeds to sprout. 
Step 4: Connect the water pump's power cord and the light cord into the garden and wall outlets. Then turn on the power supply. 
Step 5: Once the control panel is powered on, select the "Quick Plant" option. This option will give you step-by-step instructions on setting up the garden.. 
Step 6: This additional step is to attach the Trellis system, once plants grow to a certain height. The trellis system gives additional support to the plants, so they can grow higher by wrapping around the supports. 
AeroGarden Design and Sizes
The AeroGarden Bounty family has four innovative models that are separated by the finish on the gardens. 
AeroGarden Bounty has a matte plastic body and is 11.25 X 17.25 X 34 inches in dimension. 
Bounty Basic is also made up of a matte plastic body measuring 11.25 X 17.25 X 34 in. 
Bounty Elite has a stainless steel body, but the same size as Bounty Basic. 
Unique from the others, the Bounty Elite Artisan has a ceramic body and measures the same size as the others. 
AeroGarden Seed Pods and Plant Food
AeroGarden Bounty has a total of nine seed pod spaces. All seed pods are made of a plastic grow unit, grow sponge, grow dome, and Non-GMO seeds. AeroGarden Bounty is able to grow over 70+ varieties of plants from the seed pods they sell. 
The brand also gives you a 100% Germination Guarantee for each seed pod. If a seed pod doesn't germinate in 21 days, they promise to replace it for free. 
The setup also includes Miracle-Gro liquid plant food that is specially formulated for the nutrient levels that plants need. These seed-pods are partially usable, therefore you can use most of the structure without investing a lot.
Canadian Sphagnum Peat makes the sponges highly absorbent for water and nutrients. On the AeroGarden website, you will also get a Grow Anything Seed Pod Kit where can grow any plant of your choice, dependent on the height it grows up to. 
AeroGarden LED Grow Lights System
What makes AeroGarden systems extremely user-friendly is the adjustable and expandable LED light hood. It has a red, white, and blue light panel that enables plant growth through all stages. 
Each model uses different light wattage:
Basic uses 30 Watts LED Light
Bounty uses 40 Watts LED Light with one step dimming option
Elite uses 50 Watts LED Light with an infinite dimming option
Elite Artisan uses 50 Watts LED Light also with an infinite dimming option
The times that lights are on can be controlled and scheduled manually. The light option on the control panel gives the current time and also shows the on and off times of the lights every day. If you want the plants to produce good yields, ideally you should schedule 15 hours of light and 9 hours of darkness. 
The light hood must be adjusted as the plants start to grow higher. If the plants grow too close to the LED lights above, the leaves can potentially burn and damage the plant.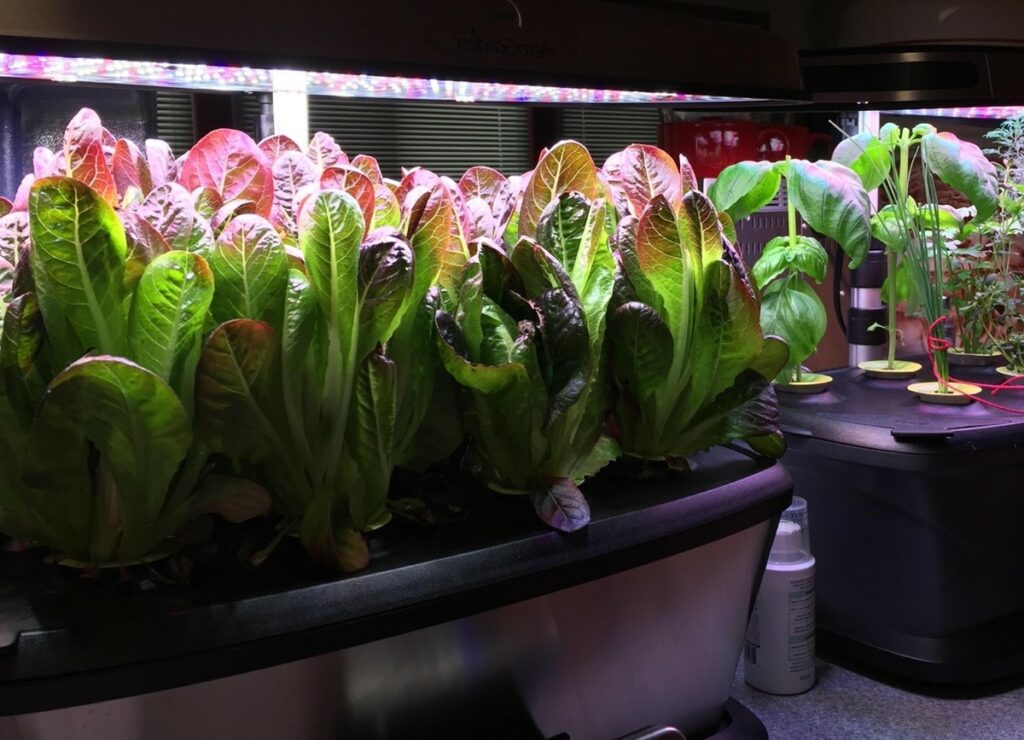 AeroGarden Water Pump and Tank
The pump circulates the water, nutrients, and oxygen to reach plant roots. The pump is fitted in the reservoir and should be timed to turn for five minutes, after every 25 minutes. Once turned on, you will be able to hear the bubbling sound. 
This will not only keep a continuous flow of nutrients to the plant roots, but also prevent algae formation and the growth of other microorganisms. 
One tip is to keep track of water and plant food levels. Keep an eye on current water levels (through the water window if you have it). 
AeroGarden Control Panel
The color touch panel of each AeroGarden system has all the basic features of water and food reminders, and more:
The control panel is a color touch screen and the following options
Quick Plant – step-by-step guided tour that helps you to set up the new garden
Light On/Off – shows the current on/off a cycle of the plants each day
Water – gives a reminder on when to add water
Nutrients – gives a reminder for the number of days remaining before needing to add plant food
Menu Options
Clock – option to set the clock timing 
Light – option to change the on/off time of grow LED light
Nutrients – allows you to optimize the nutrient adding time depending on the type of plants growing
Pump – option to change pump settings
Quick Plant
Set Audio Alert – allows you to have an audio reminder for adding water and nutrients
Help and Tips – provides you with 140 gardening tips and support information
Reset Defaults
Garden Status – a quick view of all the present setting in the AeroGarden system
Wi-Fi and App
Most Aerogarden models do not support WiFi connectivity, but the majority of Bounty gardens do. Only the Basic doesn't have Wi-Fi. 
The other Bounty gardens have Wi-Fi and can be remote controlled and configured on the mobile app. Voice commands are also possible through Amazon Alexa on smart devices like the Echo. 
AeroGarden Reminders
Reminders will let you know when you need to add more water and tell you when you need to grab the plant food bottle to add more plant food. 
AeroGarden Vacation Mode
Vacation mode is for when you're away from home for a few days, like when you're on vacation. Of if you have to go on a business trip, this mode will help with slowing plant growth and prevent water from being absorbed too quickly. The lights will only turn on for 10 hours a day, so you'll come back to a still growing and thriving garden. 
AeroGarden Bounty Family Product Video
AeroGarden Bounty Plant Growth and Production
What Can I Grow in the AeroGarden Bounty?
The starter herb seed pod kits consist of Italian Parsley and Curley Parsley, Mint, Dill, Thai Basil, Chives, Genovese Basil, and Thyme. Hydroponic herbs offer many options like Italian Herbs and even pizza herbs. There are a variety of herb seed kits. 
Not just fresh herbs, you can even grow high growing full-sized veggie plants with big sized sweet bell peppers, strawberries, and tomatoes, throughout the year.
Besides these options, you can choose from 150+ other seed options available on the website including jalapeno peppers, lettuce, and petunia flowers.  
The Bounty and Farm gardens are the most flexible when it comes to the options. AeroGarden Farms, like the Farm 24XL, can grow up to 24 different plants if you wanted to. 
Plant Growth Cycles
Almost all seeds share a similar germination time of 3-14 days. The plants you grow as a range of harvesting time and total lifespan.
For instance, if you are growing herbs, it starts to harvest within four weeks and continues to grow for four months.
And if you are growing veggies like cherry tomatoes or bell peppers, harvesting starts within 8-10 weeks and continues to give yield for six months. 
AeroGarden Bounty Production
With more pod openings, you get a wider a larger variety of fresh gourmet herbs and veggies. Plant growth and production are quick and continuous. One nine-pod AeroGarden Bounty Elite Wi-Fi LED garden can serve the needs of a family of 4-6 people. 
AeroGarden Bounty Family Comparison Reviews
AeroGarden Bounty Basic Review
The AeroGarden Bounty Basic model has a matte finish. This base model has all the functions that are available in the other models. However, it doesn't have dimmable lights, nor Wi-Fi connectivity.
You can select from the following nine seed kits that come with a garden:
Gourmet Herb Seed Pod Kit
Heirloom Salad Greens Seed Pod Kit
Red Heirloom Cherry Tomato Seed Pod Kit
Cascading Petunias Seed Pod Kit 
AeroGarden Bounty Review
The next model is the AeroGarden Bounty, which also has a matte finish and is available in 2 different color options, white and black. All the plants can grow up to a height of 24 in with little time investment. 
The Bounty model provides you with the ability to dim the grow lights up to 30% with just one touch. As a smart garden, you can use the app or Echo to control the Bounty.  
AeroGarden Bounty Elite Review
The newer and more advanced model from the base Bounty is the Bounty Elite model. It has a stainless steel body with better control over grow lights. In this model, you get to control light dimness.
Besides that, there is a sunrise/sunset lighting feature which reproduces the sun's natural cycles and gradually dims the light. All other functions are the same with the base model. 
AeroGarden Bounty Elite Artisan Review
The Elite Artisan model has a ceramic bowl reservoir with similar smart and advanced options available in the Elite model. 
Bounty Unboxing and Setup
AeroGarden Bounty Comparisons
AeroGarden Bounty vs Bounty Elite
There is one main design difference and a couple feature differences between the two Bounty models. The AeroGarden Bounty has a matte finish, while the Bounty Elite has a stainless steel finish. A feature difference between the two is the base Bounty not having the sunrise/sunset lighting option, while the Bounty Elite has this additional feature. The Bounty also has one-touch dimming light option, while the Bounty Elite has more control over the dimming range of the light. 
AeroGarden Bounty vs Bounty Basic
The Bounty Basic doesn't have advanced features like light dimming nor Wi-Fi connectivity. The Bounty version has both of those features that will add much more convenience. 
AeroGarden Bounty Elite vs Elite Artisan
There is not much difference between the Bounty Elite and Elite Artisan, except for the material that they're made of. The Bounty Elite has a stainless steel body, while the Elite Artisan has a ceramic body. All other features and functions are the same in both models. 
Final Thoughts on the AeroGarden Bounty
The AeroGarden Bounty models have received overwhelming and positive responses from users over the years. With these indoor gardens, growing herbs, vegetables, and flowers indoor has become easy and convenient.
Being the largest amongst all countertop models, the AeroGarden Bounty family offers you a fresh and delicious yield with easily customizable options. 
If you have limited space, but still want a widespread variety of homegrown veggies and herbs, the AeroGarden Bounty is a perfect choice.  
 The best Bounty model in the lineup is the AeroGarden Bounty Elite with the 50-Watt LED Lighting System. The