You want to know more about the AeroGarden Sprout and if it's the right one for you?
AeroGarden Hydroponics Garden Kits are great indoor smart gardens that'll give you fresh and organic year-round plants. No green thumb is needed for these hydroponic systems, unlike traditional gardening outdoors.
These smaller gardens are best for small plants like herbs. This small indoor garden supports plant life from up to 3 types of plants in a basin with water. 
If you want larger fruits and vegetables, you'll want to check out one of the other 3 AeroGarden reviews that I have.
If you want to see all the models compared, check out my Best AeroGarden Comparison Review and Buying Guide.
In this AeroGarden Sprout review, I'll get into the details that'll help you decide if an indoor garden with a gourmet herb pack is right for you.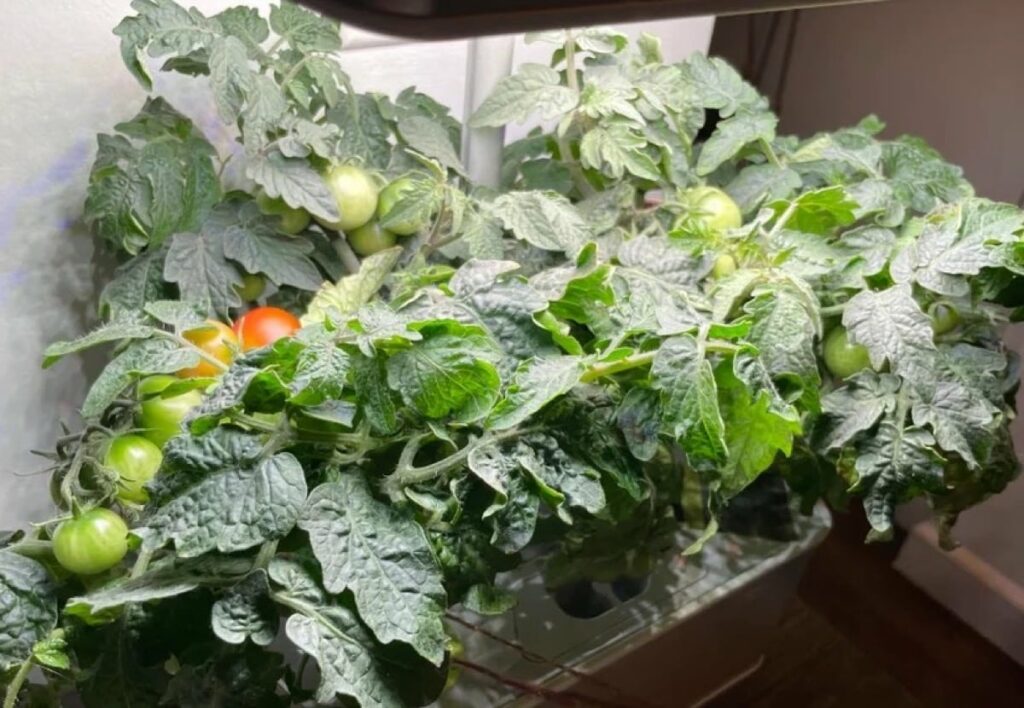 What is the AeroGarden Sprout?
Designed and developed in California, AeroGarden and its gardens are transforming the way people in the twenty-first century grow plants – hydroponics.
The AeroGarden Sprout is the smallest garden in the product range with 3 spaces for seed pods. The AeroGarden Farm Family being the largest gardens with 24 pod openings. 
These small gardens utilize water, liquid nutrients, minerals and a LED light panel for faster growth in many of your favorite plants. 
The slim and sleek design can fit on almost any kitchen countertop, occupying very little space. These garden kits are offered at affordable prices and allow you to grow fresh herbs whenever you want. 
Most people feel it to be a small unit with little room for growing a variety of plants. But some prefer to only grow natural herbs, while getting their vegetables and fruits from other sources. 
Before I get into more details, here's a quick look at the technical specifications of the Sprout.
| | |
| --- | --- |
| | AeroGarden Sprout |
| Number of Pods | 3 |
| Max Grow Height (Lamp Arm) | 10 inches |
| Shape and Size(Height x Width x Depth x inches) | 12 x 3.5 x 10.5 inches |
| Display Type | Touch Button  |
| LED Light Bulb Wattage | 10 Watts |
| Wi-Fi | Yes |
| iOS/Android App | Yes |
| Low Water Reminder | Yes |
| Nutrient Reminder | Yes |
| Automated Lights | Yes |
| Vacation Mode | No |
| Material Finish | Matte Plastic |
| Check Latest Price for Sprout on Amazon | Check Latest Price  |
Check the AeroGarden website for any special Sprout kit deals.
AeroGarden Sprout Features and Benefits
There are a number of nice features of these AeroGarden hydroponic gardening units that explain why the AeroGarden method of gardening beats conventional gardening methods.
Ease of Setup and Installation
Like every AeroGarden system, the setup process is easy. The kits usually come with the following: 
A slim and sleek water reservoir 
Extendable LED lights
Three seed pod units with transparent humidity caps
Plant nutrients bottle
Instructions are included with the simple and easy installation steps. 
Step 1: Once you have taken everything out of the box, it's a good idea to wash the water reservoir for any dust that might have accumulated.
Step 2: Connect the base to the water reservoir with a black knob. 
Step 3: Fill the water till the fill mark on the reservoir 
Step 4: Add the seed pods into the holes in any order. Put the transparent dome lid on to retain moisture and humidity for plants. Once they've sprouted, you can remove these caps. 
Step 5: Setting up the light is different in older and newer models. For older models, the light turns on automatically when you plug it in. But for newer models, the light panel on the hood can be manually turned on and off. The light timer and scheduler is already set to be on for 16 hours of light per day. 
I'll also mention here that cleaning the water bowl in these hydroponic units are pretty easy too. You can use regular water to rinse and clean. You'll want to clean them from time to time to prevent algae and mold growth.
Design and Sizes
The size of the Sprout is 12 X 3.5 X 10.5 inches, so it's great if you have a small kitchen and home. It doesn't take up that much more space than a cutting board, in terms of how wide it is.
The unit is made up of glossy, high-quality plastic with a modern design that comes in black or white. The unit is connected with a power cord for electric input. 
Seed Pods and Plant Food
As the smallest AeroGarden, the Sprout has 3 seed pod openings. It's perfect for a small indoor herb garden. Most people who bought this system grow a variety of herb plants like dill, Genovese basil, cherry tomatoes, petunias, curly parsley, etc. 
There are almost 70+ varieties of plants that you can grow in an AeroGarden. Some of them are Bok Choi, mixed kale, baby and microgreens, salad greens, pesto, lavender, Thai basil, etc. Remember to prune the leaves regularly as the height of growth is limited to 10 inches only. 
Or if you prefer to have fresh flowers, the Sprout is one of the excellent options that AeroGarden provides at a great price.
Pruning and harvesting helps the plants from growing too high to the point that they touch the lights.
Herb growth is usually fast, but if for any reason they're not growing, AeroGarden has a Seed Germination Guarantee as part of their warranty. If there's no germination after 3 weeks, contact the customer service team and they'll replace your seed pod kits. I haven't had to go through that process, but customer reviews show they've had positive experiences.
LED Grow Lights System
The LED light system has blue lights, white lights, and red lights that promote faster growth in plants. In the AeroGarden Sprout, the 10 Watts LED lights provide a bright light that acts as sunlight. The light hood is connected to the base unit and is expandable to a 10-inch height. 
If the plants and leaves start growing too close to the LED lights, the leaves may burn and eventually damage the plant. The top leaves are getting maximum light, so you'll want to prune and harvest them.
Unfortunately, these are not dimmable lights. Because the light hood can only reach 10″, that limits the types of plants, so dimmable lights aren't needed here. 
Water Pump and Tank
The water tank is where the roots of the actual plants are submerged. Plant feeding is done by mixing the liquid plant nutrient into the water, where a small water pump will help carry the nutrients to the roots, along with oxygenated bubbles.
The pump can be a little noisy for indoor gardens from other brands, but the AeroGarden Sprout is relatively quiet. If the water level is low though, you'll hear a bubbling sound, but you shouldn't need to get to that point.
The best part of the water basin is the see-through water level window. This allows you to see if there's enough water with a quick glance. There's no need to pop open the grow deck lid or take out one of the seed pods to see how much water is left.
AeroGarden Sprout Unboxing and Setup
Control Panel
The AeroGarden Sprout model has a LED grow light simple one-touch control panel that has a dual function. One function is to turn on and off the LED glow lights and the other is to reset the food nutrient reminder.
Wi-Fi and Mobile App
As the AeroGarden Sprout is a simpler model, it doesn't have Wi-Fi connectivity, so it can't be controlled using the Amazon Alexa App. 
Nutrient & Water Reminders
All AeroGarden models remind people to add liquid plant food (liquid fertilizer for nutrients) and water. The system is automatic and expanded with a lot more options in the larger models.
With the Sprout, the water and nutrient reminder uses an indicator light to remind people. Do keep an eye on these reminders for healthy growth of your herbs and plants. They're there to help you have optimal growth and a good yield of herbs.
Vacation Mode
Unfortunately, the Sprout doesn't have the Vacation Mode feature. The other AeroGarden models have Vacation Mode that allows people to go away for a few days without worrying about plant overgrowth. The grow lights will automatically reduce the number of hours each day that they're on, thus slowing plant growth and using less water. 
What Can I Grow in the AeroGarden Sprout?
When you buy an AeroGarden Sprout, it comes with a Gourmet Herb Seed Kit that includes pods for the Genovese Basil, Curly Parsley, and Dill. The herb kit also includes a 3 oz. bottle of all natural plant nutrients. 
There are a number of 3-pod seed kits that you can buy on Amazon. There are kits for salad greens, flowers, and mini-tomatoes. Just be careful of what you select as the Sprout's light can only extend to 10 inches.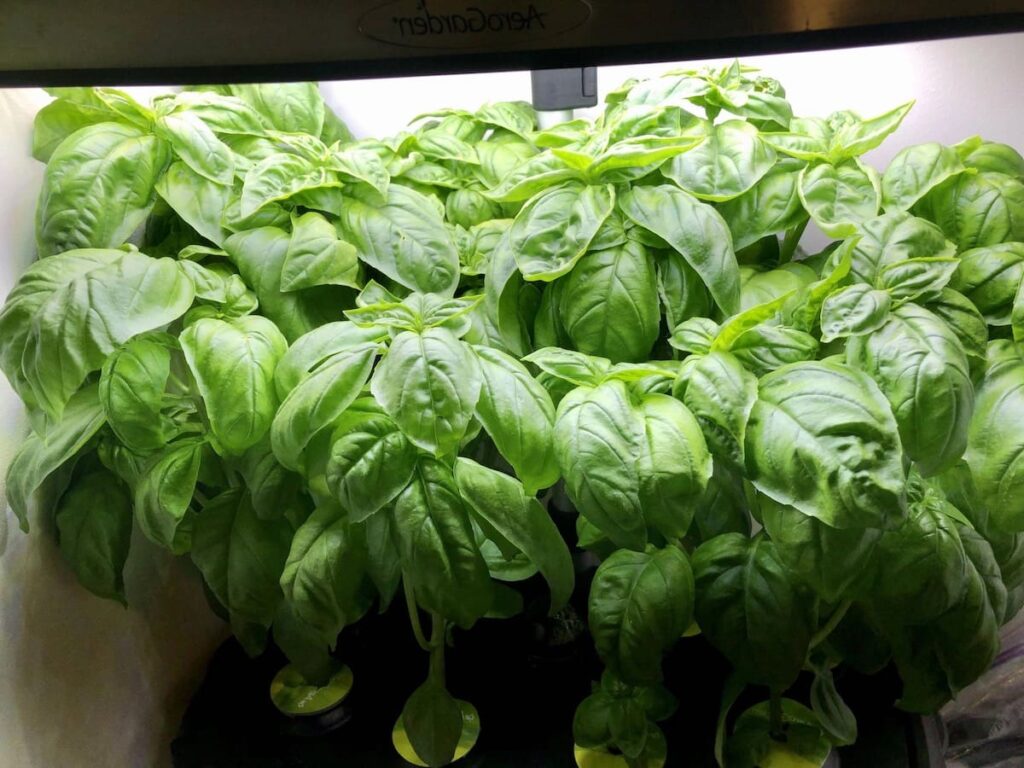 Plant Growth Cycles and Production
In most AeroGarden systems, the company promises that each of their seed will germinate. But depending on which plant seeds you are choosing the germination and growth time are different.
For instance, herbs and salad greens can germinate in just one week and start to harvest in three weeks. But in the case of cherry tomatoes and peppers, the plants start to harvest in 8-10 weeks, but will continue to produce yield for six months. 
Most people prefer AeroGarden systems because you can grow any kind of plant at any time of the year, inside your house. There is no restriction on climatic condition or area required to grow plants. 
AeroGarden also has a great Germination Guarantee on their warranty page where they state they'll replace non-germinating pods after 3 weeks. 
Since the pod quantity is less in AeroGarden Sprout, you can grow only 3 kinds of plants at a time. All plants grow 5X faster in water than the time plants take to grow in soil. 
AeroGarden Sprout Product Video
Family Fun – Growing Plants with Kids
One of the AeroGarden Sprout pros is how easy it is to use. Other AeroGardens have more features and can be complicated to control. But because it's so easy to grow plants, it's great for kids.
Kids can explore gardening and the miracle of plant life with the AeroGarden Sprout.
It is quite exciting for kids to watch the water bubbles from the water pump, the long growing roots, and the seed sprouts germinating and turning into bigger plants. 
It is also a great experience for the kids to learn how plants grow. It's easier to teach them photosynthesis and indoor farming with a consistent sunlight. Most parents involve their kids while adding water and liquid plant food to also make the experience exciting for them.
Kids might also be more open to eating their vegetables from their own gardens that they helped in grown!
 AeroGarden Sprout Review – Final Thoughts
If you are a starter for growing plants and herbs, the AeroGarden Sprout is a great choice. It can be made into a fun activity with the kids. It gives kids and the parents an opportunity for a positive learning experience with indoor gardening and the photosynthesis process..
If you're looking to grow larger fruits and vegetables, you'll want to get the larger ones like the 9-pod AeroGarden Bounty Elite.