The AeroGarden Farm gardens are for those who are serious about starting their own indoor garden and eating the freshest herbs, fruits, and vegetables with every meal.
With the 150+ choices of AeroGarden Seed Pods, you can grow almost any type of crop you want in your indoor space. 
In this AeroGarden review article, I'll go through the details and reasons of what makes the Farm product range an ideal choice for your home. 
First, here's a comparison chart to see the similarities and differences in the Farm family of smart gardens: 
| | | | | |
| --- | --- | --- | --- | --- |
| | AeroGarden Farm 12 XL | AeroGarden Farm 24 Basic | AeroGarden Farm 24 Plus | AeroGarden Farm 24 XL |
| Number of Pods | 12 | 24 | 24 | 24 |
| Max Grow Height (Lamp Arm) | 36″, but can be Stacked for Vertical Gardening | 12″, but can be Stacked for Vertical Gardening | 24″, but can be Stacked for Vertical Gardening | 36″, but can be Stacked for Vertical Gardening |
| Size(Height x Width x Depth inches) | 18 X 14 X 46 inches | 36 X 14 X 24 inches | 36 X 14 X 34 inches | 36 X 14 X 46 inches |
| LED Light Wattage | 60 Watts | 60 Watts | 60 Watts | 60 Watts |
| Touchscreen | Yes | Yes | Yes | Yes |
| Wi-Fi | Yes | Yes | Yes | Yes |
| iOS/Android App | Yes | Yes | Yes | Yes |
| Low Water Reminder | Yes | Yes | Yes | Yes |
| Nutrient Reminder | Yes | Yes | Yes | Yes |
| Automated Lights | Yes | Yes | Yes | Yes |
| Vacation Mode | Yes | Yes | Yes | Yes |
| Material Finish | Matte | Matte | Matte | Matte |
| Check Latest Prices on Amazon | Farm 12 XL | Farm 24 Basic | Farm 24 Plus | Farm 24 XL |
Check the AeroGarden Amazon store for the latest special Farm family deals.
What is the AeroGarden Farm?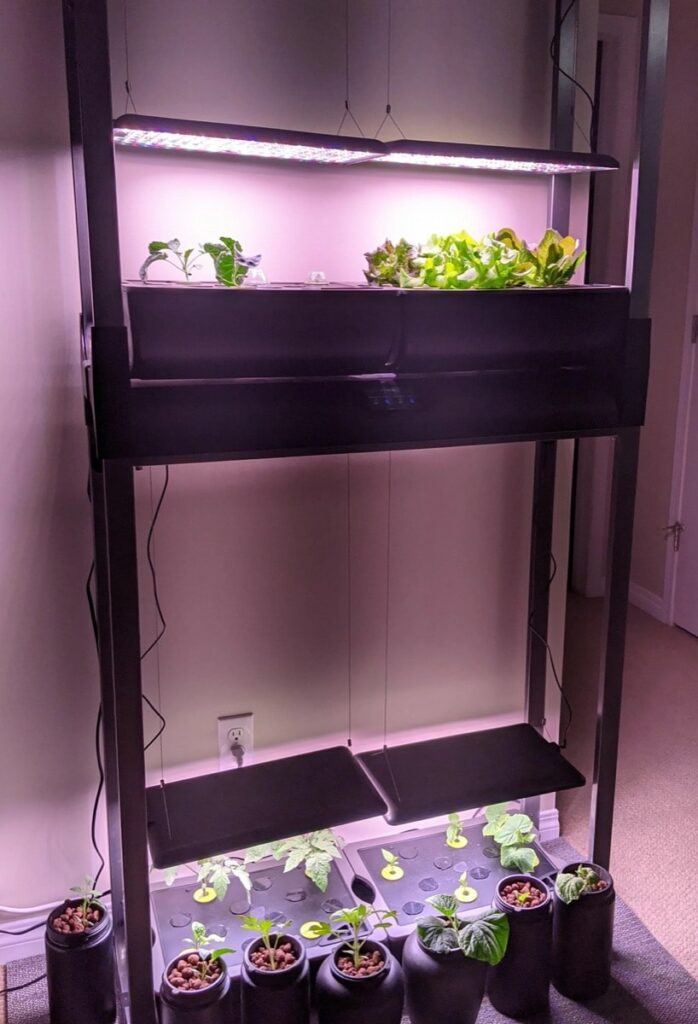 AeroGarden indoor hydroponic systems are the new and advanced technological farming technique that was first developed in California for homes with limited space for gardening, let alone farming. Unlike in conventional farming, AeroGarden doesn't use soil to grow your favorite indoor plants.
AeroGarden Farm system is a unique stackable and vertically upright garden which requires a larger area than the other AeroGarden systems. In this AeroGarden Farm Plus Review, I am going to discuss the features and functions that are available in the AeroGarden Farm system. 
These indoor smart gardens carry water and liquid nutrients to plant roots, so they can grow. This system also involves an artificial LED light panel that replaces sunlight and stimulates plant growth. 
The ease of setup is a huge positive. AeroGarden's setup process and continued growth is hassle and mess-free. 
The AeroGarden Farm family consists of four models: Farm 12 XL, Farm 24 Basic, Farm 24 Plus, and Farm 24 XL. The numbers represent the number of seed pod openings and how many plants are able to be grown at once, 12 or 24. 
Believe it or not, in some of these AeroGarden Farm models, the taller plants can grow as high as 36 inches. 
All the models are enabled with automatic reminders for water and AeroGarden nutrients. These reminders can be and gardens can be remotely controlled via the AeroGarden App or voice command through Alexa and  Amazon Echo.
If you are worried about the nutritional value of these indoor grown plants, don't worry too much. The nutrient value is higher in crops grown in an AeroGarden than in traditional farming. The imbalance between nutrients from AeroGarden and traditional farms is due to the lack of pesticides and lack of travel. Will discuss more about this later on. 
AeroGarden Farm Features and Benefits
AeroGarden Easy Setup and Use
Unlike other AeroGarden systems, the AeroGarden Farm gardens are slightly more complex and require a few more steps to set up. The box comes with a set of tools and a step-by-step instruction manual to assemble the farm system and start growing. 
What's included in the box are:
The base and water reservoir that can hold 4.5 gallons of water
LED light hood
Grow deck with spaces to place the single seed pod kits
 Two types of trellis support – long and short
A few screws, LED cords, metal frames to support the entire structure
The basic steps to start the Farm after the initial assembling of parts:
Step 1 – Fill up either one or both the water reservoirs, depending on how many plants you're growing, with the suggested quantities of water. 
Step 2 – Add liquid plant food based on the recommended values. 
Step 3 – Place the seed pods on the grow deck according to which plant will grow low, medium, or high, with the labels.

You may have to place the plant spacers in case you're growing peppers and tomato plants, to give them sufficient room to grow.

Step 4 – Place the transparent grow domes lightly over every seed pod until you see leaves growing out of the pod kit. 
Step 5 – Adjust the LED light and place it closer to the seeds in the initial germination days. As the plants grow, lift the light hood and maintain some space between the leaves and light. 
Step 6 – Place the trellis systems at equal distances to support the high growing plants. 
For those without an outdoor space, The Farm gardens are great. They can fit in relatively compact spaces and they have the ability to utilize vertical space with the stackable system they have (detailed below).
How to setup your AeroGarden Farm & Farm Plus
AeroGarden Design and Sizes
All AeroGarden systems have the basic structure to support and stimulate plant growth. However, the design and structure differ according to the garden family they belong to. Here are the dimensions of the models under the AeroGarden Farm family.
Farm 12 XL is 18 X 14 X 46 inches in dimension with a metallic matte finish.
Farm 24 Basic measures 36 X 14 X 24 in. with metal matte finish body.
Farm 24 Plus 36 X 14 X 34 in. with metal matte finish structure.
Farm 24 XL is 36 X 14 X 46 in. in dimension with a metal matte body.
From Basic to Plus to XL, you can see the heights of each are subsequently higher as well. 
AeroGarden Seed Pods and Plant Food
As the model of AeroGarden goes up, the seed pod kits increase. AeroGarden Farm models have the following seed pod capacities:
Farm 12 XL has a capacity of 12 pods
Farm 24 Basic, 24 Plus, and 24 XL has a capacity of 24 pods total
The Farm 24 gardens combine two 12-pod bases together to make the 24 pod garden. 
The plant food is Miracle-Gro liquid nutrients, which is designed to stimulate  and sustain plant growth for a growing season.
AeroGarden has over 150 seed pod products / crop types, but if you have something specific you want to grow, you'll be able to do that to. They have a fantastic product, the Grow Anything Seed Pod Kit that is essentially a blank pod that can be filled with your choice of seed. The pods can be reused / recycled as well. 
AeroGarden Seed Starting System
The seed starting system is unique to AeroGarden Farm models. The system allows you to start growing seedlings in the AeroGarden Farm and then transplant the seedlings to your outdoor garden. This allows you worry-free growing of your seeds in the early days.
The capacity of the tray is 85 seedlings and you can place the seeds in the peat grow sponges. This tray can be accommodated in Farm Plus, Farm, and Farm XL models and has proven beneficial for gardeners who wish to grow herbs and veggies in bulk. 
AeroGarden LED Grow Lights System
The LED grow lights utilize a variant wattage of light to grow a wide range of plants. Also, the light hoods are expandable and extendable, which makes allows plants to always have optimal light levels and utilization.
Keep the Grow Lights 4-6 inches above your plants for best results. Lights generally have 3-5 year life spans, so you won't need to change them out for quite some time. 
The red, blue, and white lights are essential for full-spectrum lighting, higher productivity, and optimum growth of herbs, veggies, and fruits. 
Farm 12 XL, Farm 24 Basic, Farm 24 Plus, and the Farm 24 XL all use a 60 Watt motorized light panel.
Farm 12 XL has one electronically adjustable light hood and all other AeroGarden Farm models have two adjustable lights. The 24-pod Farms allow to grow plants of two different heights at all times.
AeroGarden Water Pump and Tank
For any AeroGarden system, the water pump is an important component. It keeps the nutrients flowing in the water tank and also keeps the water tank free of microorganisms and algae. 
The water tank is advised to drain and change the water every 2 weeks to make fresh water available to the plants. To turn on the pump automatically and periodically, you can customize and control the pump settings from the control panel. 
AeroGarden Control Panel
AeroGarden Farm comes with all the upgraded and modern technological advancements to give you complete control over the system. All the controls are mostly automated and can be customized for your convenience and plant needs. 
There are automatic reminders for adding nutrients and food. The control panel is a touch screen with full of settings and options. 
In addition to the adjusting the lamp hood height, you can also control the intensity and brightness of the light. All Farm models have an additional option of sunset/sunrise lighting that replicates the outside environment to the AeroGarden indoors, for the plant to grow in a customized natural environment. 
AeroGarden Wi-Fi and App
All AeroGarden Farm models are Wi-Fi enabled, to be able to control remotely via the mobile app or with voice commands with the Amazon Alexa voice assistant.
AeroGarden Reminders
The Farm gardens are designed to alarm you or notify you to add plant food and water to the growing plants. The Farm 24 model series has two sets of controls to guide you to the exact reservoir that needs your attention. The control panel also allows you to customize an audio reminder system for unavoidable audio alerts.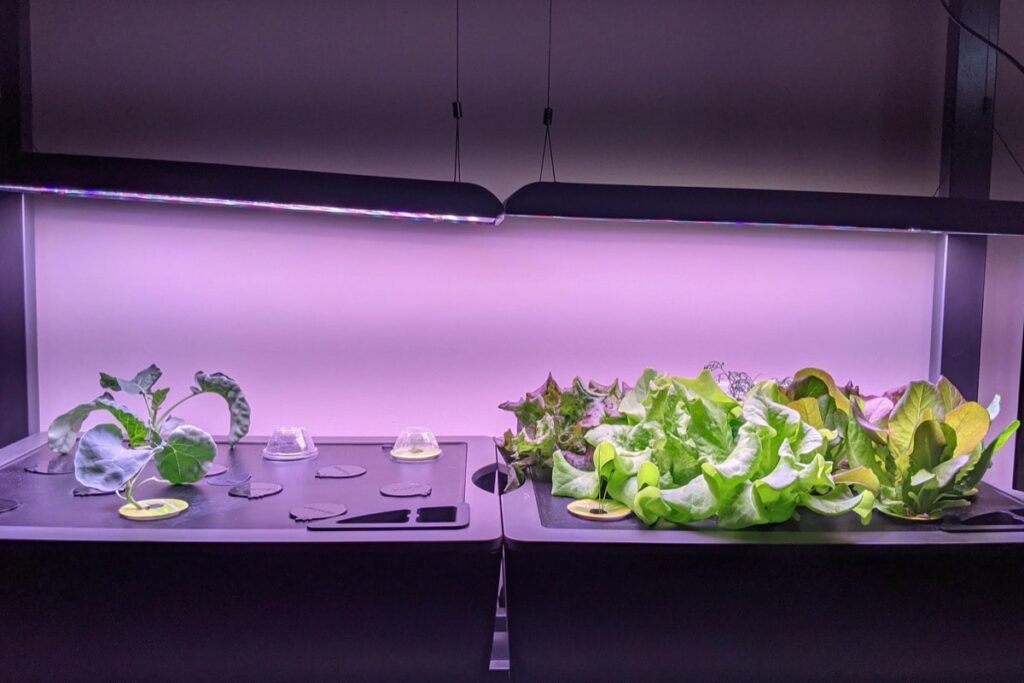 AeroGarden Vacation Mode
All AeroGarden Farm models are equipped with vacation mode, for you to come back to a thriving and healthy growing garden. Once the vacation mode is on, the light duration decreases to slow down the growth of plants.
The way it works is the number of hours of light per day decreases, which decreases the water usage, and thus the growth of the plants. 
When you come back in a few days from vacation or a business trip, your plants should still be growing. One of the other issues of plants growing too fast when you're not around is the height of the lights. If the plants grow too close to the lights, the leaves will start burning and turning yellow/brown. 
AeroGarden Stacking System
Creating a beautiful living wall is simple with the AeroGarden Farm Stacking System. This accessory only works with the Farm and/or Farm Plus gardens. You can stack two Farms either vertically or side-by-side. 
Individual AeroGarden has separate growing heights and to maintain a beautiful stackable garden, you will need some extra support. The AeroGarden farm stacking facility is only available to all farm/farm plus models. 
This bracket system will help you to stack gardens vertically and safely while attaching them to the wall. They are available in two color variants- white and black. You can also stack two farms either vertically or side by side to give you a beautiful modernized garden. 
AeroGarden Trellis System
The AeroGarden Trellis system is exclusively available for models for which the plant growth is higher. The tall plants that bear heavy fruits like squash, peppers, and tomatoes will need some extra support to stand up straight and thrive. 
The Farm models comes with magnetic trellis in which the plants can anchor for extra support. The strong magnets make it easy and adjustable to place at any part of the system. 
The box comes with three 10.37 in. and two 36 in. long trellis cords. 
AeroGarden Farm Plant Growth and Production
What Can I Grow in the AeroGarden Farm?
There are a number of seed pod kits that're offered, along with the 150+ seed pods available from AeroGarden. These are examples of sets: 
Salad bar farm seed pod kit- mostly herbs and lettuces
Salad bar farm seed pod kit- tomatoes
Heirloom salad greens seed pod kit- exclusive for farm and farm plus models
Many users have grown herbs like dill, thyme, different varieties of cilantro, basil, chives, veggies like celery, okra, eggplants, various types of jalapeno (sweet and hot), different kinds of tomatoes, and many other leafy greens. 
Plant Growth Cycles
The plant growth and the cycle is dependent individually on the seeds. Each plant will have its own germination time, time for continuous yield and then stop growing. 
Herbs germinate quicker (3-8 days) than veggies (5-12 days) and live for a shorter duration. The harvesting period comes only in 2-3 weeks for every plant, relatively faster in herbs. 
AeroGarden Farm Production
As the seed pod capacity is higher, the production rate of herbs and veggies is also higher in AeroGarden Farm gardens. In AeroGarden Farm especially, the rate of yield is high and is good for a large family of six people or more. 
AeroGarden plants and crops don't use pesticides, because there's no soil. That means fresher root crops and you're able to eat straight after pruning and harvesting if you wanted. The ability to eat immediately also means you won't lose nutrious value while the plant products travel from the farm to supermarket to your home. 
AeroGarden Farm Family Product Video
AeroGarden Farm Family Comparison Reviews
AeroGarden Farm 12 XL Review
The Farm 12 XL AeroGarden system is a narrow-tall system that can accommodate 12 seed pod kits. The structure is easily stackable for a vertical gardening experience. Benefits include Alexa compatibility, AeroGarden App, adjustable lighting, choice of growing herbs, and vegetables of your choice are all available in this model. 
AeroGarden Farm 24 Basic Review
Farm 24 Basic is structured with two separate electronically adjustable LED light system. As there are two reservoirs and each reservoir base can hold 12 seeds, there are two separate control systems for each. The grow height of plants in the Farm 24 Basic is 12 inches. 
The touch screen control is easy to use and allows you to view the two modules separately. The material structure across all AeroGarden Farm models are the same metal matte body with easy stackable options. 
AeroGarden Farm 24 Plus Review
The AeroGarden Farm 24Plus the next step up from the 24Basic, where the grow height 24 inches instead of the 12 in. with the 24Basic. The grow lights are also independently customizable to accommodate different plants on either of the 12-pod bases. All other features remain the same across these two models.  
AeroGarden Farm 24 XL Review
The final and most advanced AeroGarden model is the Farm 24 XL model. The model is the largest system of all with a maximum grow height of 36 in. You can optimize and control the left and right gardens as there are two separate controls.
The taller grow height of 3 feet allow you to grow taller vegetable and fruit plants like cucumbers, eggplants, heirloom tomatoes, broccoli, and squash.
There are no other significant differences between the Farm 24Plus and 24XL except the grow heights of 24″ and 36″, respectively.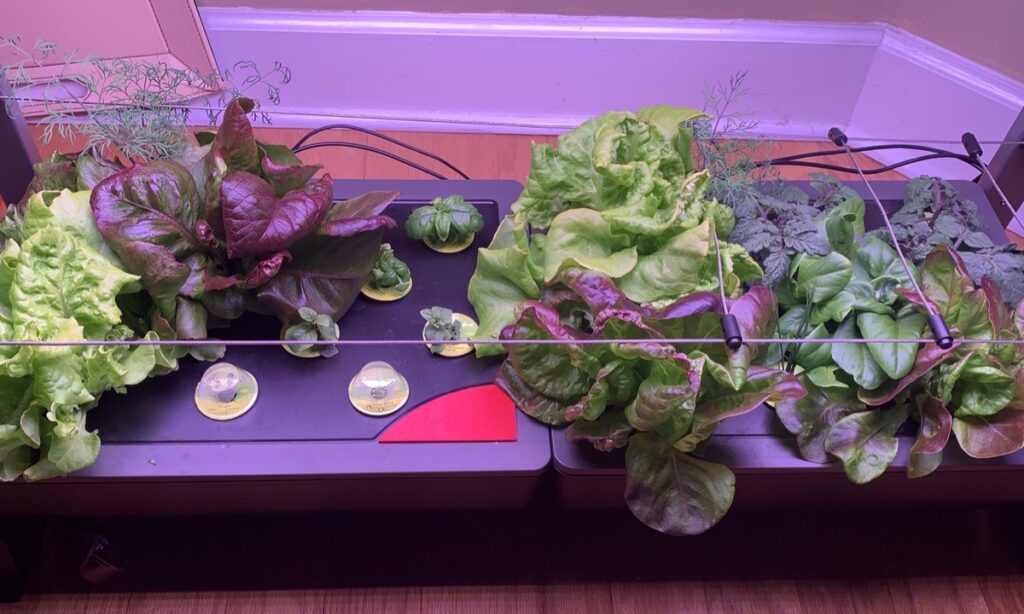 AeroGarden Farm Comparisons
AeroGarden Farm vs Farm Plus (24 Basic vs 24 Plus)
The difference between these two models is the growth height of the plants. In the Farm 24 Basic model, the max growth height is 12 inches. Whereas, in 24Plus, the plants can grow up to a height of 24 inches. The size of 24 Plus is also slightly bigger than the 24 Basic.  
AeroGarden Farm vs Farm XL (24 Basic vs 24 XL)
Apart from all other functions that are similar in both these models, the growth height of the Farm 24Basic is lower than the Farm 24XL. Farm 24 Basic has a grow height of 12 inches, but 24 XL has a grow height three times that at 36 inches. 
AeroGarden Farm Plus vs Farm XL (24 Plus vs 24 XL)
The only difference between these two models is the maximum growth height. The Farm 24Plus has a grow height of 24 inches, while the Farm 24XL has a grow height of 36 in. So the Farm 24Plus is one foot small than the Farm 24XL's maximum grow height.
The overall size of 24XL is bigger and wider than the 24Plus too. That makes the 24Plus a better option if to grow shorter plants, like tomatoes, bell peppers, and herbs. It's more compact too, so it's better to fit into smaller areas.
AeroGarden Farm 12 XL vs Farm 24 XL
The Farm 12XL and Farm 24XL mostly have the same features. The differences between the two are due to seed pod capacities of 12 and 24 pods. The Farm 24XL has two 12-pod bases, while the 12XL has only one. 
The Farm 24XL has separate control panels for both left and right modules to allow for growing plants of differing heights on either side.
Final Thoughts on the AeroGarden Farm Models
AeroGarden Farm models are best suited for larger families and those who want more diversity in the herbs, vegetables, and plants they're regularly growing. The huge variety and continuous yield will give you a constant supply of home-grown greens throughout the year. 
The AeroGarden Farm 24XL is the one to buy out of all the versions. It'll be the most flexible when it comes to what you can effectively grow at home. The 36″ grow height will allow for tomatoes and other taller plants.
The cost of an AeroGarden Farm is higher than the other models, but it provides great value for your money. Less runs to the supermarket, which also means less gas being used to drive there. 
The initial investment can give you years of continuous healthy, fresh fruits, veggies and greens, without too much effort and time.  The AeroGarden Farm gardens will sustain and thrive for many seasons, irrespective of climate, location, and availability of seasonal produce. 
I've previously covered the other countertop gardens in the AeroGarden hydroponics product lines