Being one of the beautiful colors, red is sure to command attention.
Red flowers will stand out among other plants and can brighten any display in your flower garden with their vibrant blooms.
Adding them to your garden can lend it a romantic atmosphere, give it a tropical feel, or introduce a sense of energy and excitement.
There is so much room to experiment with the wide array of color combinations that can work for red blooms.
We did the work for you and researched the most stunning plants with red flowers that make for a great addition to anyone's home and garden.
1. Coneflowers (Echinacea)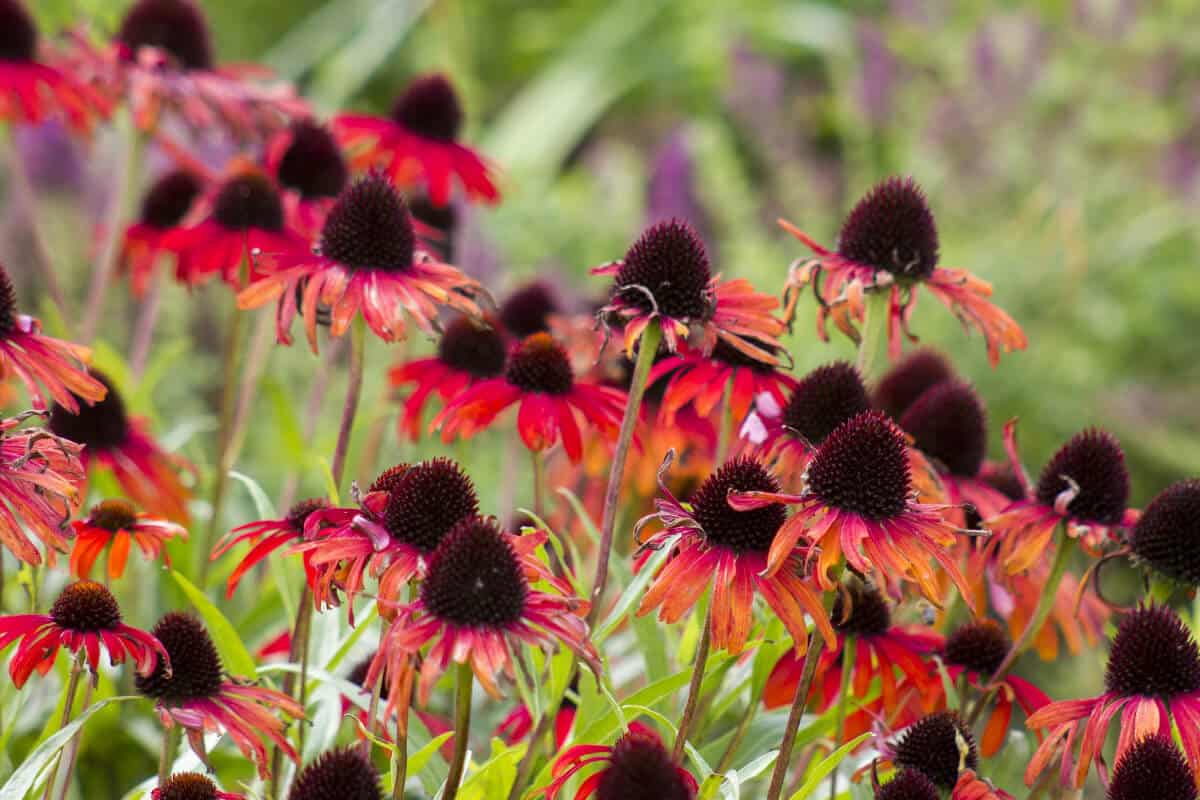 Coneflowers are very easy to grow and long-lasting as cut flowers. They can be grown both as annuals and perennial flowers and can grow up to 48 inches tall.
Two of the varieties with the brightest shades of red are Echinacea "Hot Papaya" and Echinacea "Tomato Soup". These flowers are loved by beneficial pollinators such as butterflies and birds, which feed from their seeds.
It is best to grow them in full sun or partial shade. They bloom during mid to late summer.
2. Hardy Hibiscus (Hibiscus)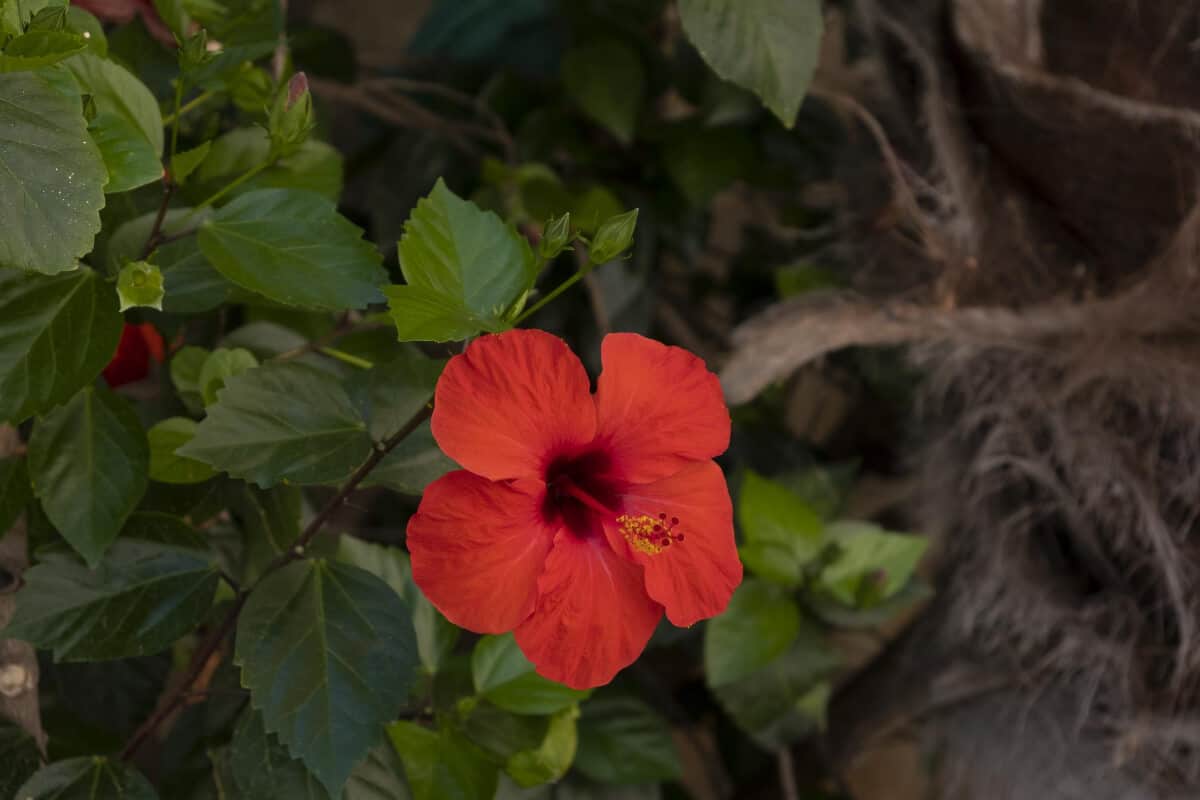 Tropical hibiscus plants need full sun or partial shade and like their soil moist. Get these conditions correct and you will have a huge plant that can grow to up to 4 feet high.
Hardy hibiscus is a result of the crossing of several tropical hibiscus species. The hybrids created this way have the advantage of being more adaptable to colder climates.
These perennial shrubs with woody stems produce beautiful pink or red flowers that can be very huge depending on the variety.
3. Coreopsis Hardy Jewel Series (Coreopsis "Ruby Frost", "Desert Coral")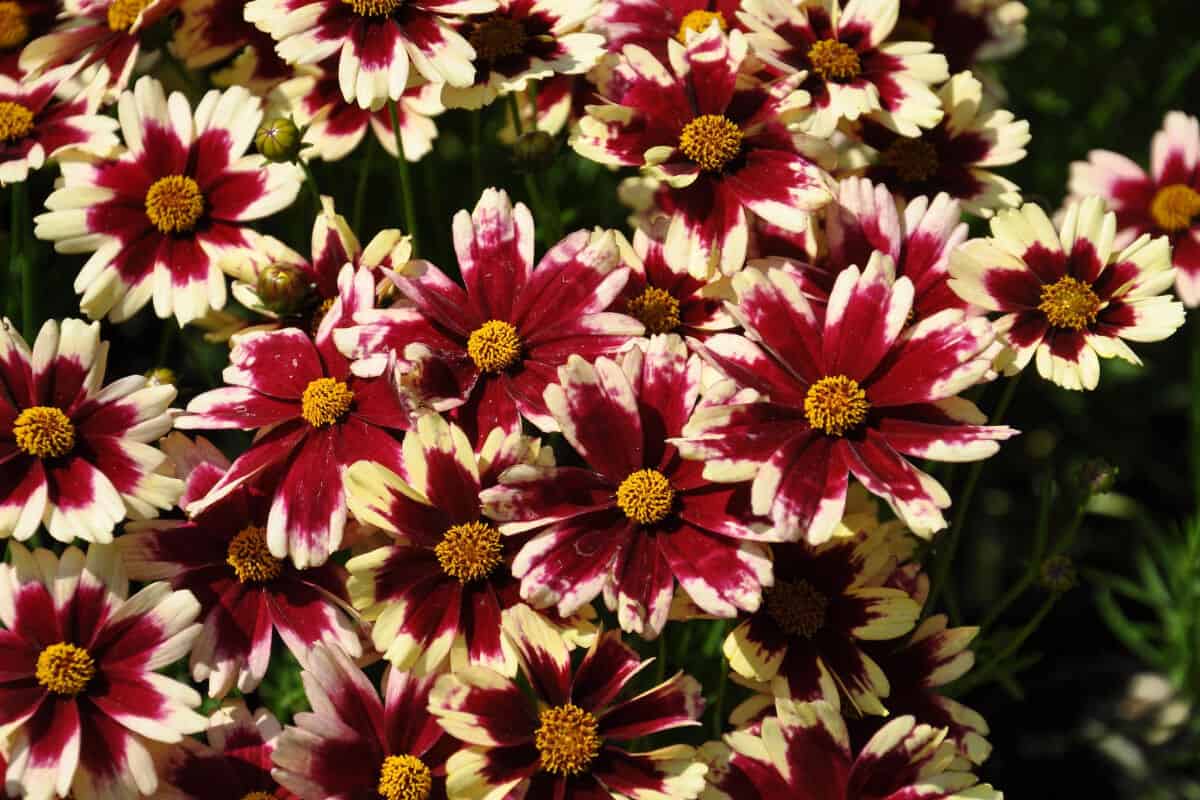 Coreopsis are perennial plants that are very attractive to butterflies, birds, and bees. They can grow to be about 18 inches tall and can tolerate dry conditions, even if they bloom far less than normal.
A spectacular series of coreopsis cultivars is the Hardy Jewel, characterized by flowers with red petals that have white or peach-colored margins.
4. Astilbe (Astilbe Red Sentinel)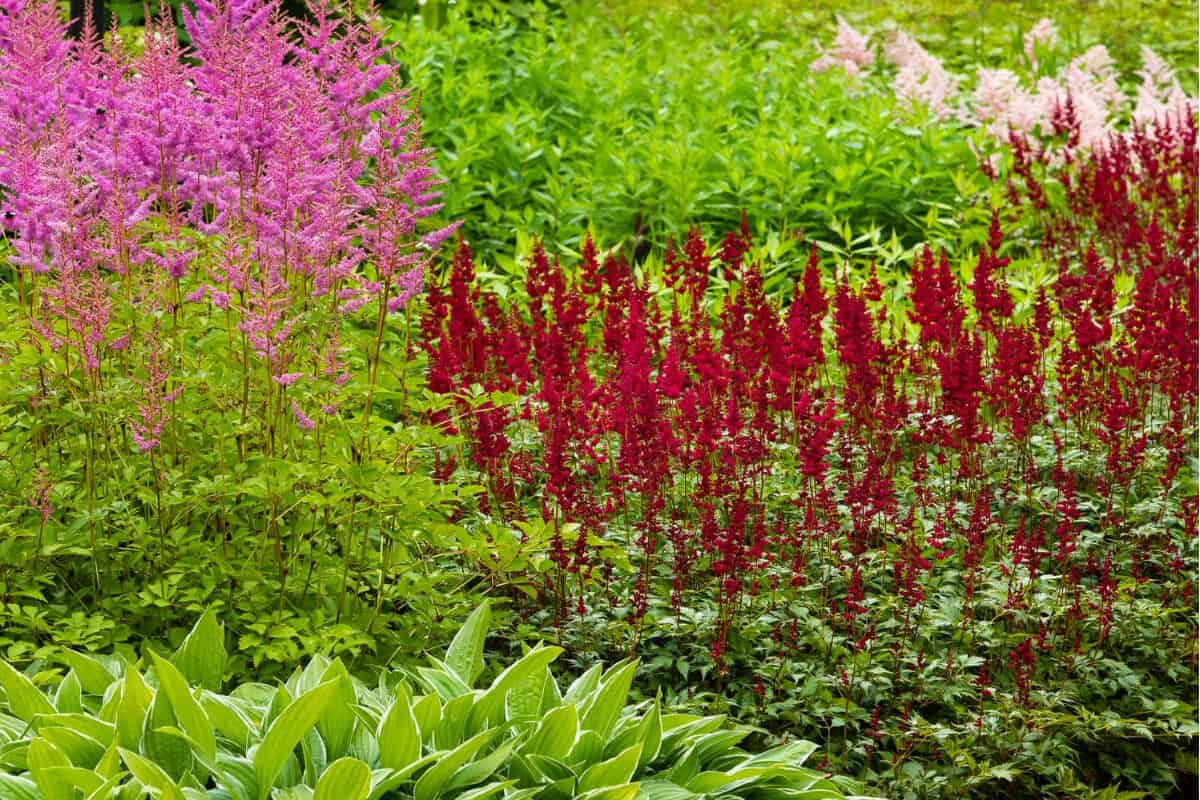 Astilbes are graceful perennials with large feathery plumes. These flowers have a sweet fragrance and are perfect for shaded areas of the garden. They are not particularly fond of direct sunlight.
One of the most beautiful astilbes is the Red Sentinel, with its crimson red flowers and deep green leaves.
Astilbes last for a long time and are quite striking even when not in bloom. Plus, they need little to no care. Just be sure of watering them during long dry spells.
5. Hardy Mum (Chrysanthemum Morifolium)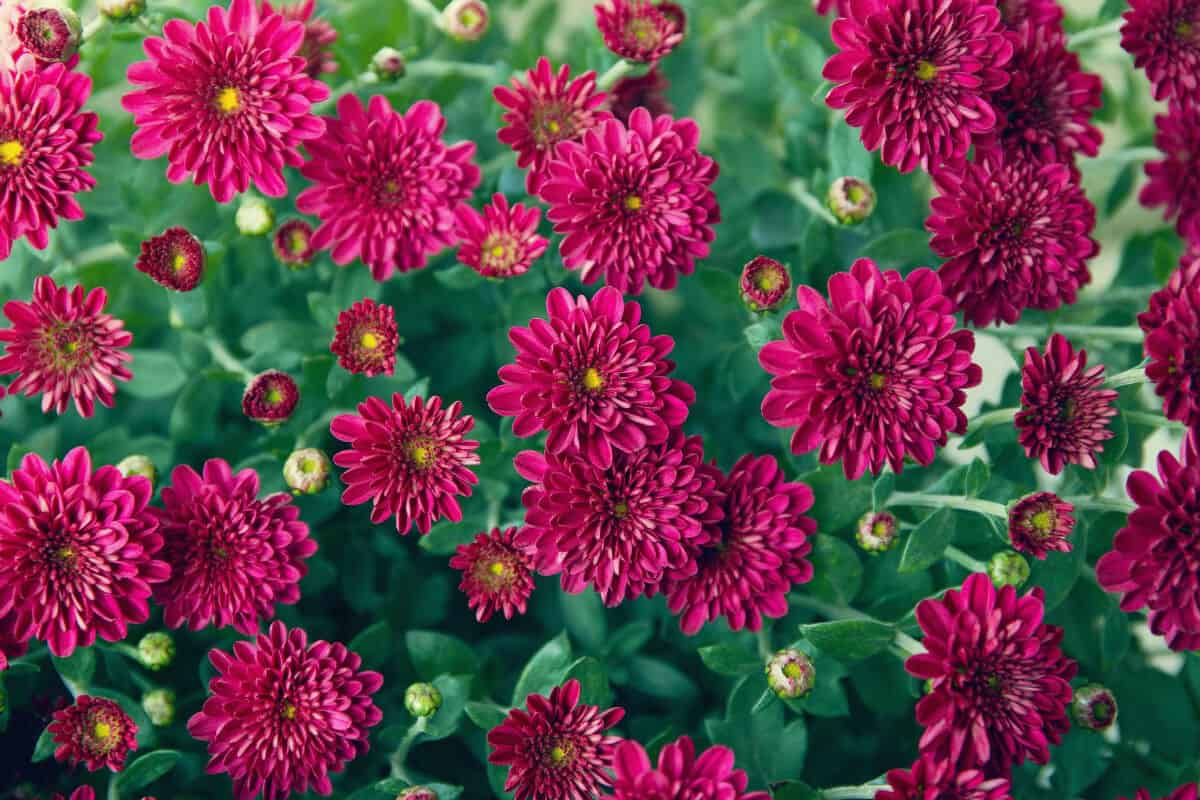 Hardy mums, or Chrysanthemums, can be grown both as annuals and perennials.
A specific specie, "Jolly Cheryl" has a double flower with a profusion of juicy, gradient, red petals that darken and clump more densely towards the center.
These plants bloom from late summer to winter and are a great addition to anyone's garden given the variety of vivid reds that it boasts of.
These flowers are fall must-haves and produce flowers ranging from pom-pom shapes to daisy-like blooms. 
6. Azalea (Rhododendron and hybrids)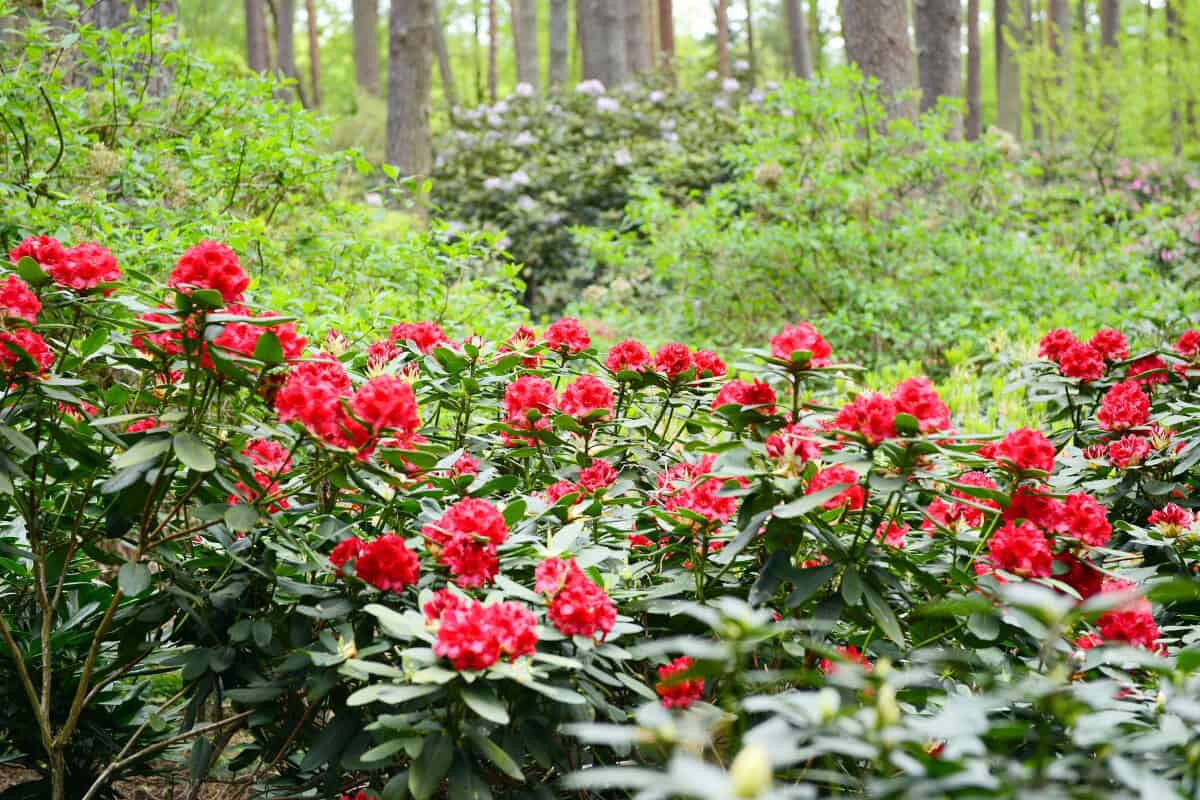 Azaleas are perennial shrubs that belong to the same genus as Rhododendrons. Azaleas thrive in full or partial sun and more easily grow in acidic, well-drained soil with a lot of hummus.
This compact plant blooms in the spring when they produce bright red blossoms, particularly the "Stewartstonian" cultivar.
There are azalea cultivars adapted to both warm and cold climates so they can thrive in both sunny spots and shady spots.
This resilient plant's red hue against green leaves is a sight to see. Red and green are complementary colors and are particularly appreciated by many.  
7. Cardinal Flower (Lobelia Cardinalis and hybrids)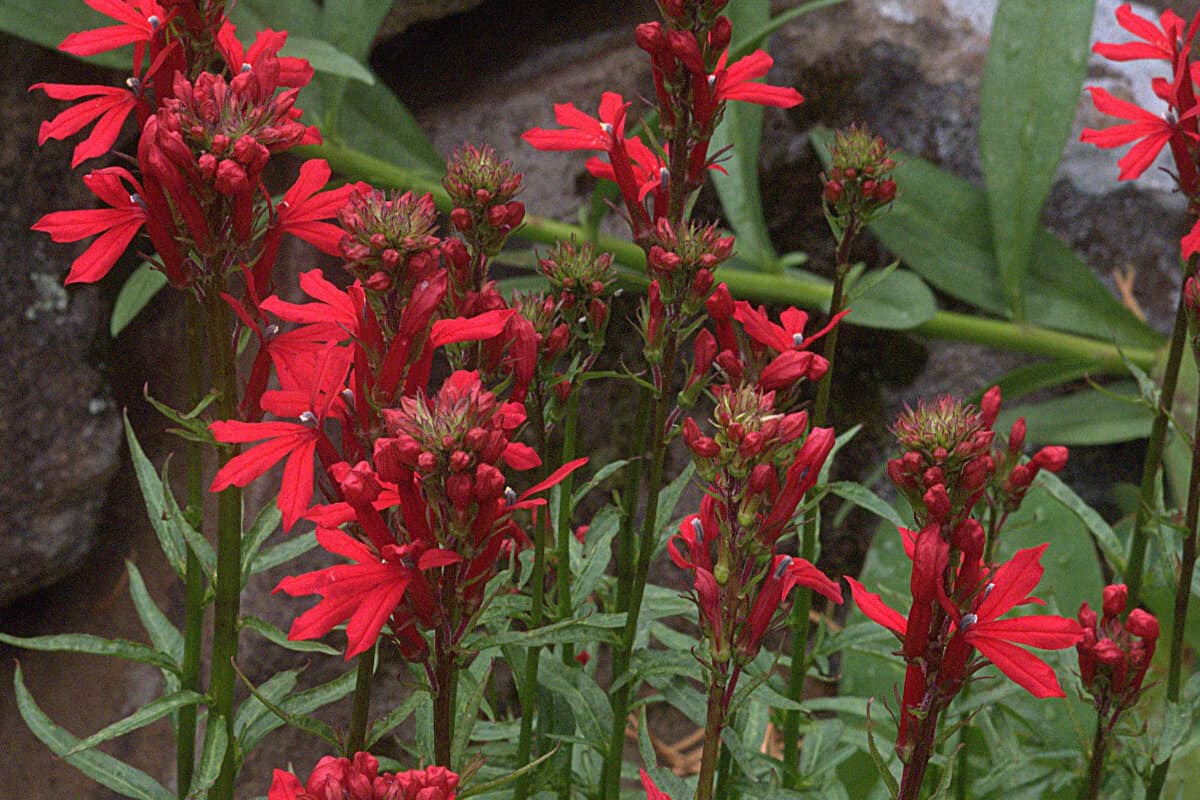 Cardinal flowers are perennials adapted to moist soils. They have long, spiky blooms that attract hummingbirds.
The most common cardinal flowers for the garden are hybrid cultivars. These stunning flowers are especially hardy and known to thrive even against drought and poor drainage.
An example is Lobelia Speciosa's "Fan Scarlet", which blooms red scarlet flowers in early summer. These flowers need full sun or partial shade.
8. Red Salvia (Salvia Splendens)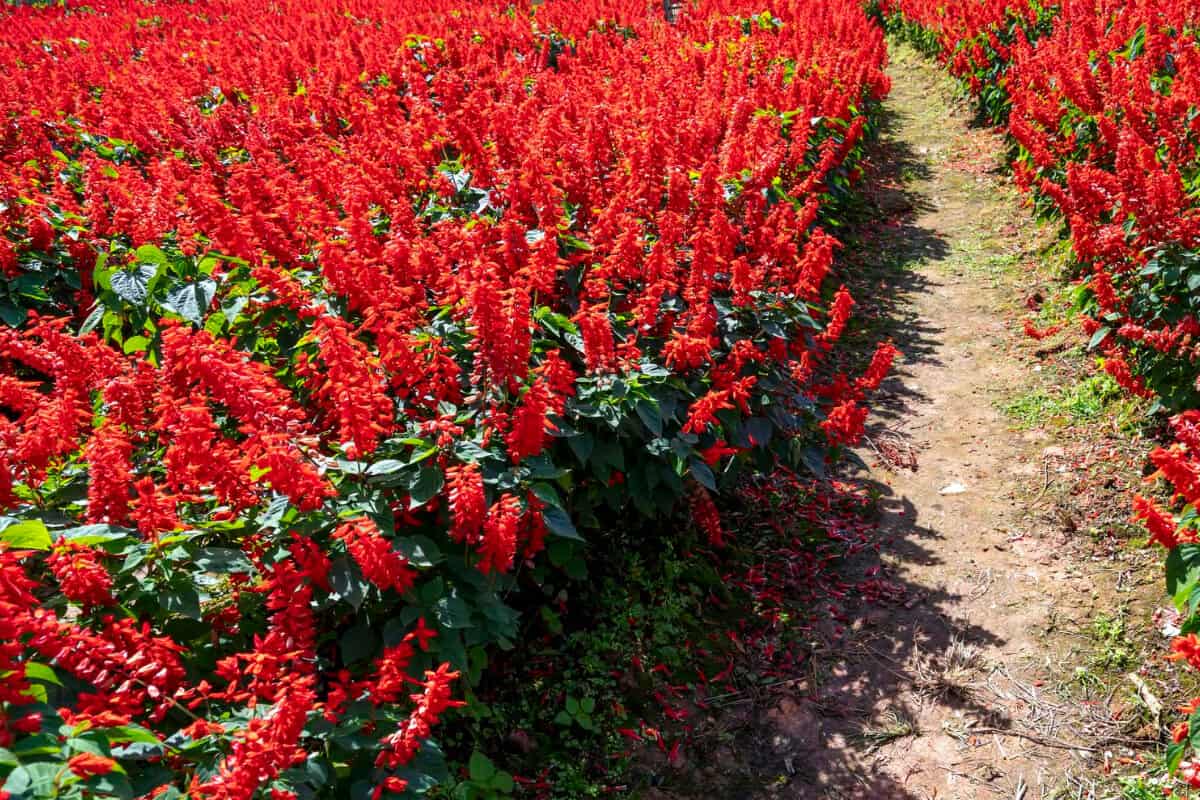 Salvia is commonly believed to be an annual plant, but many species of salvia are perennials. The most stunning is probably the red salvia, with its tall, red spikes.
This plant is well-loved by hummingbirds and is originally from the tropics. It will grow rapidly in warm climates and are a great addition to anyone's summer garden.
Salvias bloom best when given full sun but they can also survive in partial shade.
9. Lilies (Lilium Asiatica, Hemerocallis hybrids)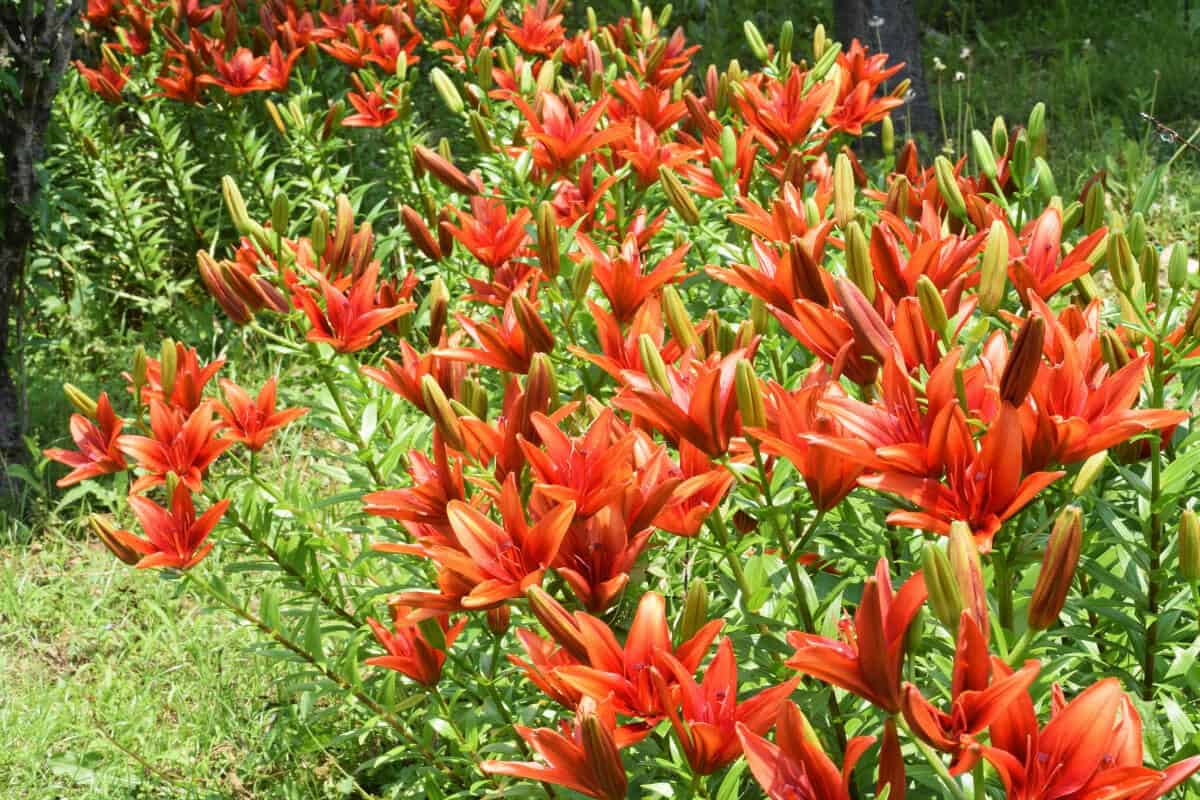 Lilies are tall flowers available in many varieties, some of them in beautiful shades of red. They are particularly prized because they are perennials that bloom profusely early in the season.
Asiatic lilies need slightly acidic soil and at least 6 sunlight hours per day. Another option is to choose daylilies, which aren't actually lilies but look very similar and are very low maintenance.
Daylilies thrive in full sun and need at least 6 to 8 hours of it daily to grow their best.
If you live somewhere that is very hot, give them partial shade to protect them from burning. They bloom from spring to late summer.
10. Peony (Paeonia"Red Charm")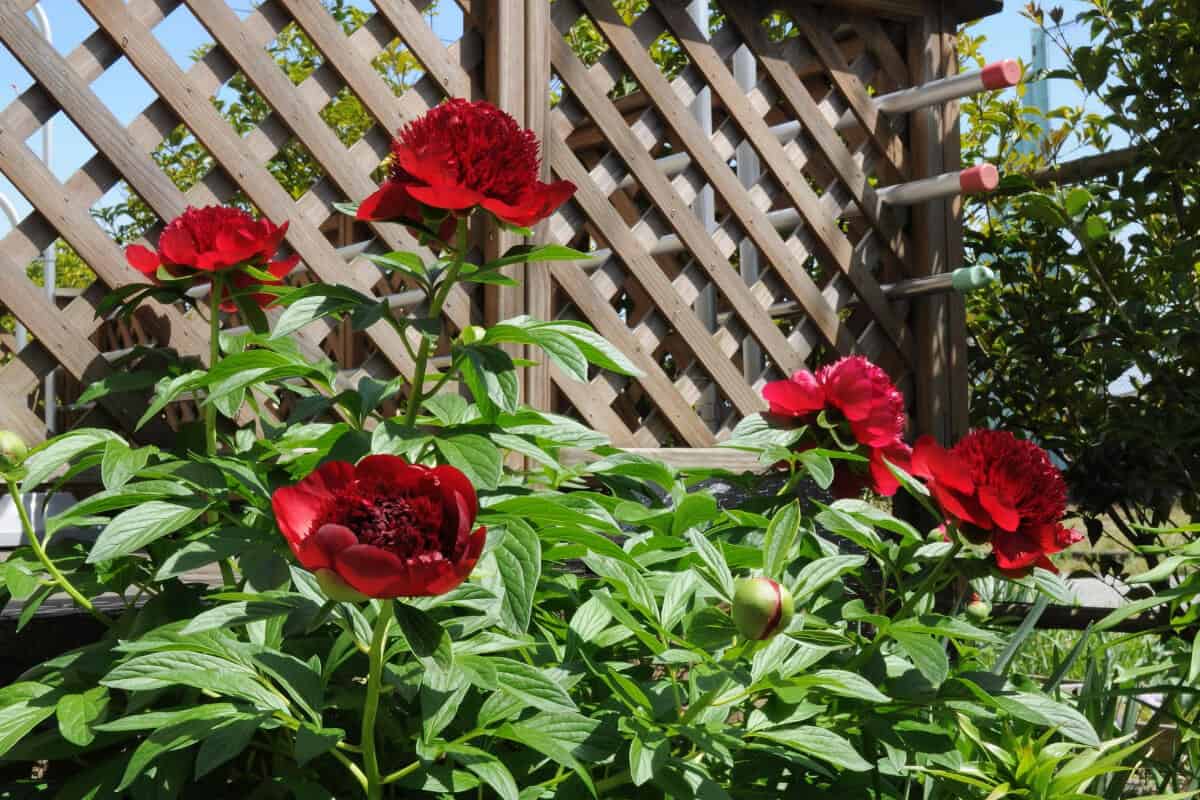 There are over 30 species of peonies, some of which are shrubs while others are herbaceous plants.
Many hybrid cultivars produce the most stunning scarlet blooms.
These hybrids are usually based on three main species: P. Tenuifolia, with bright crimson flowers, P. Lactiflora, which lives for a long time, and P. Suffruticosa, a tree peony.
Generally, peonies need full sun and rich, well-draining soil. To enjoy them, begin planting during autumn to give them time to get established. They will bloom in mid to late spring.
11. Oriental Poppies (Papaver Orientale)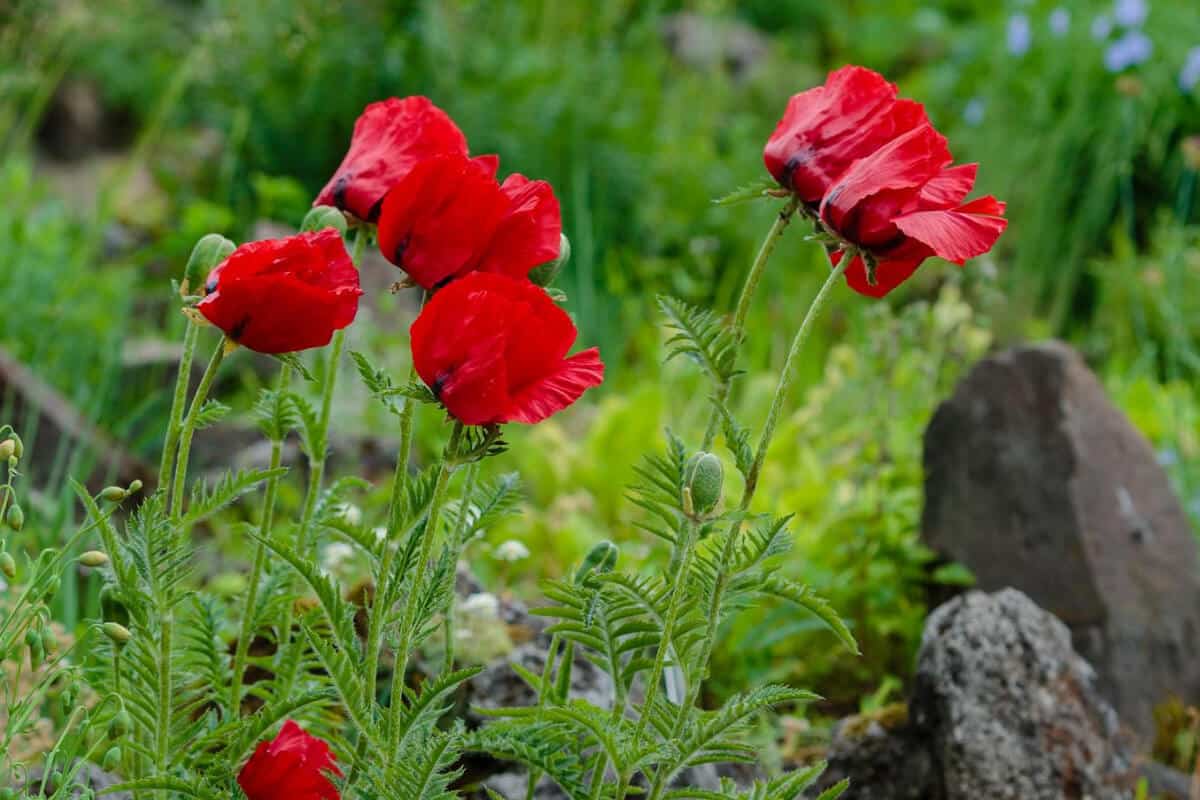 The oriental poppy is well-known for its bright orange or red petals, even though there are also cultivars in a variety of colors.
These flowers are much appreciated for their gorgeous blooms and their cold hardiness.
Oriental poppies are short-lived perennials and they often fade out during the hottest summer months to then produce new leaves in the fall.
That's why they are sometimes cultivated as annual plants.
12. Zonal Geranium (Pelargonium Zonale)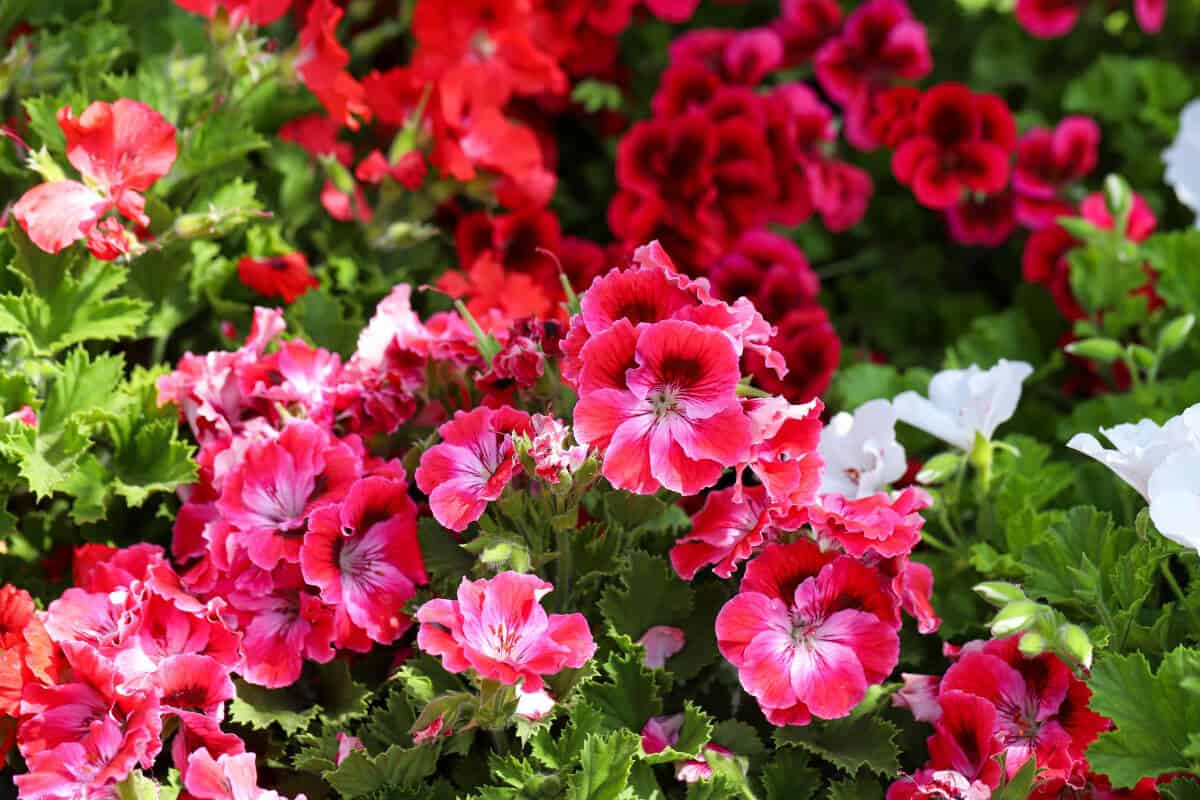 Geraniums are maybe the most iconic red flowers. Despite being usually sold as annuals in milder climates, they are actually perennials.
Exposed to full sun or partial shade, they will bloom continuously from spring until frost and grow up to 18 inches tall.
Geraniums prefer a neutral to alkaline soil pH. They also love well-drained soils.
The most common geranium is a hybrid of different species of the Pelargonium genus and has nothing to do with true hardy geraniums.
They have become popular for window boxes and hanging baskets also because they are extremely easy to grow and they tolerate dry conditions.
13. Bee Balm (Monarda Didyma)
Bee balm is a beautiful perennial herb that also has many uses. With its spicy fragrance, it's perfect for herbal teas. Its flowers are very attractive to birds and insects that crave nectar.
Bee balm is native to North America. This plant blooms from mid to late summer.
Monarda Didyma "Bee-Happy" is a cultivar with large cherry-red flowers and bushy foliage. This plant thrives in the sun and can easily overpower other lovely plants, especially in warmer climates.
14. Maltese Cross (Silene Chalcedonica)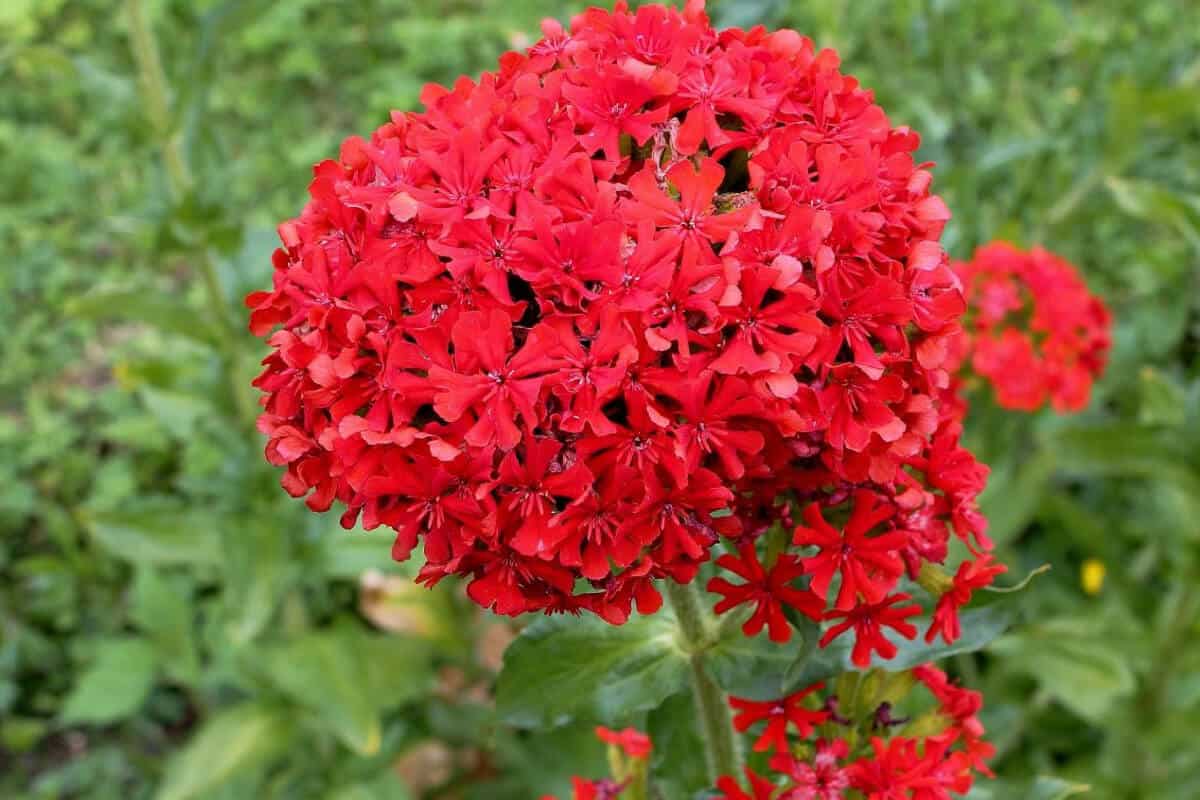 The Maltese cross is native to the Mediterranean region and can brighten any garden with its scarlet flowers.
Also known as the Jerusalem cross flower, it gives its best in full sun and dry conditions.
It can't withstand cold winters though as its long flower stems will tend to flop if they don't receive enough sunlight.
15. Tulips (Tulipa and hybrids)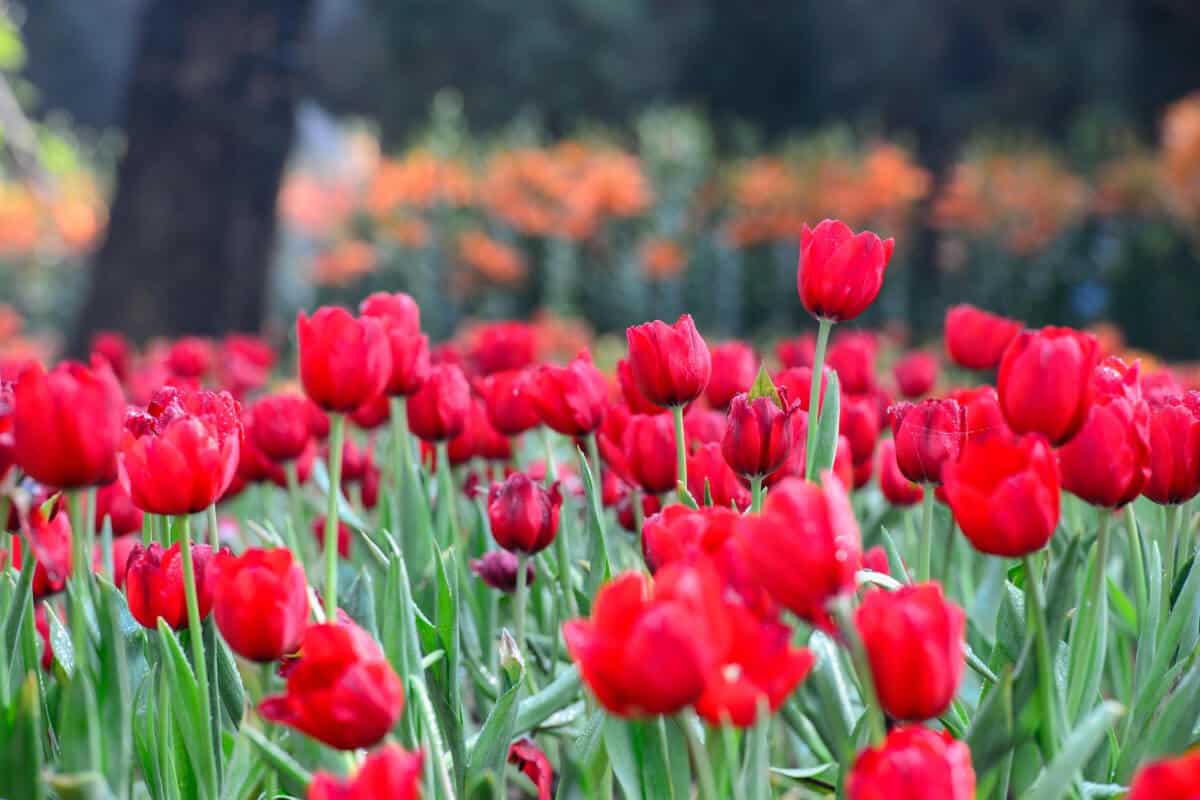 There is a vast number of tulip species. Tulips are a lovely spring-blooming flower that is one of the first to appear after winter.
They generally prefer warmer climates but some cultivars can survive in cooler regions as well.
Tulips are usually cup-shaped and their size can fit formal garden plantings from beds to borders. These perennials show off in bright, red flower colors.
16. Dahlia (Dahlia)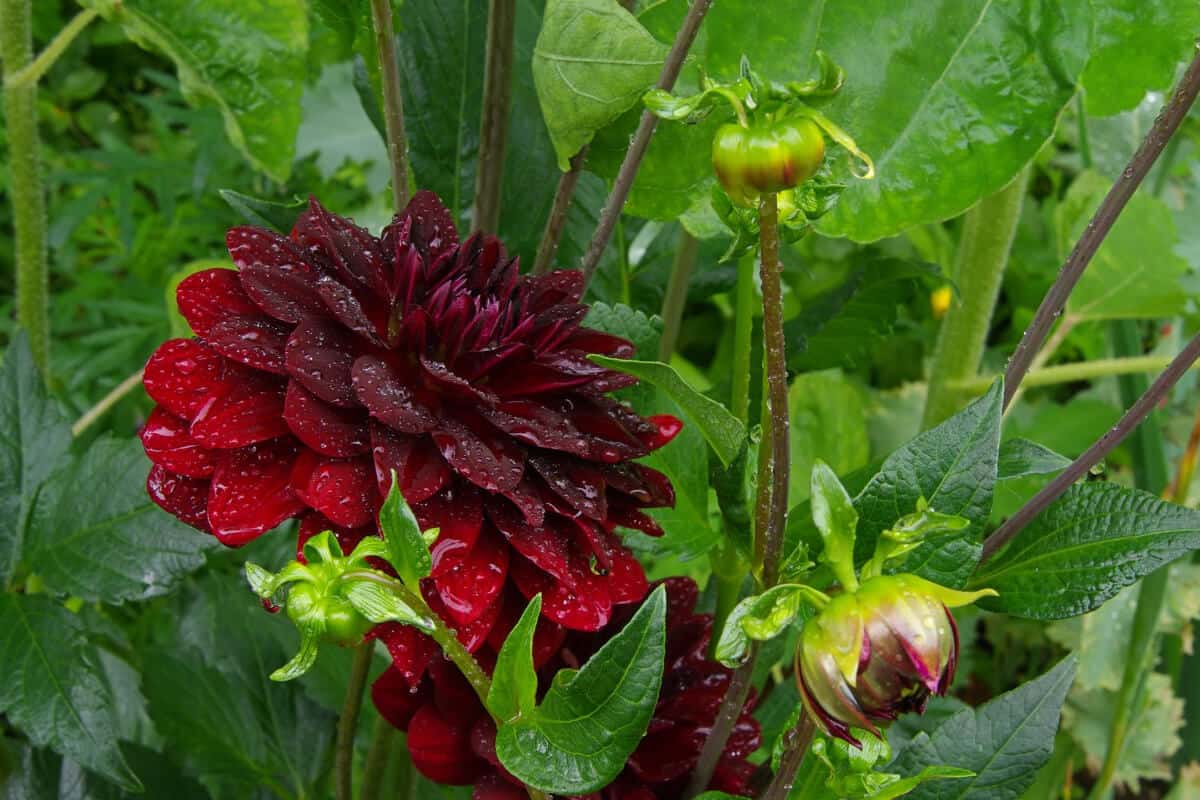 If you have various preferences for reds, worry not! Dahlias come in many bright shades of red and crimson.
These flowers can be grown from tubers if planted in the spring and in moderate climates, they are perennials. They have a long growing season ranging from mid-summer to late autumn.
Dahlias also love rich, loamy, soil that has good drainage. Give them compost and fertilizer to amp up these gorgeous blooms.
In colder areas, they can be grown as annuals or stored indoors during the winter. They are not suitable for extremely hot areas.
17. Love Lies Bleeding (Amaranthus Caudatus)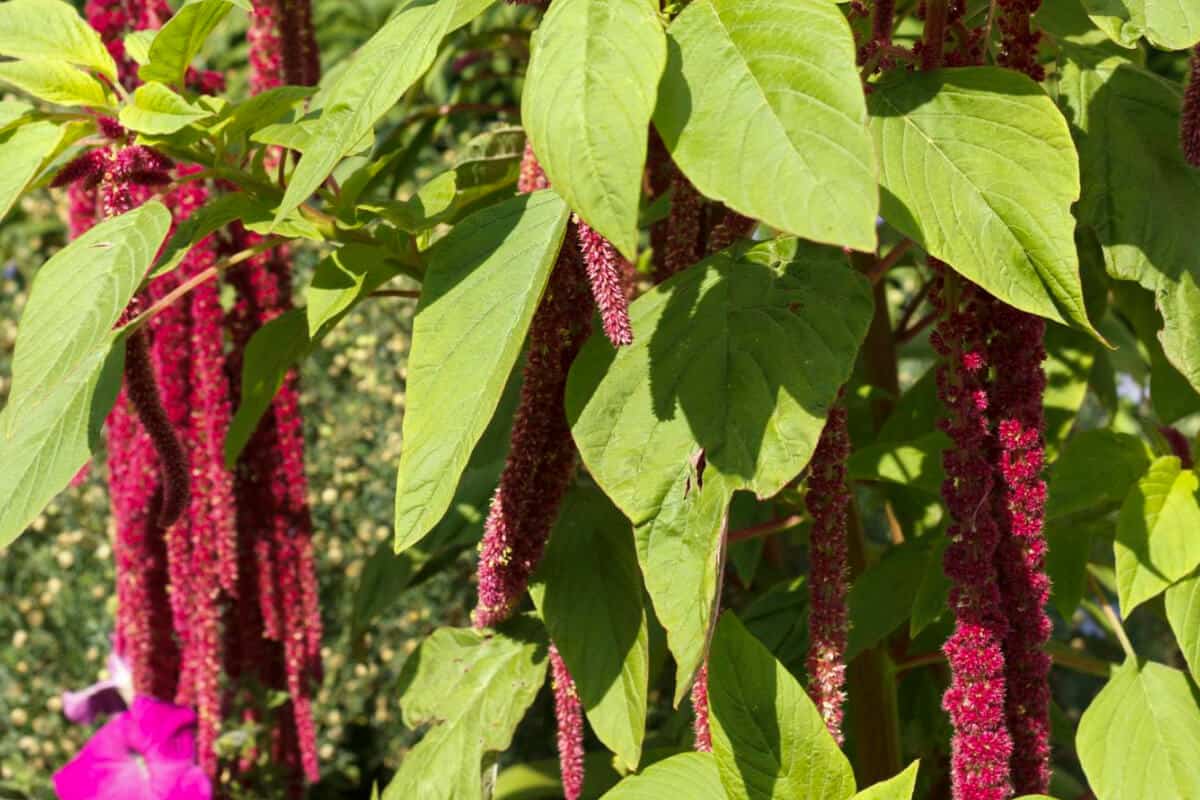 Many species of Amaranth are cultivated for their seeds, which can be used to make flour or added to baked products.
Love Lies Bleeding's seeds are also edible, but they are certainly not its main attraction.
This plant has beautiful red dangling flowers that look like catkins and bloom in mid-summer, lasting until the first frost.
This plant can be planted in acidic, neutral, or alkaline soil.
18. Crocosmia (Crocosmia)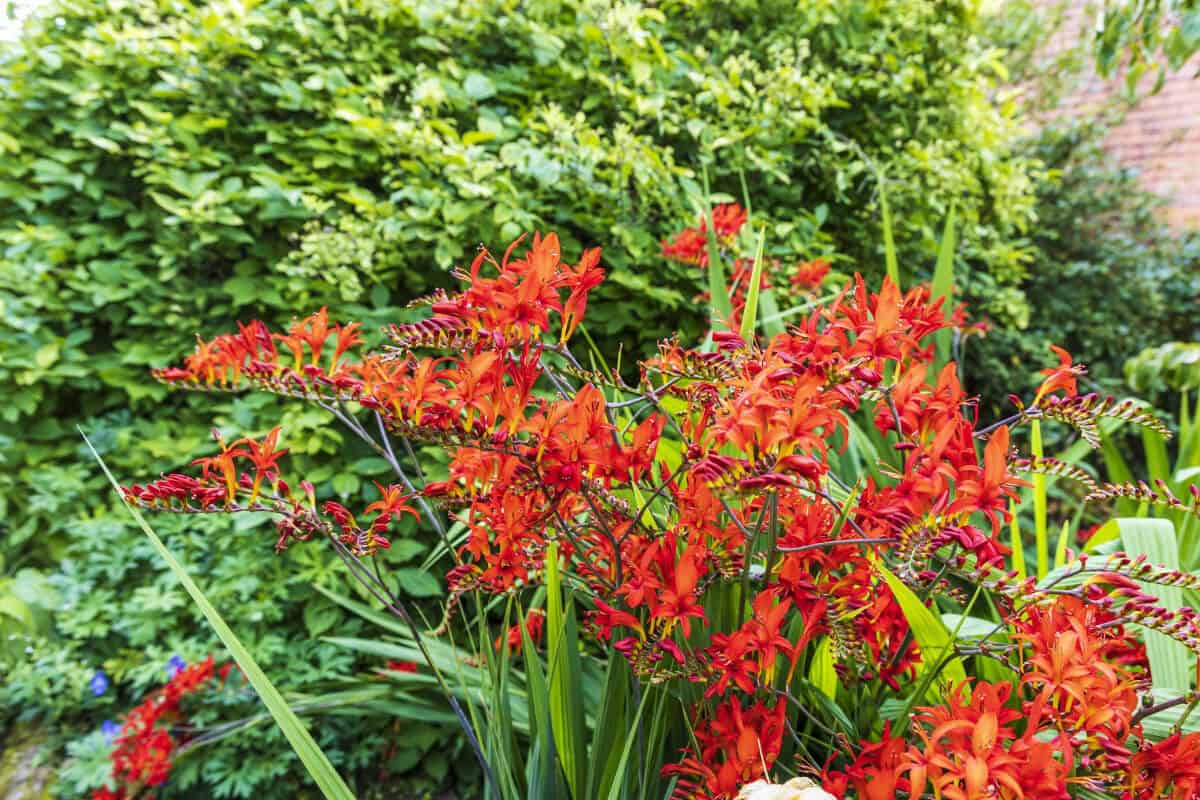 For something showy and exotic-looking, look no further than Crocosmias. These tubular flowers that look similar to gladioli are characterized by a range of colors.
One of the most remarkable cultivars is Crocosmia "Lucifer", with its fire-red blooms that stand out among green foliage. Others include "Hellfire'" and "Harvest Sun".
Crocosmias are native to South Africa and tolerate both high humidity and dry conditions.
19. Rudbeckia (Rudbeckia)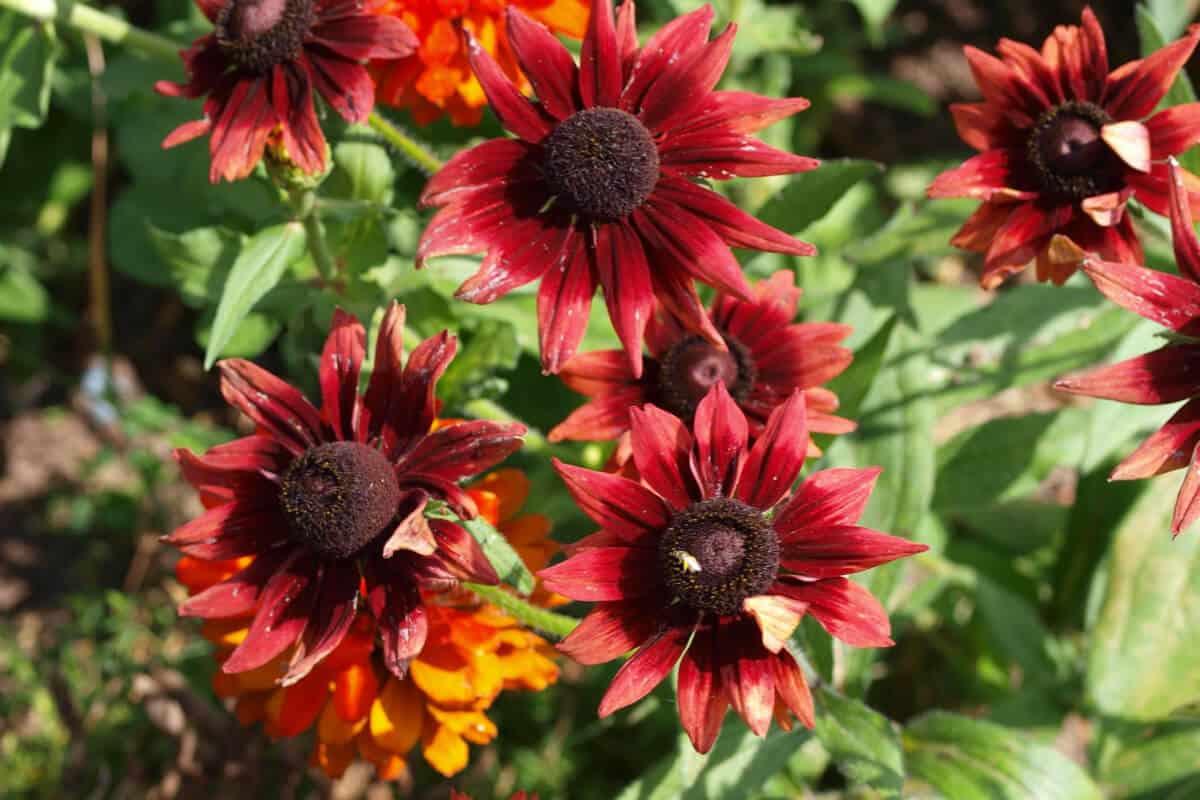 There are different varieties of rudbeckias with amazing red flowers in different hues, such as Rudbeckia "Cherry Brandy". This cultivar has deep maroon red flowers with darker centers.
Rudbeckia is a perennial plant but can also be grown as an annual.
It has the capacity to bloom on poor soil and it will self-pollinate profusely so you are sure to have plenty of flowers for many years.
20. Yarrow (Achillea Millefolium)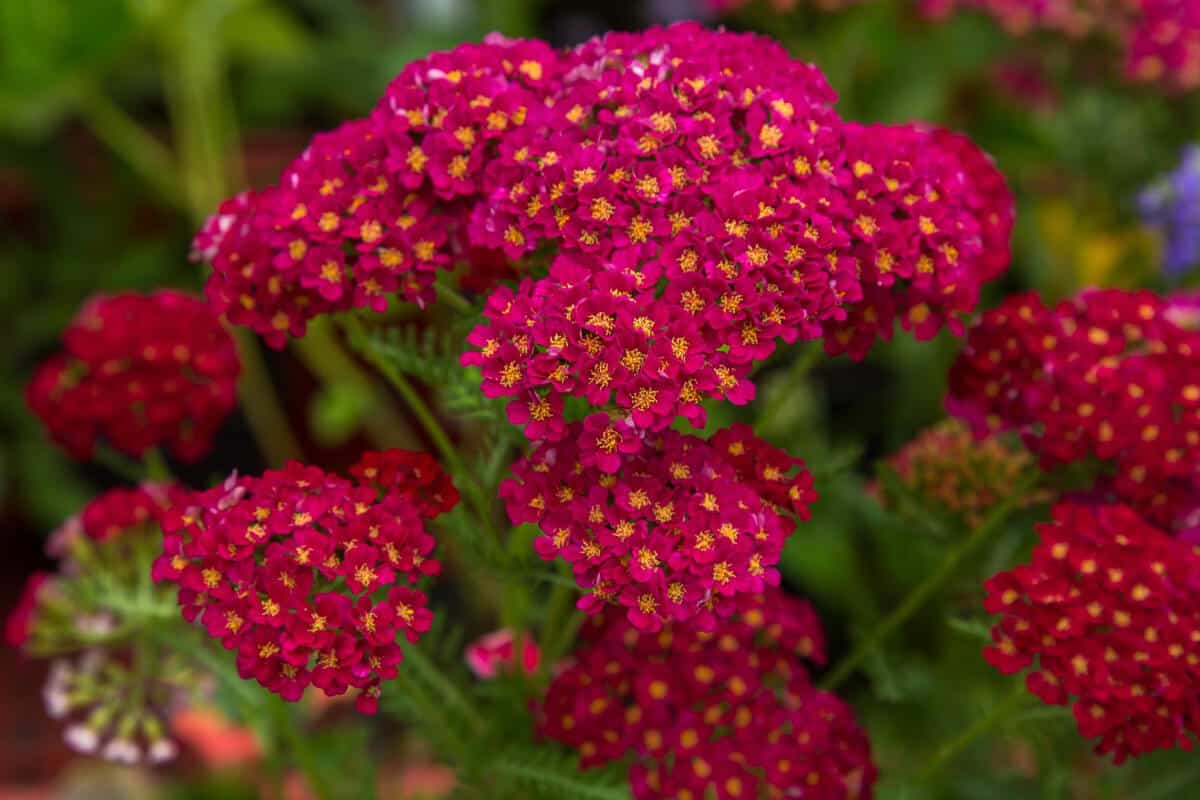 Yarrow can be an interesting addition to flower borders, with its flat flower heads and fern-like foliage.
If you are not gifted with a natural green thumb, the yarrow is a perfect flower for you. It is a resilient plant that can thrive even in poor soils.
The yarrow is highly tolerant of difficult conditions and does well in full sun or partial shade. They bloom from late spring to late summer so you will always have time to enjoy them.
There is a wide array of colors that yarrow can come in, but the most stunning kind is Achillea Millefolium "Paprika". This variety has ruby and salmon-colored flowers and is very vigorous.
21. Crimson Bottlebrush (Callistemon Citrinus)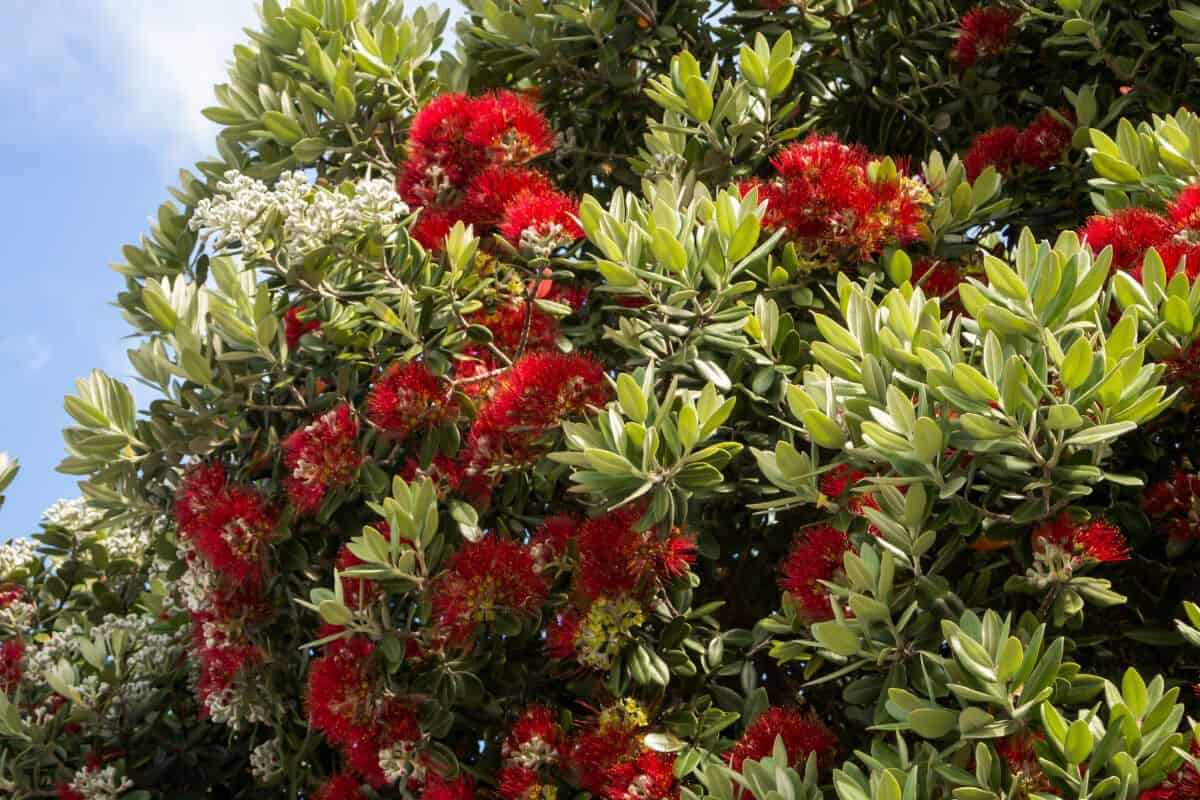 Callistemons are unusual plants that will surely amaze with their bright crimson flowers shaped like bottlebrushes.
These evergreen shrubs grow spiky flowers with brush-like thistles that bloom intermittently throughout the year. The leaves start off a coppery color and become grey-green as they mature.
The scientific name of this plant is due to the citrusy smell they release when touched. Crimson bottlebrush prefers acidic soil and full sun.
22. Japanese Maple (Acer Palmatum)
Japanese Maples, although better known for their distinctive foliage, also produce small, beautiful red flowers. They enjoy partial shade and well-draining soil, offering an exotic feel to any garden.
23. Camellia (Camellia Japonica)
Camellia, a gorgeous flowering shrub with impressive red blossoms, prefers partial shade and well-draining, acidic soil. Known for their early spring bloom, these plants make a bold statement in any garden.
24. Begonia (Begonia spp.)
Begonias are popular for their showy, bright red flowers and interesting foliage. They can tolerate a range of light conditions but prefer well-draining soil. Ideal for container gardening, begonias provide vibrant color from summer to fall.
25. Bleeding Heart (Dicentra spectabilis)
The Bleeding Heart, with its distinct heart-shaped red flowers, is a stunning addition to any garden. Preferring shady spots and well-drained, moist soil, this plant blooms from late spring to early summer.
26. Fuchsia (Fuchsia spp.)
Fuchsias are adored for their unique, pendulous flowers, often with a striking red and purple combination. They are best grown in partial to full shade, with well-draining, fertile soil.
27. Flowering Quince (Chaenomeles speciosa)
Flowering Quince is a deciduous shrub that bursts into bloom with red flowers before leafing out in spring. It tolerates various soil conditions but thrives in full sun to partial shade.
28. Weigela (Weigela florida)
Weigela is a lovely flowering shrub, with varieties that produce stunning red flowers. It prefers full sun and well-draining soil. Blooms emerge in late spring, attracting hummingbirds and bees.
29. Cyclamen (Cyclamen spp.)
A popular houseplant, the cyclamen features unique red flowers and patterned leaves. They prefer cooler temperatures, indirect light, and well-drained soil, making them an excellent choice for indoor gardening.
30. Amaryllis (Hippeastrum spp.)
Amaryllis, often associated with the winter holidays, has bold, vibrant red flowers. It prefers indirect light and well-drained soil. These easy-care bulbs can provide a stunning display indoors.
31. Anthurium (Anthurium andraeanum)
Also known as the flamingo flower, the anthurium is loved for its waxy, heart-shaped, red flowers. It thrives in bright, indirect light and high humidity, making it an excellent indoor plant.
Remember, when choosing a plant for your garden or home, consider not only the flower color, but also the plant's sunlight, soil, and watering needs. Always choose plants that are suitable for your specific conditions.
24 Best Red Flowering Bushes for your Garden | Red flower plants for garden | Plant and Planting
Final Thoughts on Plants with Red Flowers 
Plants that have hues of red are undeniably one of the most attractive flora in the world. Their pop of color is too eye-catching to miss and can brighten up your flower beds.
Red-flowered plants add vibrant color to landscapes and garden beds making it the number one choice of many.
The vast array of red flowers available has grown to be more than just a symbol of history and culture but has moved to represent love, courage, and passion as well.
So whether you are a beginner gardener or a seasoned one, you can never go wrong in adding red-flowered varieties to your collection.
To know more about plants with flowers for your garden, check out these amazing articles:
Sources: